J&K artistes struggle to find work post abrogation of article 370
Earlier they would only earn a living thanks to the programmes run by Doordarshan or AIR or the plays and events organised by the (then) state govt's Cultural Academy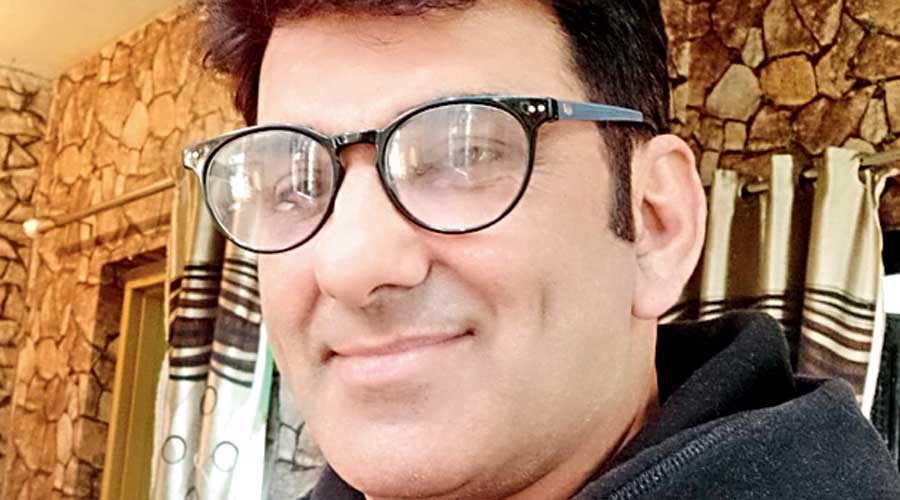 Hassan Javed
Telegraph picture
---
Srinagar
|
Published 19.07.21, 02:24 AM
|
---
Television actor Hassan Javed agrees there has been "development" in Jammu and Kashmir after its special status was scrapped in August 2019. Rather, "a development".
"They have succeeded in crushing us (the artistes' community)," Javed, who has been lead actor in more than 100 television serials, told The Telegraph.
He is among hundreds of television and theatre actors, singers and producers who once earned a living thanks to the programmes run by Doordarshan or All India Radio or the plays and events organised by the (then) state government's Cultural Academy here.
These were their sole source of livelihood given the absence of private entertainment channels in Jammu and Kashmir.
But from 2012, there has been no work on Doordarshan, apparently because of a lack of funds. That prompted some artistes to shift to other professions. For the rest, the Cultural Academy and AIR provided some respite.
But, Javed said, these avenues too have disappeared since the dilution of Article 370 — which the government says would bring development to Kashmir.
"Since August 5 (2019), we have been literally dying. They promised us development but pushed us 100 years back," Javed said.
"In the absence of Doordarshan (programmes), we survived on theatre shows organised by the Cultural Academy. But now there is no work or money. Hundreds of artistes performed in a drama festival organised in March but we are yet to get our dues."
The problem of unpaid dues dates back to a decade.
"I received my last payment (from Doordarshan) in 2011, although I worked in many in-house programmes after that. Doordarshan owes me not less than Rs 5 lakh and there are many like me," Javed said.
"We have been told that there was some corruption in the allotment of those programmes, but why hold us responsible and not the officers who hired us? Why has our payment been withheld?"
Khurshid Mir, another actor, said the absence of work had pushed him to penury.
"My children were studying in good private schools but I was forced to admit them to government schools. We are all going through hell," he said.
Javed recalled how, two decades ago, the launch of DD Kashir, the Valley's second channel after DD Srinagar, had brought hope to artistes.
"I remember the day the Kashir channel was started in 2000 and inaugurated by then Prime Minister Atal Bihari Vajpayee. They wanted to lure the youth to television. You had people setting up studios, others buying cameras and music systems," Javed said.
He said hundreds became TV producers and artistes in a matter of months after DD Kashir was set up.
"I might have taken up a job or started some business, but I joined this profession after they promised us the moon, at the bidding of Vajpayeeji. But this BJP government has done absolutely nothing for us," he said.
DD Kashir and DD Srinagar nowadays show old programmes apart from beaming government propaganda.
CPM veteran Mohamad Yousuf Tarigami has petitioned the government for help, saying the artistes have been pushed to starvation.
"There are hundreds of artistes whose families were solely dependent on production work at the Kashir channel. All these years, they managed to run their families with some savings, which have now been exhausted. They have no other source of income," Tarigami said.
"In other parts of the country, states have devised policies and guidelines to help local talent. Unfortunately, in Kashmir, DD authorities have framed policies to keep local talent away from employment opportunities."
Dr Nasib Singh Manhas, head of programmes at Srinagar Doordarshan, acknowledged that artistes had no work and faced poverty. He said his department was working on the problem and that the artistes might get some reprieve in the coming months.
"I have sent a proposal (to higher-ups). There are young, unemployed boys and if they get work, it's good. You know there was Covid and a lockdown... but I'm pursuing (the matter)," he said.
"So far as the money (artistes' dues lying with Doordarshan) is concerned, some committees have been set up and they will take a call."