Jaitley aims Pakistan gun
Finance minister uses Pakistan bogey to sweep aside Rahul Gandhi's latest attack over the Rafale deal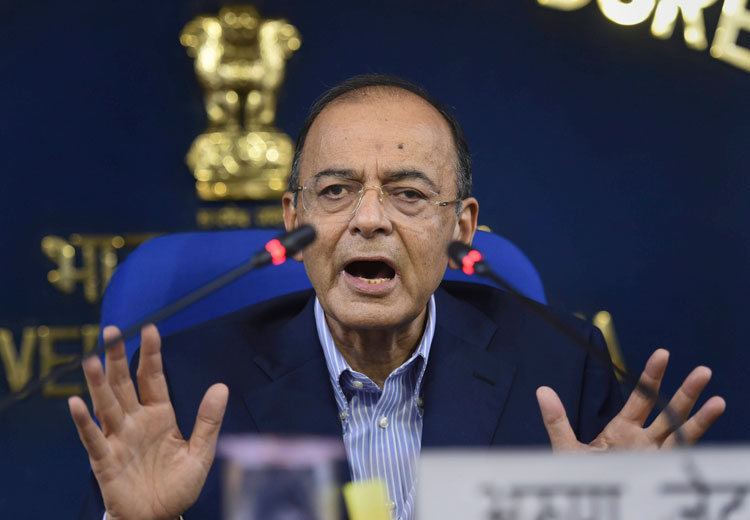 Union finance minister Arun Jaitley at a media conference in New Delhi on Thursday
Picture by PTI
---
New Delhi
|
Published 07.03.19, 08:27 PM
|
---
Finance minister Arun Jaitley on Thursday fell back on the BJP's favourite Pakistan bogey to sweep aside Rahul Gandhi's latest attack over the Rafale deal and accused the Congress president of trying to wriggle out of a corner on the issue of national security.
The government has been rattled by the Rafale deal returning to haunt it, overshadowing the national security plank the BJP has been riding on in the aftermath of the air strikes in Pakistan's Balakot. At a media conference, Jaitley claimed that the Congress was getting "high TRPs on Pakistan television".
"The Congress party has, in the last few days through statements of its senior leaders cornered itself in a difficult situation. They are getting high TRPs on Pakistan television. But there is revulsion as far as domestic opinion in India is concerned," Jaitley said. "The motivation was collateral, to shift the focus (from national security)."
Jaitley sought to rubbish Rahul's demand for a "criminal investigation" against the Prime Minister in connection with the Rafale deal by claiming that the Congress leader's facts were "completely wrong".
"The government has repeatedly made its position clear. The Supreme Court has spoken on it…. The CAG (Comptroller and Auditor General) has already analysed it," Jaitley said. "No dynast can claim that he is above the Supreme Court or the CAG and that their verdicts and findings don't apply to them," the finance minister added.
Sidestepping the Rafale deal, Jaitley focused on attacking the Opposition for questioning the pact. He brushed aside questions being raised by some family members of the CRPF soldiers killed in the Pulwama attack, saying it was not the "fundamental issue".
"The fundamental issue is that India tried to strike at the root of terror through the surgical strike and the air strikes and I think our effort has been successful. Why do some people have a problem with this?" Jaitley asked. "The entire country is supporting the government's decision, the army and air forces' valour and we shouldn't weaken and deflect it by raising petty issues," he added.
Later, law minister Ravi Shankar Prasad targeted Rahul over his meeting with G20 envoys on Wednesday. "What did he tell them as far as the Pulwama terror attack and the air strikes by India are concerned? Did he convey to them the view of the country and the government or the Congress's view?" he asked.