Jacinda Ardern says New Zealand high commission should have gone through proper channels for oxygen
The tone and the transparent manner in which she handled the issue was in sharp contrast to S. Jaishankar's bristling handling of Opposition questions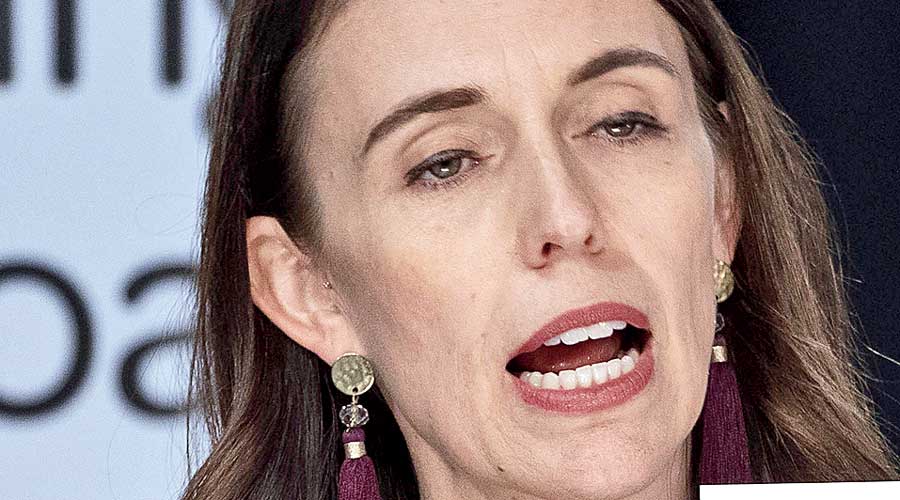 New Zealand Prime Minister Jacinda Ardern.
File photo
---
New Delhi
|
Published 04.05.21, 03:54 AM
|
---
New Zealand Prime Minister Jacinda Ardern on Monday confirmed that her country's high commission in New Delhi had a "very unwell" local staff member on the premises when an SOS tweet for oxygen was posted to the Indian Youth Congress on Sunday.
Ardern said the high commission should have gone through the proper channels for oxygen cylinders.
Answering questions live on a television channel, Arden said: "Yes, you did see that there was a message that was put out. The high commission has apologised.… There are channels they should be going through for such matters but I should recognise that we do have a local staff member who's within the compound, who has been very unwell. So that was the basis on which that call was made." The tone and the transparent manner in which Ardern handled the issue was in sharp contrast to the bristling manner in which Indian foreign minister S. Jaishankar, a retired diplomat who needs no lessons in diplomacy, fielded questions from the Opposition.
Jaishankar had posted a few acerbic tweets in response to Congress leader Jairam Ramesh's question whether the external affairs ministry was sleeping after it emerged that the Philippines embassy had sought the Youth Congress's help for oxygen before the New Zealand mission did so.
The Youth Congress has been running a widely acclaimed network to help those in need of Covid medical aid.
Jaishankar had referred to "cheap publicity" and said "MEA never fakes, we know who does" in the reply he tweeted to Ramesh. The Opposition is meant to ask tough questions, and the minister could have merely explained the position without escalating it into a nasty brawl that has drawn wide attention at a time India has cut a sorry figure worldwide over its Covid management.
Although Jaishankar had confined his sharp tweets to the Philippines incident, the Indian external affairs ministry spokesperson had tweeted around two hours after the New Zealand episode that the officials concerned "are in continuous touch" with all high commissions and embassies.
The ministry is "responding to their medical demands, especially those related to Covid. This includes facilitating their hospital treatment. Given the pandemic situation, all are urged not to hoard essential supplies, including oxygen," the MEA had tweeted against the backdrop of a claim by Jaishankar that the Youth Congress supply to the Philippines was "unsolicited" and the country had no Covid cases.
Ramesh subsequently tagged to Jaishankar's account purported tweets from the Youth Congress and the Philippines embassy that suggested the supply was not unsolicited. This newspaper could not verify the tweets with the Philippines embassy but they had not been denied till Monday evening.
Ramesh then asked: "What say you now, Mr Minister?"
What say you now, Mr. Minister? @DrSJaishankar https://t.co/xVtdUVXpX6

— Jairam Ramesh (@Jairam_Ramesh) May 2, 2021
To which, Jaishankar replied: "I'd say don't waste oxygen, literally or metaphorically. From a MEA that never sleeps — good night."
I'd say don't waste oxygen, literally or metaphorically. From a MEA that never sleeps - good night. https://t.co/6TDX2r6nTp

— Dr. S. Jaishankar (@DrSJaishankar) May 2, 2021
A tweeter offered sage advice to the former top diplomat: "Stop this please, it's beneath you and the office you represent."
Another was less diplomatic, if not downright merciless: "Please encourage the MEA to sleep regularly. The consequences of a PM who doesn't sleep are already for the world to see."
Against this back and forth on the Philippines embassy episode, the statement by Ardern, the New Zealand Prime Minister widely admired for her style of governance and efficiency, made two things clear.
One, there was a medical emergency in the New Zealand high commission in New Delhi and the mission did put out a message seeking help.
Two, the Prime Minister accepted that the high commission should have tapped official channels and confirmed that it had apologised.
There was neither any smart repartee nor acid-dripping retort.