Jail jibe on Farooq Abdullah
Amit Shah claimed the situation in the Valley was normal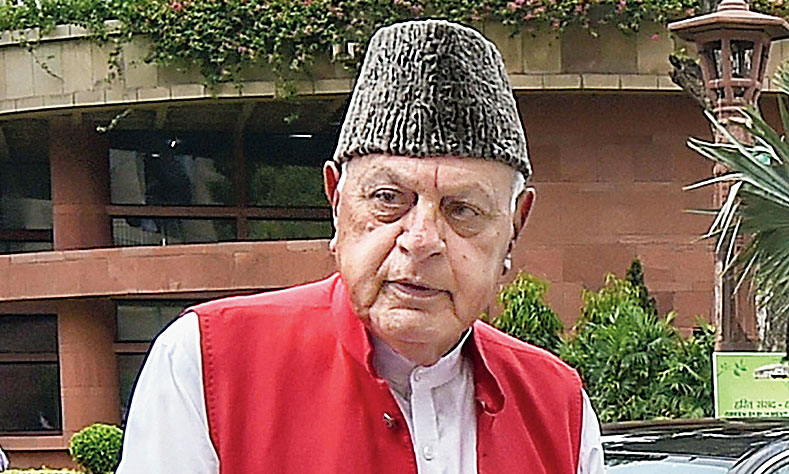 ---
---
Home minister Amit Shah on Tuesday told the Lok Sabha the Centre didn't intend to keep former Jammu and Kashmir chief minister Farooq Abdullah in jail for as long a period as a Congress government had imprisoned his father Sheikh Abdullah.
He claimed the situation in the Valley was normal.
"We don't want to keep them (the detained politicians) even an extra day in jail. When the administration thinks it's the right time, the political leaders will be released," Shah said.
"Farooq Abdullah's father Sheikh Abdullah was kept in jail for 11 years by the Congress; we don't want to follow them."
Shah was responding to Congress House leader Adhir Ranjan Chowdhury, who had asked when the political leaders in Kashmir would be released.
Farooq has been confined to his home since August 5, when the Centre revoked Jammu and Kashmir's special status. Shah had initially denied in Parliament that Farooq was under house arrest — apparently there was no official order — but the veteran was later formally arrested under the Public Safety Act and his home was turned into a sub-jail.
Two other former chief ministers — Farooq's son Omar Abdullah and his rival Mehmooba Mufti — are also in detention.
The Jawaharlal Nehru government had arrested Sheikh Abdullah in 1953 and released him in 1964. He was subsequently arrested off and on for shorter periods.
Adhir, asking a supplementary question during Question Hour, had wanted to know whether the situation in Kashmir was normal as the government claimed, and if so, why were the political prisoners including Farooq — a sitting MP — not being released.
Adhir said the traders in the Valley were reporting huge losses.
"The situation in the Kashmir valley is completely normal," Shah said. "But I can't make the situation normal for the Congress. They had predicted a bloodbath in Kashmir if Article 370 were removed. Nothing of that sort has happened. Not even a single bullet has been fired."
Adhir accused Shah of misleading the House and said normality would entail normal political activity in the Valley.
"Ninety-nine-point-five per cent students sat their exams there, but for Adhir Ranjanji this is not normality," Shah said.
"Seven lakh people used OPD (outpatient department) services in Srinagar. Curfew and Section 144 have been lifted from everywhere. But for Adhirji, the only parameter for normality is political activity. What about the local body polls that were held?"
Shah was referring to the October Block Development Council polls, which were indirect elections where directly elected panchayat representatives elected the second tier of Kashmir's panchayati raj system.
Despite Shah's claim of normality, Internet services and prepaid mobile connections remain suspended in the Valley. While exams have been held, classes are closed in the schools, colleges and universities.