Probe on, nobody will be spared: Senior cop
Jahangirpuri clash: How we let down our Gods
Strife in Delhi shows once-celebratory occasions are now being weaponised by vested interests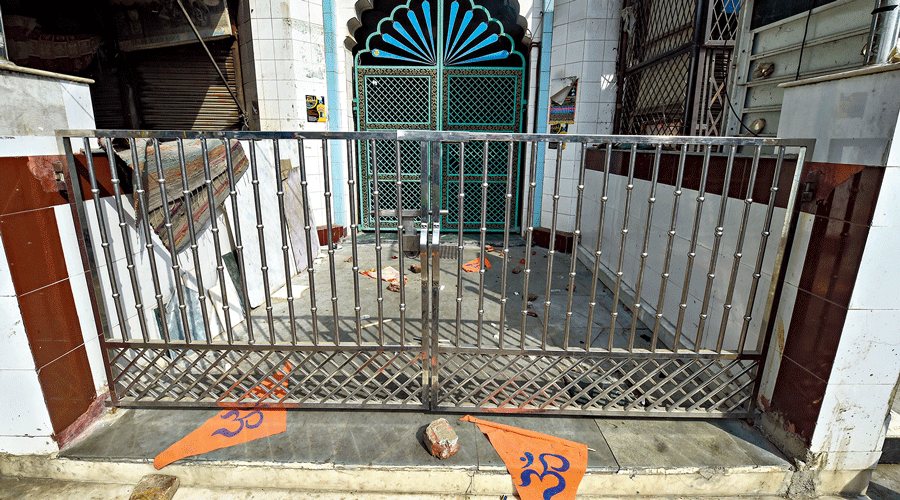 Saffron flags and brickbats lie at the entrance and on the premises of a mosque at Jahangirpuri in New Delhi on Sunday.
PTI Photo
---
New Delhi
|
Published 18.04.22, 02:30 AM
|
---
Saturday's clash in northwest Delhi's Jahangirpuri neighbourhood was provoked by "outsiders" from within a Hanuman Jayanti procession who shouted abusive slogans and entered a mosque to try and plant a saffron flag, Hindu and Muslim residents have told The Telegraph.
The FIR that Delhi police have registered on their own does not mention such provocation and says the violence broke out around 6pm after a man named Ansar and his associates began arguing with the processionists.
The violence mainly involved stone-throwing by both communities and the torching of a few cars, apart from an alleged shot fired at a policeman, and left nine people injured. Fourteen arrests have been made so far.
Residents from both communities said they had lived peacefully together for years. But none was willing to be quoted given the widespread distrust of the Delhi police, who report to the Union home ministry and have been accused of bias in their investigation of the February 2020 riots in northeast Delhi that killed 53 people.
"Hindus and Muslims have lived in amity for years here and participated in each other's festivals. Some outsiders in the procession created a ruckus and the area turned into a battleground within minutes," a local trader said, requesting anonymity.
Some eyewitnesses said the procession had been peaceful till it arrived in front of a mosque.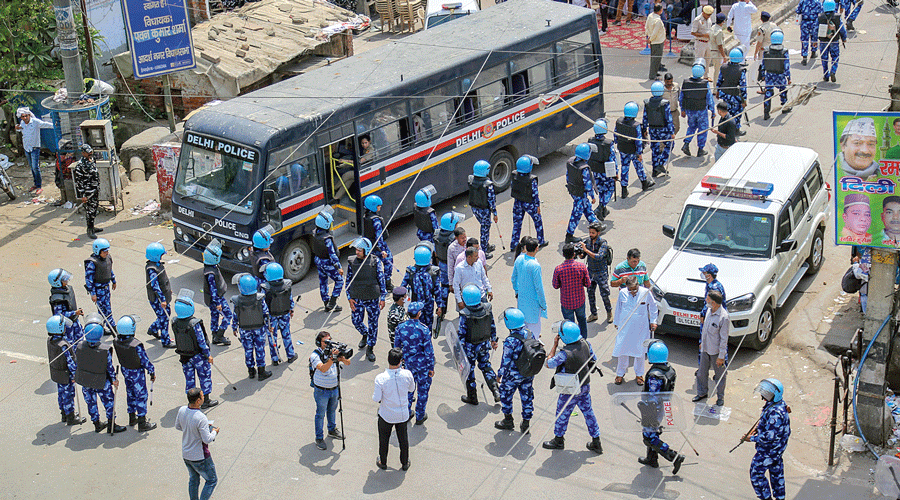 "A prayer (namaz) was being held inside the mosque but some of the participants in the procession played loud music, started abusive sloganeering, entered the mosque and tried to plant a saffron flag in the courtyard," a resident said, asking not to be named.
"This led to an argument. The situation escalated, prompting stone-throwing by both groups."
The neighbourhood that witnessed the clash is home to a working-class population, mostly from Bihar, Uttar Pradesh and Bengal. The residents include fish sellers, mobile repairers, garment retailers and day labourers.
Several purported videos of Saturday's violence show two mobs hurling stones at each other. One video shows participants in a procession brandishing pistols, sticks and swords.
Deputy commissioner (northwest) Usha Rangnani said eight policemen and another person had been injured and were being treated in hospital.
Among the 14 people arrested is 21-year-old Md Aslam, who allegedly shot and injured a sub-inspector. An officer said a pistol had been seized from Aslam, resident of a slum in Jahangirpuri.
A senior officer said mobile phone images and CCTV footage were being scanned, and drones were being flown over the area to take pictures so that facial recognition software could help identify more rioters.
A resident said two Hanuman Jayanti processions had earlier on Saturday passed through the area peacefully.
"Those who created the ruckus in front of the mosque were outsiders," he said. "Muslims retaliated by throwing stones when they tried to place a religious flag inside the mosque. This led to the violence."
Another resident, however, said the Muslims had objected mainly to the loud music being played by the processionists and began throwing stones. "It was then that the Hindus retaliated," he said.
Told about the eyewitness accounts, a senior Delhi police officer said: "We are probing all angles and nobody will be spared."
The FIR lodged by inspector Rajiv Ranjan at Jahangirpuri police station says: "The Shobha Yatra procession to mark Hanuman Jayanti was going on peacefully, but around 6pm when the procession reached outside Jama masjid in C-block, a man Ansar along with four-five associates came and started arguing with the people involved in Shobha Yatra. The argument escalated and stone pelting started from both sides."
Ranjan says he requested those involved to make peace. "They were dispersed peacefully, but within minutes, both sides again started stone pelting and started raising slogans. I just informed the control room following that additional force also rushed to the spot," the FIR says.
"To control the situation senior officers asked them to be peaceful, but one side was constantly doing stone pelting and we fired 40-50 tear shells to disperse the crowd. We then controlled the crowd, but in the meantime, they also attacked the police personnel. One of our sub-inspector Meda Lal received gunshot injury, six-seven policemen and one local also got injured."
DCP Rangnani said the FIR invokes the charges of attempt to murder, criminal conspiracy, rioting as well as other provisions of criminal law and the Arms Act.
Senior officers said the situation in Jahangirpuri was under control amid heavy deployment of police, including a Rapid Action Force team.
The Delhi police spokesperson said DCP Rangnani had met members of neighbourhood peace committees and asked them to ensure peace in their areas.
Union home minister Amit Shah has spoken to the police brass, including police commissioner Rakesh Asthana, and directed them to take necessary action while handling the matter sensitively, ministry sources said.
On Saturday night, Delhi chief minister Arvind Kejriwal had urged action against the rioters and appealed "to everyone to hold each other's hand and maintain peace".