Jagdeep Dhankhar on hunger index query: Don't be captive
RS boss sides with the government in the matter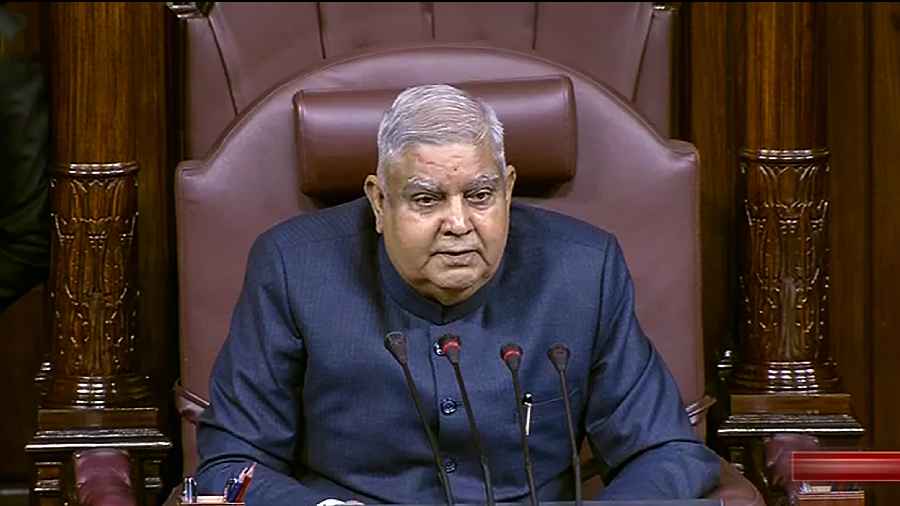 Jagdeep Dhankhar
File picture
---
New Delhi
|
Published 10.12.22, 05:11 AM
|
---
Rajya Sabha Chairman Jagdeep Dhankhar on Friday sided with the government in rejecting India's deteriorating rank of 107 among 121 countries on the Global Hunger Index. 
"Let us believe in our own work…. We must analyse the calibrations. We should not be captive. Our country cannot be allowed to be hurt by calibration from outside on premises which we do not believe. That does not mean calibrations outside do not have credibility. We have to go into these areas," Dhankhar said in the Upper House after food minister Piyush Goyal had taken a critical view of the Global Hunger Index in response to a question from CPI leader Santhosh Kumar.
"In our country iconic status is granted to parameters which are often baffling... don't have any rationale. This august House is a repository of the wisdom of over 1.3 billion people. Therefore, when we raise an issue in the House... they should not carry much conviction unless the honourable member or minister premises them on our own record. Let's believe in our worth," Dhankhar added. 
He said it would be "difficult and inappropriate to surrender our assessments, achievements to be assessed by those who have either inadequate data or whose actions are dictated by their interests, not ours".
CPI parliamentarian  Kumar had asked Goyal what steps were being taken to arrest hunger. Kumar referred to the latest Global Hunger Index in which India was ranked lower than its neighbours except war-torn Afghanistan. India ranked below Sri Lanka (64), Nepal (81), Bangladesh (84) and Pakistan (99).
The scores of the GHI, prepared jointly by Irish aid agency Concern Worldwide and German organisation Welt Hunger Hilfeare, is based on the values of four component indicators — undernourishment, child stunting, child wasting and child mortality. Food minister Goyal said parameters like child stunting and child wasting had no relevance for India.
"The hunger index is a private index done by a private agency on subjects not related to India. Stunting and wasting are not related to India. Statistics are drawn out of data which are unverified and also the measurements do not relate to India. I think we must recognise which is official and validated and what is propaganda," Goyal said.
Goyal said that the name hunger index itself was a misnomer. Referring to the Pradhan Mantri Garib Kalyan Ann Yojana under which the government provides 5kg grains over and above the National Food Security Act limit, he said: "We have in a way eliminated hunger or starvation from the country. Every state has written that not a single death occurred due to starvation during the last two years."
Congress leader Jairam Ramesh expressed disapproval at the rejection of global reports. "I said not allowing members to raise questions based on them tantamounts to censorship. By this token why allow extensive references to the so-called Ease of Doing Business Index which has been rubbished and discontinued? MPs have a legitimate right to ask questions," Ramesh later told The Telegraph.
The CPI's Kumar said Goyal should have responded to the question instead of rejecting the survey which is accepted worldwide.