IT 'surgical strike' on JDS sparks ire
Congress supported ally, JDS, and accused the Centre of "misusing" institutions to harass the Opposition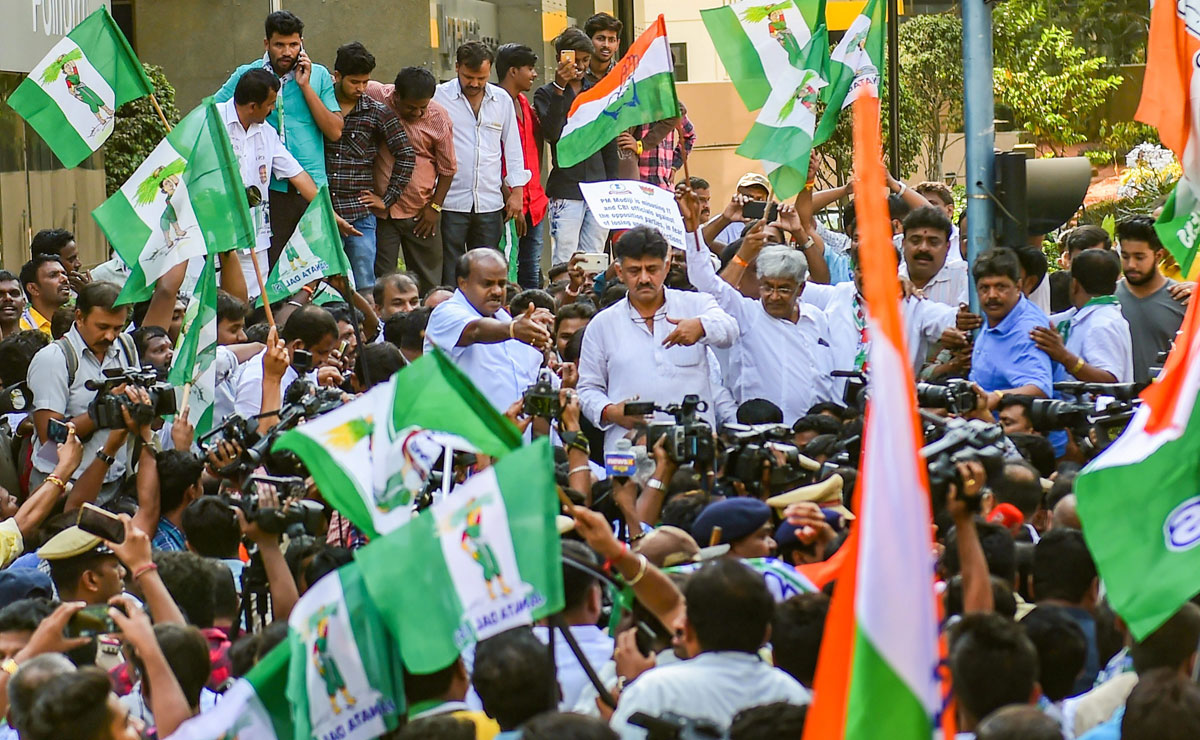 Karnataka CM HD Kumaraswamy during a protest against the Income Tax department for the raids on JD(S) leaders, in Bangalore, Thursday, March 28, 2019.
(PTI)
---
Bangalore
|
Published 29.03.19, 05:25 AM
|
---
Income tax officials on Thursday conducted searches at multiple locations in Karnataka, including the ancestral home of minor irrigation minister and JDS leader C.S. Puttaraju, triggering protests against the BJP and the Centre.
The pre-dawn searches began less than 12 hours after chief minister H.D. Kumaraswamy said more than 300 IT officials accompanied by CRPF soldiers were heading for Mandya district to raid the properties of JDS leaders. He warned of a dharna akin to Bengal chief minister Mamata Banerjee's protest after the CBI had arrived at the doorstep of then Calcutta police commissioner Rajeev Kumar.
The officials searched Puttaraju's ancestral home at Pandavpura in Mandya and that of his nephew Ashok in Mysore.
IT sources maintained that the searches were based on "concrete" information that about Rs 40 crore had been stashed away at Puttaraju's house. It was not known if any money was seized. IT department sources said some documents had been found.
The properties of some close friends of public works minister H.D. Revanna, the elder brother of Kumaraswamy, were also searched in Hassan. The sleuths raided the public works office in Hassan and a car dealer in Shimoga.
While the main objective was said to be to unearth cash suspected to have been hoarded for distribution among voters, the IT department did not release any information.
The homes of several PWD contractors in Hassan and Bangalore were also searched.
The searches triggered massive protests against the BJP and the central government. A large number of JDS workers agitated outside Puttaraju's ancestral home as the searches were underway.
A trusted lieutenant of the chief minister, Puttaraju is in charge of the election campaign of Kumaraswamy's son Nikhil Gowda in Mandya. Puttaraju told a Kannada news channel that he was not scared of raids. "These raids are linked to the election. I want to know how many BJP leaders have been subjected to IT raids."
The Congress joined ally JDS in a demonstration outside the IT office in Bangalore, accusing the Centre of "misusing" institutions to harass the Opposition.
A visibly angry Kumaraswamy termed the raids Prime Minister Narendra Modi's "real surgical strikes".
"Misusing government machinery to harass political opponents during elections is highly deplorable," Kumaraswamy said.
"The IT department, which is supposed to function independently, has acted on the orders of the Prime Minister and the BJP president," he added.
Congress veteran P.C. Siddaramaiah said those working in government departments must function within the boundaries of law. "Otherwise they will behave like puppets in the hands of political parties," the former chief minister said.