Father Stan Swamy has to go to court for a straw
The court, whose permission is required for materials to be sent in from outside jail premises, set the next hearing for November 26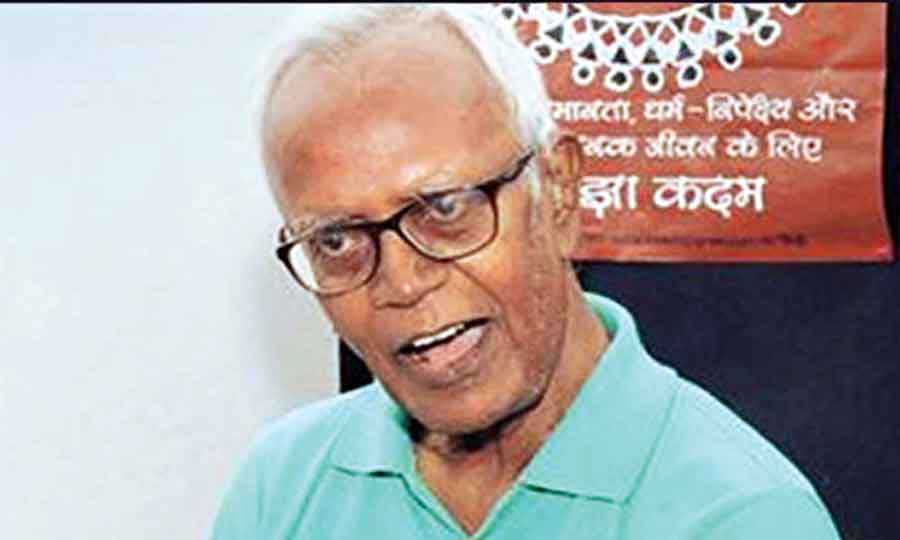 Father Stan Swamy
File picture
---
New Delhi
|
Published 08.11.20, 02:36 AM
|
---
When Father Stan Swamy, the 83-year-old tribal rights activist, was arrested in haste in Ranchi in the Bhima Koregaon case and taken to Mumbai last month, he had carried a bag with him.
In the bag was a sipper with a straw, which he needs to consume liquids. Father Stan suffers from several age-related ailments apart from Parkinson's, which has left him unable to hold any open liquid container like a cup or a mug without spilling the contents.
No one knows what happened to the sipper and straw in the bag.
On Friday, Father Stan applied to a special NIA (National Investigation Agency) court in Mumbai seeking a straw and a sipper cup.
"I cannot hold a glass as my hands are unsteady due to Parkinson's," his plea said, referring to a debilitating disorder of the central nervous system that can cause muscular spasms, making even everyday activities difficult to execute.
Sharif Sheikh, the priest's lawyer, told The Telegraph on Saturday: "Everything was in the bag when he was arrested. That bag is with the NIA. Yesterday, the court directed them to hand it over to him.... They (NIA) did not say why it was not given."
He could not confirm whether the bag still contained the sipper with a straw the priest had put in it.
The court, whose permission is required for materials to be sent in from outside jail premises, set the next hearing for November 26, PTI reported.
Later on Saturday, Satej D. Patil, minister of state for home in Maharashtra where the Congress is a ruling partner, tweeted that "necessary care has been taken regarding providing of straw and proper medical attention has also been provided as per prison rules".
After the Shiv Sena-NCP-Congress government had come to power in the state, the NIA, a central agency, had taken over the case.
Previously, the special NIA court had rejected the priest's plea for bail, sought on health grounds, after the prison authorities said he had been lodged in a special cell at the jail's health facility that was equipped to take care of him.
Father Stan, arrested by the NIA on October 8, is lodged at Taloja Central Prison in Navi Mumbai, accused of Maoist links along with 12 other rights activists, lawyers, academics and litterateurs. Three women accused – lawyer Sudha Bharadwaj, professor Shoma Sen, and singer Jyoti Jagtap – are in Byculla District Prison in Mumbai.
"It is sad that Father Stan Swamy has to move the court for permission to use a straw to drink water or any liquid. Are the administrators of the jail department and especially the DG, Prisons so bereft of human compassion that they cannot provide straws to the old and ailing prisoner?" P. Chidambaram, Congress leader and former Union finance minister, tweeted.
Some jails in the country, notorious for human rights violations, have been particularly harsh on prisoners of conscience.
G.N. Saibaba, the jailed former Delhi University professor, has been put on an IV drip after he went on a hunger strike for 10 days demanding access to letters and books, his wife A.S. Vasantha told this newspaper on Saturday.
Vasantha said Saibaba told her this over a phone call on Friday. She added that he had called off his strike after officials agreed to several of his demands and included physiotherapy as recommended by doctors.
Saibaba, 53, is serving a life sentence in Nagpur for links to the banned CPI Maoist. He is paralysed below his waist because of polio, and his family says his arms are getting paralysed following irregular medical treatment in jail.
Chidambaram, who was forced to spend over 100 days in jail last year as an accused in a money-laundering case, asked a question on Tuesday. "Why did NIA ask for 20 days' time to respond to the application in court? Will NIA appoint a committee to do research on 'straw' and its use by human beings? A country that deals with persons in judicial custody as if they were convicted prisoners has thrown human rights into the rubbish pit."
It's not that members of the Narendra Modi government have never been known to express sympathy for people taken into custody.
Several senior ministers, including home minister Amit Shah, had only days ago slammed the arrest of Republic TV's Arnab Goswami in an abetment-to-suicide case. Goswami had been named in the purported suicide note.
Shortly after the arrests in 2018, when the BJP ruled the state, a group of retired civil servants had written an open letter to Prime Minister Narendra Modi saying the accused had been framed to "promote partisan politics at the cost of justice".
Jharkhand chief minister Hemant Soren had condemned the arrest of Father Stan, who has during the decades spent in Jharkhand striven to empower tribal communities, helped protect their land rights and challenged the indiscriminate arrest of young tribal men under the false charge of being "Naxals".