Indian-origin author claims to have turned down an MBE in the Queen's Birthday Honours List
Nikesh Shukla tweeted last month saying that he does not wish to be associated with what it stands for — 'Member of the Order of the British Empire'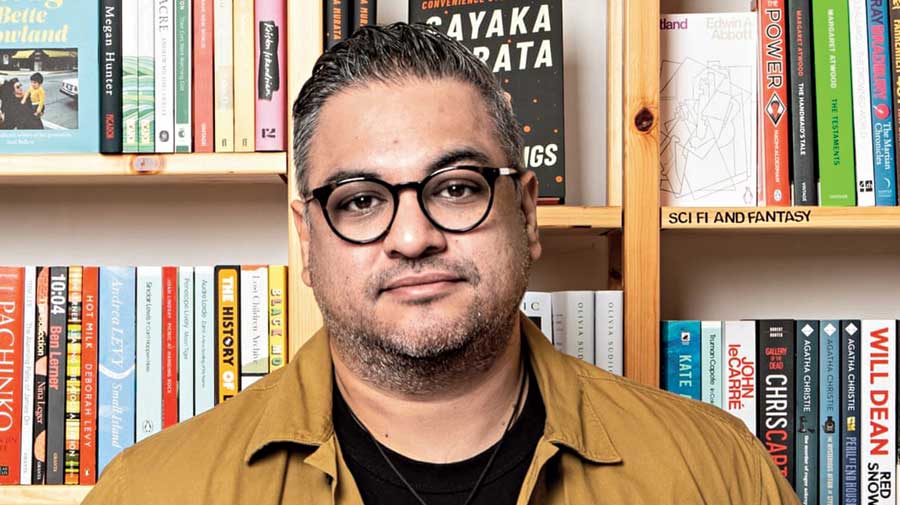 Nikesh Shukla
Sourced by The Telegraph
---
London
|
Published 14.06.21, 02:20 AM
|
---
Indian-origin author Nikesh Shukla has revealed he turned down an MBE in the Queen's Birthday Honours List because he does not wish to be associated with what it stands for — "Member of the Order of the British Empire".
He tweeted: "Last month I was offered an MBE for services to literature. I said no thanks. I do not wish to be a member of the order of the British Empire."
He added: "The main reason for not accepting the MBE was because I hate how it valorises the British Empire, a brutal, bloody thing that resulted in so much death and destruction. To accept the MBE would be to co-sign it."
Shukla, who is 40, was born and brought up in Britain but like many East African Indians, his father grew up in Kenya, his ancestors having gone there from Gujarat.
Shukla, who writes about racism, identity and immigration in Britain, is best known for editing a collection of spiky essays in 2016, The Good Immigrant: 21 Writers Explore What It Means to be Black, Asian & Minority Ethnic in Britain Today, which he followed up three years later with The Good Immigrant: 26 Writers Reflect On America.
He is also the author three novels — Coconut Unlimited (2010), Meatspace (2014) and The One Who Wrote Destiny (2018) — which he says were written partly to give his daughters a sense of who they were.
A profile on the author noted: "Nikesh considers it his duty, as a British Asian, to try and normalise non-white narratives."
The honours system is a legacy from the days when Britain did have an empire. Along with the MBE, there are other honours — CBE stands for Commander of the Order of the British Empire; OBE for Officer of the Order of the British Empire; and BEM for British Empire Medal.
Although they are given out in the name of the Queen, the list is actually drawn up and vetted by a government committee, which is bombarded by nominations from British Asians, Indians especially.
The first generation of Indians was grateful to find a home in Britain, where non-white people were still called "coloured". But some of their UK-born-and-bred grandchildren are altogether more assertive, and have started challenging the notion that the empire did more good than bad.
As British nationals, they cannot be chucked out for being "trouble makers" but in the intensifying "culture wars", the Right wing has launched a counter campaign against those demanding a re-examination of British history, especially the country's involvement in the slave trade and imperial rule, especially in India.
Shukla has drawn attention to a programme called "Operation Legacy", which was an attempt to identify and destroy colonial-era files that could prove embarrassing to subsequent British governments.
The author commented: "As the country fights over the history of the Empire and whether it was good or bad, I considered Operation Legacy. A project to destroy all colonial documents that might embarrass the British. If the Empire was so good, why need Operation Legacy?"
Shukha received thousands of "likes" for turning down an MBE but one critic told him sarcastically that "you want to make damn sure we all know you were offered it. Congratulations."
Another, representing white society presumably, said: "Sometimes it's another form of gaslighting — we offered to honour and recognise you and you turned down our honour and recognition so don't complain next time we treat you in a way that does not honour or recognise you."
In a sense, the government is damned if it does and damned if it doesn't. A government statement emphasised: "The honours system strives to be inclusive of all of the UK society. Of the 1,129 people who receive an award: 15 per cent of the successful candidates come from an ethnic minority background: 6.8 per cent of recipients are from an Asian ethnic group."
The youngest recipient is 21-year-old Amika George, founder of the "Free Periods Campaign", who becomes an MBE for her work championing the distribution of sanitary wear in UK schools.
George, who is from an Indian background, said she was humbled by her MBE but had to think twice before accepting it — given its association with Britain's colonial past.
In accepting, she said, she wanted to "draw attention to our lack of education around the Empire and Britain's history, but also to show other young people, particularly from the Asian community, who maybe don't feel very empowered politically or don't feel seen".
Last month I turned down an MBE. pic.twitter.com/3eggIUtd5m

— Nikesh Shukla (@nikeshshukla) June 11, 2021