Indian economy reality check to Modi government
Indian economy will need a fiscal stimulus in the budget to fire up a faltering domestic economy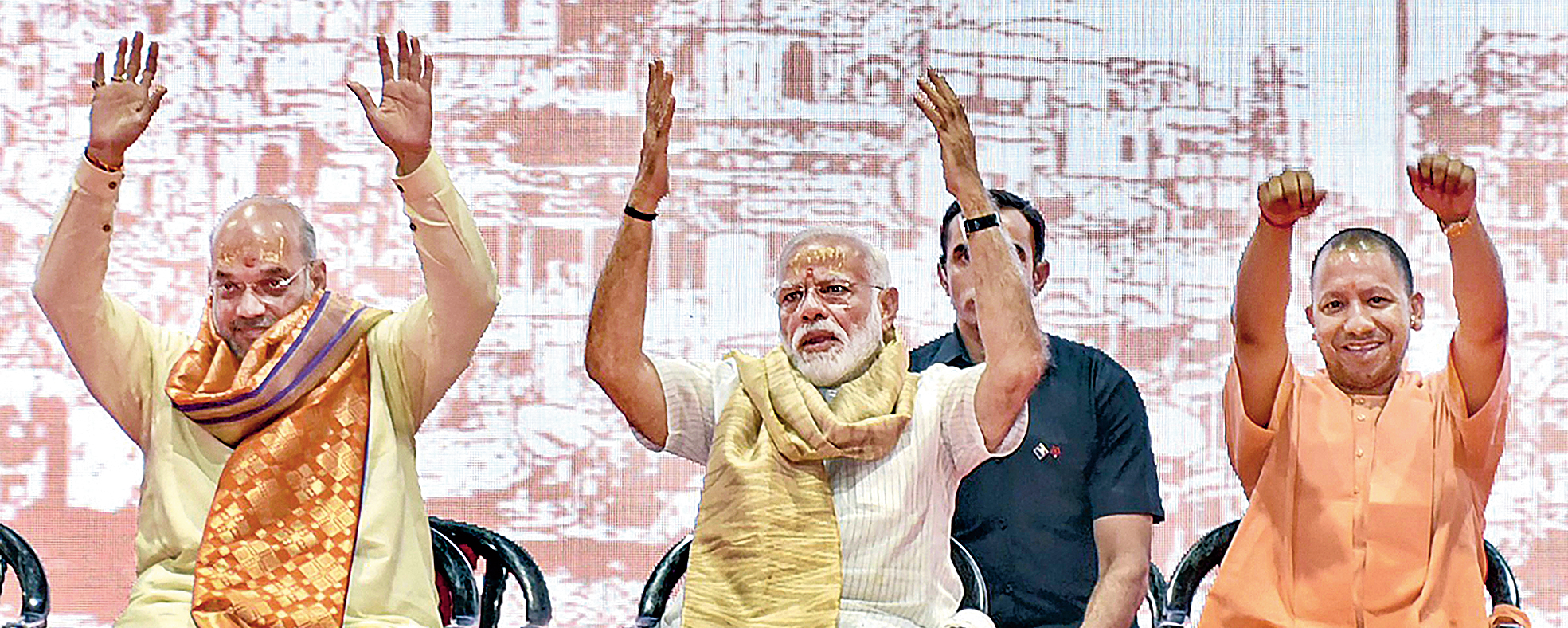 Prime Minister-elect Narendra Modi, BJP chief Amit Shah and Uttar Pradesh chief minister Yogi Adityanath during a meeting with BJP workers in Varanasi on Monday.
(PTI picture)
---
New Delhi
|
Published 27.05.19, 09:39 PM
|
---
 Indian industry has given the Narendra Modi government — flush from its victory in the general election — a reality check on the economy by voicing deep concerns about the slowdown while lobbying hard for immediate cuts in corporate tax rates and interest rates to revive it.
GDP growth slowed to 6.6 per cent in the third quarter (October-December) — the slowest pace in five quarters — and there are worries that when the Central Statistics Office comes out with the fourth quarter figures on May 31, it could be a lot worse with some expecting it to dip further to 6.4 per cent.
The CSO has already trimmed its growth forecast for 2018-19 to 7 per cent, down from the 7.2 per cent it had projected in January.
The country's industrial production shrank by 0.1 per cent in March. But even more worrying was the fact that the manufacturing sector — which has a weight of 77.63 per cent in the index of industrial production (IIP) — had contracted by 0.4 per cent, which came on top of the 0.3 per cent contraction in February.
Alarms have already been raised about a sharp slowdown in consumption and a weak set of corporate earnings results in the January-March quarter.
Last month, the International Monetary Fund (IMF) forecast that growth in the global economy would slow to 3.3 per cent in 2019 from 3.6 per cent in 2018.
This means that the Indian economy will need a fiscal stimulus in the budget to fire up a faltering domestic economy.
"The recent signs of slowdown in the economy stem not only from slow growth in investments and subdued exports but also from weakening growth in consumption demand," Ficci said in a statement suggesting various measures the government could adopt in the forthcoming budget.
"This is a matter of serious concern and if not addressed urgently, the repercussions would be long term," the chamber added.
High frequency data sourced from industry reveal a slump in car and two-wheeler sales, a 4.5 per cent contraction in airline passenger traffic for the first time in almost five years, and weakening revenues per user in the telecom industry which has seen its subscriber base tumble by 21.87 million to 1,161.8 million at the end of March.
Vikram Kirloskar, president of the Confederation of Indian Industry (CII), told revenue secretary Ajay Bhushan on Monday that the government ought to cut tax rates and expand the scope of investment allowance to all sectors, including services sector, in order "to fire the four engines of consumption, investment, government spending and exports".
Soumya Kanti Ghosh, chief economic adviser to the SBI Group, said in a research note: "We expect GDP growth for Q4FY19 at 6.1 per cent.... FY19 GDP growth will be at 6.9 per cent. The good thing is that we expect that the current slowdown could be transitory, if proper policies are adopted in the interregnum. For example, the current high real interest rates are severely acting as an impediment to investment. We are thus pencilling in a larger rate cut (35-50 basis points) by the RBI in the forthcoming policy."
The RBI's monetary policy committee (MPC) is scheduled to announce its next set of bi-monthly monetary policy on June 6. The central bank has cut the policy interest rate —the repo — by 50 basis points to 6 per cent this year in two successive policy meetings, but it hasn't been able to move the needle on growth.
Observing that the US and the UK have lowered their corporate tax rates to 21 per cent and 17 per cent respectively, CII said India should also cut it to 25 per cent for all companies. At present, the 25 per cent rate is limited to companies with an annual turnover of Rs 250 crore.
"The government may also consider announcing a roadmap for tax policy over the next five years in order to attract investments," CII director-general Chandrajit Banerjee said.
Ficci said there was a need to review the imposition of a peak tax rate of 30 per cent on persons with an annual income of Rs 10 lakh, contending that other countries imposed the peak rate on much higher income slabs.
It said the income tax slabs should be restructured with no tax till Rs 3 lakh, 5 per cent for Rs 3 to 5 lakh, 10 per cent for Rs 5 to 10 lakh, 20 per cent for Rs 10 to 20 lakh, and 30 per cent for over Rs 20 lakh.
The chamber also said levy of surcharge on individuals -- 10 per cent and 15 per cent having total income above Rs 50 lakh and Rs 1 crore, respectively -- should be completely abolished. The increased surcharge on certain category of individuals distorts equity and tends to discourage entrepreneurship and incentivises people to relocate to other locations, it added.