Indian Army not Modi's, says VK Singh, then denies it
BBC News Hindi releases "uncut video" of Singh's interview to counter his denial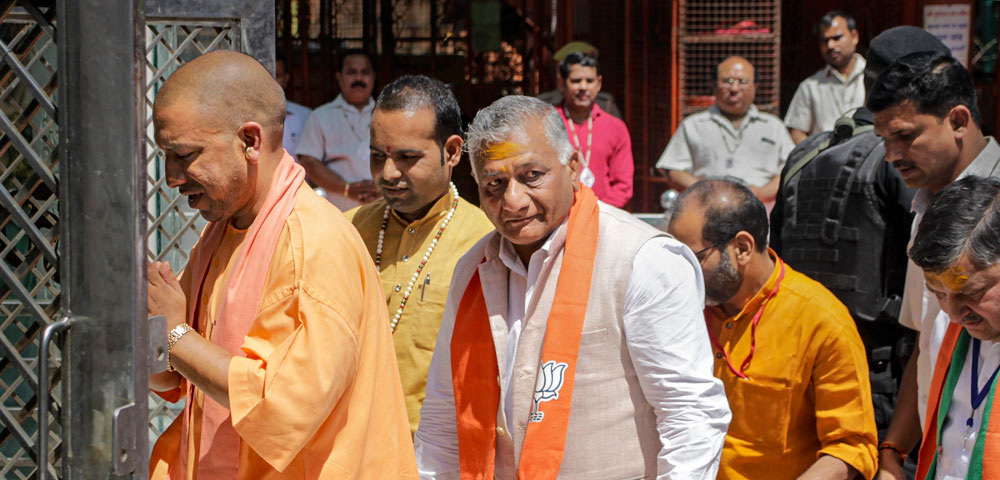 Uttar Pradesh chief minister Yogi Adityanath and VK Singh in Ghaziabad on Sunday
Picture by PTI
---
New Delhi
|
Published 04.04.19, 11:45 PM
|
---
"The Indian Army cannot be called 'Modiji's army' and anyone who describes it thus is not just wrong but is a traitor."
These words have been attributed not to an Opposition leader but to a minister in the Narendra Modi government — General V.K. Singh, junior foreign minister and former army chief.
BBC News Hindi tweeted the statement on Wednesday, saying Singh had said this in an interview to it in the context of Uttar Pradesh chief minister Yogi Adityanath's comment.
On Sunday, Adityanath had told an election rally in Singh's constituency Ghaziabad: "Congress ke log aatankwadiyon ko biryani khilate theh aur Modiji ki sena aatankwadiyon ko goli aur gola deti hai (The Congress's people used to feed biryani to terrorists while Modiji's army pumps bullets and shells)…."
Hours after tweeting the minister's statement, BBC News Hindi repeated it and invited comment.
Singh tweeted: "BBC Hindi has done just that for which I had coined the word 'presstitute'. I have a record of what I said. It appears the reporter was asleep or he deliberately cut and paste to frame a false statement. Well done, …. (journalist's name) — how much money did you get??"
Soon after, BBC News Hindi released the "uncut video" in which the journalist is heard asking the minister to comment on Adityanath's use of the phrase "Modiji's army".
The journalist asks: "There was a statement from Yogi Adityanath in which he had said: 'This is Modiji's army'. The Opposition objected to that. How proper do you think the use of this sentence is?"
Singh responds: "Who did he say it for?"
To which the journalist says: "During the campaign."
Singh says: "During the campaign, everyone calls themselves army. But which army are we talking about, the Indian Army (the interviewer nods and says 'yes') or the political workers? I don't know what the context is.
"If anyone says that the Indian Army is Modiji's army, then he is not just wrong but also a traitor. India's army is India's, not a political party's. India's army is neutral, capable and apolitical. I don't know who is talking like this. There are only one or two people who might think of such things; they don't have anything else (to say)."
The journalist repeats that the phrase was used in the context of teaching Pakistan a lesson.
Singh asserts: "It is not Modiji's army, let's be quite clear. If you're talking about the Indian Army, talk about the Indian Army. If you're talking about political workers, a lot of times, we call them Modiji's army or the BJP's army. But there is a difference between that and the Indian Army. I don't know what you are saying."
BBC Hindi News put out the video with this tweet: "After giving BBC Hindi an interview, Gen. V.K. Singh has in a tweet described the reporting of the interview as 'presstitute', said that his statement was misrepresented and alleged that the journalist took money. Here you can see in the uncut video what General V.K. Singh had said."