India, US to expand collaboration in new domains of critical technology
According to foreign secretary Harsh V. Shringla, the two sides finalized a memorandum of understanding on health and biomedical sciences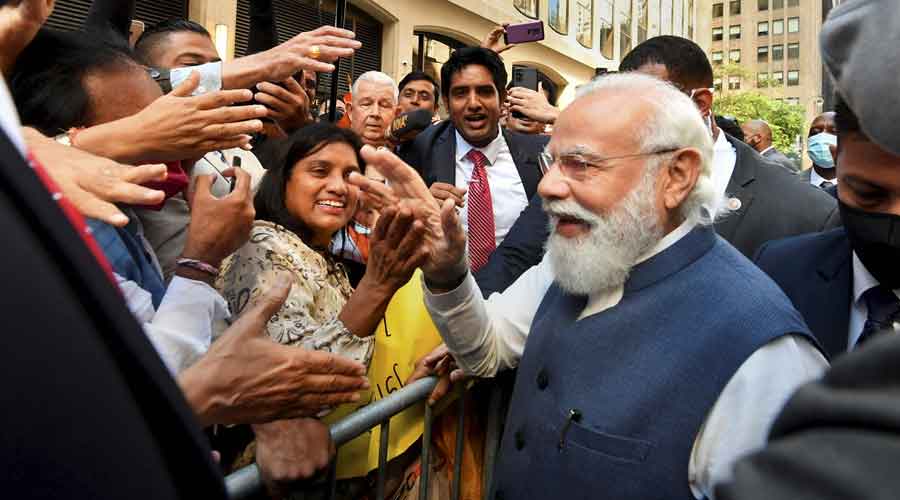 ---
New Delhi
|
Published 26.09.21, 02:02 AM
|
---
India and the US on Friday sought to chart a new course together by expanding collaboration in new domains and areas of critical and emerging technology with a view to defining the economic and security landscape of the next century; billing the bilateral relationship as a "partnership of global good''.
The joint statement issued after the bilateral engagement between Prime Minister Narendra Modi and US President Joe Biden at the White House committed the two countries to building a strategic partnership and working together with regional groupings, including Asean and Quad members; promoting shared interests in the Indo-Pacific region and beyond; developing trade and investment; finishing the fight against the Covid-19 pandemic and other health challenges; galvanising global efforts to scale up climate action; strengthening democratic values and institutions in support of "our respective peoples''; and enhancing people-to-people link.
President Biden reaffirmed the strength of the defence relationship between the two countries and Washington's "unwavering commitment to India as a Major Defence Partner'' through close defence engagements in information and logistics sharing, military-to-military interactions, strengthening cooperation in advanced military technologies, and expanding engagements in a multilateral framework including with regional partners.
The two leaders welcomed the deepening of advanced industrial cooperation; noting in this context the recent project to co-develop air-launched unmanned aerial vehicles (UAVs) under the Defence Technology and Trade Initiative, and encouraged more such joint efforts.
They called upon government and private stakeholders to use the existing ecosystems of innovation and entrepreneurship in defence industries for co-development, co-production and expanding mutual defence trade. They also looked forward to the inaugural meeting of the Industrial Security Agreement summit to facilitate high-end defence industrial collaboration, the joint statement said.
According to foreign secretary Harsh V. Shringla, the two sides finalized a memorandum of understanding on health and biomedical sciences — "a very comprehensive document that provides for cooperation in the health sector across the board and it also goes into areas like pandemic preparedness and biomedical research, to reduce the risk of future pandemics''.
On Afghanistan, the foreign secretary said, there was very careful consideration by both sides on the support given to certain hardline elements in that country, including terrorist groups by Pakistan.
"I think there was a clear concern expressed on Pakistan's role in Afghanistan and their continuing support for a certain approach that did not seem to be conducive to the international community's expectations of what Afghanistan should be like,'' Shringla said.
After the bilateral engagement, the Prime Minister attended the first in-person Quad summit which brought the leadership of the four member countries together. Apart from vaccine cooperation which was announced at the first Quad summit held virtually in March, they announced a new partnership in infrastructure; an area in which China now dominates in scale.
They also emphasised the importance of supporting open, fair, and transparent lending practices in line with international rules and standards for major creditor countries, including on debt sustainability and accountability, and call on all creditors to adhere to these rules and standards. This is a clear message to China which is often accused by the West of enticing countries into taking loans they can ill afford to pay back and putting them in a debt trap.
The Quad joint statement also announced the Quad Fellowship which will be stewarded by Schmidt Futures with support from Accenture, Blackstone, Boeing, Google, Mastercard and Western Digital. It will provide 100 graduate fellowships to leading science, technology, engineering, and mathematics graduate students across the four countries.