India says it is set to reach emission goal on time
Country is also on track to having 40 per cent installed electric power from non-fossil fuel sources: Harsh Vardhan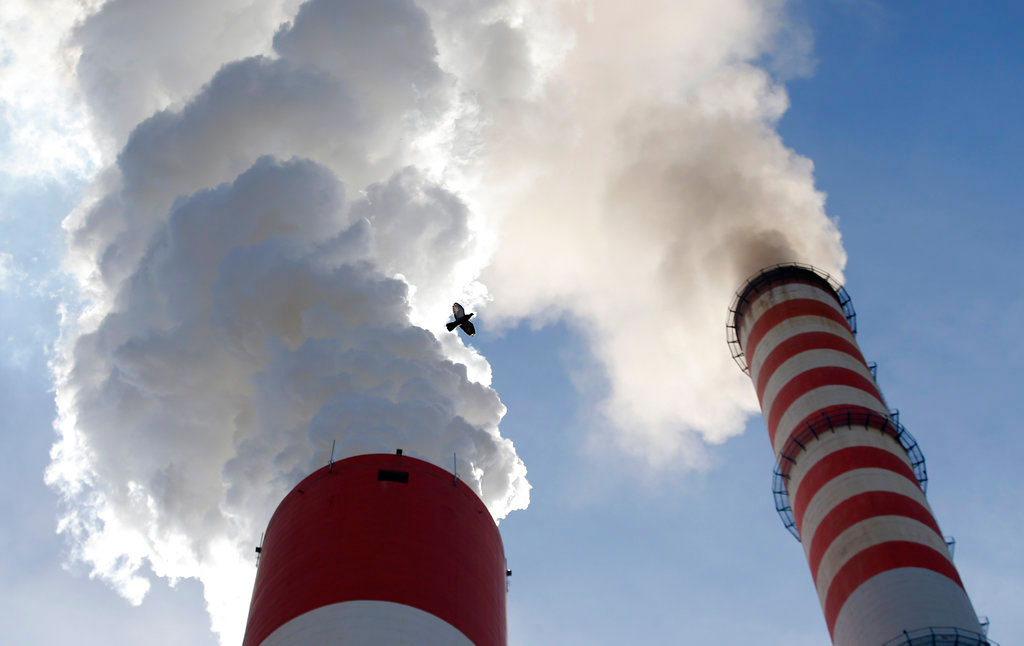 Smoke billows out of the chimneys of Serbia's main coal-fired power station near Kostolac, Serbia. The COP 24 UN Climate Change Conference is taking place in Katowice, Poland. Negotiators from around the world are meeting for talks on curbing climate change.
(AP)
---
Katowice (Poland)
|
Published 03.12.18, 10:25 PM
|
---
India is on track to achieving its 2030 targets to curb its greenhouse gas emissions, environment minister Harsh Vardhan asserted at a global climate summit on Monday and asked developed countries to enhance their actions.
Vardhan, speaking on the summit's first day, said the issue of restructuring targets would hinge on whether developed countries delivered on their pledges to slash their own emissions and provided finance to developing countries under the 2015 Paris agreement.
Several scientific reports, including one from the United Nations Environment Programme, have emphasised that the world needs to restructure, or revise, the emissions targets set voluntarily by each country to prevent the global average temperature rising beyond a critical 1.5°C.
"India has already achieved a 21 per cent reduction in the emissions intensity of its GDP from the 2005 level, against a target of 33 to 35 per cent by 2030 — and the food and agricultural sector has not even been accounted into this," the minister said. "India is also on track to having 40 per cent installed electric power from non-fossil fuel sources despite its priorities to deliver electricity to all."
He added that India had expanded its forest cover by one per cent.
The developed countries should first meet their commitments of reducing their emissions and supporting developing countries with finance and technology to address climate change issues, the minister said.
Climate negotiators from over 190 countries have gathered in this southern Poland town to hammer out guidelines and rules for implementing the Paris agreement, which seeks to cap the global average temperature rise to below 2°C.
India's call to the developed countries comes amid concerns over US President Donald Trump's express intention to withdraw his country from the Paris agreement — and thus from the emissions cuts the US had pledged under former President Barack Obama.
A senior environment official told The Telegraph that Germany too had signalled during a recent international meeting on climate policy that the country would "fail" to achieve its own emission reduction targets for 2020, made under the Paris pact.
"Despite doing well in the solar sector, India has failed to push forward low carbon technology in the industrial sector," Arunava Ghosh, a senior analyst and climate negotiations tracker in Katowice told this newspaper.
But access to low emissions technology will hinge on finance, which Ghosh said would be a key issue during the negotiations over the next two weeks. "India being a country that is among the worst sufferers of climate change impacts needs to play a far more proactive role in negotiations. How long will India play this wait and watch game?" another analyst said.
Independent energy analysts concur that India is set to achieve its target of having non-fossil fuel sources account for 40 per cent of its installed energy a decade ahead of its pledged 2030 timeline.
The Institute for Energy Economics and Financial Analysis (IEEFA) said on Monday that India would likely achieve its targets of expanding non-fossil fuel energy and lowering the emissions intensity of its GDP 10 years before the pledged 2030 goal.
Under the 2015 Paris agreement all countries had pledged climate actions, called nationally determined contributions (NDCs), seeking to cap the average global temperature rise to below 2°C.
India's NDCs included three key targets -– achieving 40 per cent of installed power from non-fossil fuel sources by 2030, reducing the emissions intensity of the GDP by 33 to 35 per cent from the 2005 level by 2030, and expanding forest and tree cover.
The IEEFA has estimated that India's non-fossil fuel capacity is set to exceed the 40 per cent share for the first time by the close of calendar year 2019. India had already installed 25GW of solar by September 2018, a four-fold increase in less than three years, the IEEFA said.
India's total renewable energy installation has reached 75GW, and contributed to nearly 12 per cent of all electricity during the quarter ending September this year.
The IEEFA has estimated that under the current and planned programmes, renewable energy sources by themselves will contribute 44 per cent of the installed energy by 2027, with hydro and nuclear power representing 13 per cent of the total.
The past two years have seen competing bids to renewable energy tenders that consistently offered prices below Rs 3 per kW, increasing their attractiveness.
India's emissions intensity in 2014 had fallen by 21 per cent of its GDP from 2005 levels. The IEEFA said this 2 per cent annual average decline would allow India to reach its emissions intensity target nearly a decade ahead of 2030.
Senior Indian environment officials had asserted ahead of the UN climate summit in Poland that India was on track to fulfilling its NDCs, and expected the developed countries to keep their pledges of providing finance and technology to the developing countries to address climate change challenges.
The developed countries had ahead of the Paris agreement pledged to raise $100 billion annually to support the developing countries in their efforts to mitigate Earth-warming greenhouse gas emissions and adapt to the impacts of climate change.