India's science minister claims Stephen Hawking had said Vedic theory was superior to E=mc 2
Contact me for source, says Dr Harsh Vardhan, MBBS, MS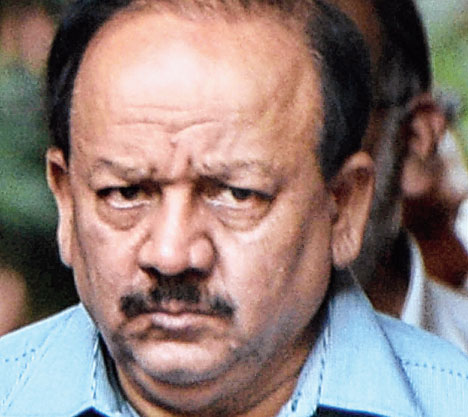 ---
Published 17.03.18, 12:00 AM
|
---
New Delhi: India's science and technology minister on Friday evoked angry reactions from sections of scientists after he claimed that physicist Stephen Hawking, who died on Wednesday, had said the Vedas had a theory superior to Einstein's law of relativity.
Harsh Vardhan, addressing the inaugural session of the Indian Science Congress in Imphal, declined to clarify to reporters the source of his information. "We recently lost a renowned scientist, cosmologist Stephen Hawking. He also emphatically said on record that our Vedas might have a theory which is superior to the Einstein's theory of e=mc2," PTI quoted Vardhan as saying during his speech.
Asked to disclose the source, Vardhan told reporters: "You find the source. He had on record said there is a possibility the Vedas have a better formula than the one given by Einstein. You also work a bit on this." The minister asked reporters to reach him in Delhi if they failed to find the source.
A page on the website of the "Institute for Scientific Research on the Vedas" that describes itself as an institute dedicated to "dig out technical details of the sciences from the Vedic and post-Vedic ancient Indian literature" makes a similar claim.
"Stephen Hawking, the scientist, theoretical physicist, cosmologist, general relativity and quantum theory expert in Cambridge University, UK, has referred to the Vedic science books authored by Dr Sivarambabu (Organising Secretary, I-Serve) and said Vedas might have a theory superior to Einstein's law E=MC2," the page claims with a link to a November 2013 date.
Scientists described Vardhan's claim at the Science Congress as "irresponsible".
"People in positions of leadership who seek to glorify our past in such ways don't seem to realise that such statements will only damage India's credibility today," said a senior astrophysicist in a government institution who requested anonymity.
"The minister needs to establish the source of his claim. It is not good enough that a website dedicated to the Vedas makes this claim. I have never heard of Hawking saying or mentioning this. At most, even if he had made passing remarks about India's past, they are being twisted today to make a misleading claim."
Vardhan had posted his statement on Hawking on his Twitter page, too, which drew derision on social media. "Hilarious that those who believe cow farts are oxygen and its piss is gold... now give Stephen Hawking tributes," one tweeter said.
A special session of the Indian Science Congress in Mumbai in 2015 had allowed presentations of papers claiming ancient India had developed flying machines.
Politicians have over the past three years made claims about ancient Indian achievements in science and technology. Prime Minister Narendra Modi had referred to Ganesha as an example of plastic surgery while a Rajasthan minister had claimed that ancient Indians, not Isaac Newton, had discovered gravity.
"These are irresponsible statements," said a senior biologist. "Is this how they want to promote the scientific temper - through misleading and false claims?"
"We have a rich heritage. Instead of appreciating it for what it is, claims such as these only draw ridicule," the biologist said.