India, Pakistan trade punches at UN
New Delhi bristled at Shah Mehmood Qureshi's accusation that India had a hand in the terror attack on a Peshawar school in December 2014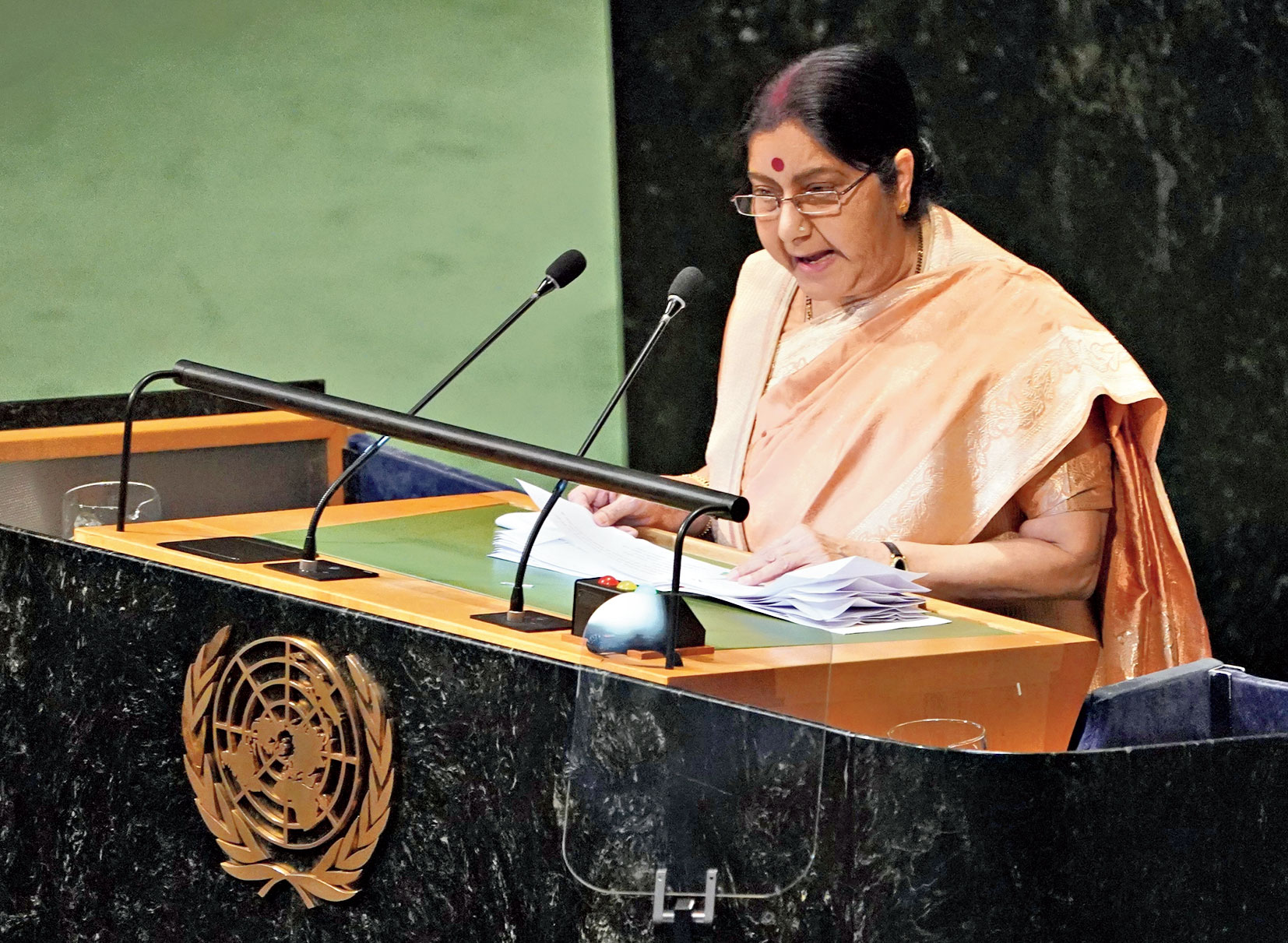 Sushma at the UN on Saturday.
(AFP)
---
New Delhi
|
Published 30.09.18, 09:21 PM
|
---
India and Pakistan locked horns at the UN General Assembly in New York on Saturday with Islamabad accusing New Delhi of preferring "politics over peace" and the Indian side using its "right to reply" to take a swipe at new Prime Minister Imran Khan's "naya (new) Pakistan".
New Delhi bristled at Pakistani foreign minister Shah Mehmood Qureshi's accusation that India had a hand in the terror attack on a Peshawar school in December 2014 in which 150 students and staff members were killed.
"What we have heard are fake allegations and fake facts, which can only make for a fake vision. For a new vision to materialise, Pakistan must demonstrate that it has moved beyond a narrative of distortion, deception and deceit," India said in response.
The Indian reply was delivered by Eenam Gambhir, a counsellor at India's permanent mission at the UN.
On Saturday morning, external affairs minister Sushma Swaraj had presented India's statement in which she had accused Pakistan of duplicity. Qureshi spoke sometime later, after which India invoked its "right to reply".
In a bid to drive home the message that Pakistan is itself a victim of terror and, therefore, invested in the worldwide war against terrorism, Qureshi said: "Pakistan continues to face terrorism that is financed, facilitated and orchestrated by our eastern neighbour.
"We wanted to sit with India to discuss all issues, including terrorism, that have created violence in our cities and towns, and have led to tens of thousands of casualties of innocent Pakistanis.
"Pakistan shall never forget the mass murder of more than 150 children in a Peshawar school, the terrible Mastung attack and many others that have links with terrorists supported by India. And we will never forget the terrorist attack in India on the Samjhauta Express carrying innocent Pakistanis — and now its confessed perpetrators are being allowed to walk free."
India exercised its "right to reply" to punch back hard. Citing Qureshi's speech as an indication that the "new Pakistan" was "cast in the mould of the old", India described his allegation on the Peshawar school attack as "preposterous" and went on to list the outpouring of sorrow in Parliament and in schools across the country.
"The despicable insinuation made by the foreign minister of Pakistan dishonours the memory of the innocent lives lost to terrorists on that day. It is a desperate attempt to look away from the monster of terror that Pakistan has itself created in its quest to destabilise its neighbours and covet their territory," India said.
While there is acknowledgement in the international fora that Pakistan is a victim of terror, Islamabad is unable to get the sympathy it seeks because its security establishment, which essentially controls the country despite an elected dispensation, continues to provide safe havens to select terror groups.
India's response also included a fact-check on Pakistan's claims to have turned the tide against terrorism.
"Can Pakistan deny the fact that it is the host and patron of 132 of the UN-designated terrorists and 22 terrorist entities under the 1267 (a UN resolution) and the 1988 UN Security Council sanctions regime as of today? Will Pakistan deny that UN-designated terrorist Hafiz Saeed enjoys a free run inside Pakistan and spews venom and sets up candidates for electoral office?"
India also brought up the Imran government's decision to remove Princeton economist Atif Mian from the Economic Advisory Council within days of his appointment in the wake of adverse reactions for choosing an Ahmadiya — a much-targeted minority in Pakistan — to question Islamabad's advocacy of human rights.
"This is vintage verbal duplicity…. Before preaching to the world, championing of human rights should begin at home."
On the cancellation of the foreign minister-level engagement at the UN General Assembly, Qureshi had said: "We were to meet on the sidelines of this UNGA session to talk about all issues with India — India called off dialogue the third time for the Modi government — each time on flimsy grounds. They preferred politics over peace…."
He also brought up the report of the UN Office of the High Commissioner for Human Rights, which had called for an international enquiry into "multiple violations" in Kashmir and advocated the right of self-determination for Kashmiris.
Welcoming the report, Qureshi said: "No longer the excuse of terrorism can be used to continue to systematically oppress the Kashmiri people."