TikTok, UC Browser and 57 others banned
India kicks out Chinese (apps so far)
Tensions over the recent border clash in Ladakh boils over into the arena of business and personal spaces
---
New Delhi
|
Published 30.06.20, 03:42 AM
|
---
The Narendra Modi government on Monday banned TikTok, Weibo, Camscanner and 56 other popular social media, utility and gaming apps from China as the tensions over the recent border clash in Ladakh boiled over into the arena of business and personal spaces.
TikTok is ranked by AppTrace, a popular app analysis service, as the ninth most popular app in the world and has over 600 million users in India, according to one estimate.
Wechat, Weibo and mobile utility app Camscanner were the other top-ranked apps that were banned on the ground that they "engaged in activities which (are) prejudicial to sovereignty and integrity of India, defence of India, security of state and public order", a government statement said.
The statement issued by the Union electronics and IT ministry made no mention of China but referred to "security" several times while banning the 59 apps.
Union minister Ravi Shankar Prasad hammered home the point in a tweet: "For safety, security, defence, sovereignty & integrity of India and to protect data & privacy of people of India, the Government has banned 59 mobile apps. Jai Hind!"

On March 17, asked in the Lok Sabha whether TikTok posed any counter-intelligence threat to the country and whether the government was considering banning the app, G. Kishan Reddy, minister of state for home, had said "no such inputs have come to the notice of the government" and "there is no such proposal".

Nearly three months later on June 15, an Indian colonel and 19 other soldiers were killed in clashes with Chinese troops in the Galwan Valley in eastern Ladakh.

Camscanner, ranked the 108th most popular app in the world, is a mobile app that allows iOS and Android devices to be used as image scanners. It is available free on Google Playstore and was developed by Chinese maker Instig.
QQMail and five other apps sharing the QQ prefix – also owned by Tencent – have been banned. Tencent is one of the biggest Chinese investors in India with stakes in at least 15 technology Unicorns (start-ups valued above $1 billion).

Community and video call apps from Xiaomi, which is the top smart phone vendor in India, UC Browser, UC News, Shareit, CM Browser, Club Factory (India's third-largest online shopping app) and ES File Explorer were among the 59 apps banned on Monday.

The government statement said the ban was announced after the ministry of information technology "invoked its powers under Section 69A of the Information Technology Act read with the relevant provisions of the Information Technology (Procedure and Safeguards for Blocking of Access of Information by Public) Rules 2009 and in view of the emergent nature of threats".

The ministry said it took the decision in response to "many representations raising concerns from citizens regarding security of data and risk to privacy relating to operation of certain apps".

"The Computer Emergency Response Team (CERT-IN) has also received many representations from citizens regarding security of data and breach of privacy impacting upon public order issues," the media release mentioned.

The ministry added that it had also received complaints from various sources and several reports "about the misuse of some mobile apps available on Android and iOS platforms for stealing and surreptitiously transmitting users' data in an unauthorised manner to servers which have locations outside India".

"The compilation of these data, its mining and profiling by elements hostile to national security and defence of India, which ultimately impinges upon the sovereignty and integrity of India, is a matter of very deep and immediate concern which requires emergency measures," it added.

However, it is not clear whether the government plans to direct telecom operators and ISPs to block access to these apps, or whether it might also ask Apple and Google to remove these apps from their respective app stores.

The ban comes just days after reports said Weibo had deleted Prime Minister Modi's recent speech to chief ministers as well as the comments by the spokesperson of the ministry of foreign affairs that had been uploaded there. Modi has used Weibo to interact with Chinese citizens since 2015, when he went to Beijing on a state visit.

The Internet Freedom Foundation, a non-government organisation fighting for Net freedom, has raised questions over the ban.

"The website blocks are directed on an aggregated basis against 59 websites. Here common grounds and reasoning is made which goes against the individualised nature of the blocking power under Section 69A and the Blocking Rules," it said in a tweet.

"The Blocking Rules, 2009, specifically provide for a defined process of notice, hearing and a reasoned order. These processes emerge from the Shreya Singhal judgment and apply to all grounds for blocking, including those premised on national security," the foundation said.

"There is legitimacy in concerns of data security and citizens' privacy. This may be achieved through regulatory processes that emerge from objective, evidence-based measures. This ensures credible action that protects individual liberty, innovation & security interests. 'Bans' are absolute prohibitions. These must be adopted as a last step (after) examining a wider roster of regulatory interventions including fines and directions. Admittedly, many of these measures are dependent on a data protection law which awaits enactment," it added.

Some analysts expressed concern that the move could send a wrong signal and affect global investment sentiments in the country.

Traders body CAIT, which has been drumming up anti-China sentiment in the country and demanding restrictions on import of Chinese products, said the decision "would strengthen the boycott China movement".

Popular among youngsters, TikTok has the highest number of users in India, followed by China and the US.

According to a report by Sensor Tower, TikTok's surge in popularity owed to the coronavirus pandemic. People found TikTok to be the most entertaining and engaging during the quarantine.

A Twitter user calling himself The Skin Doctor said: "My maid Shazia's daughter was a small time TikTok influencer and used to contribute Rs 3,000-4,000 a month to the modest family earning through TikTok ad. With the TikTok ban, govt has pushed the poor family to the gallows. As if lockdown wasn't enough!"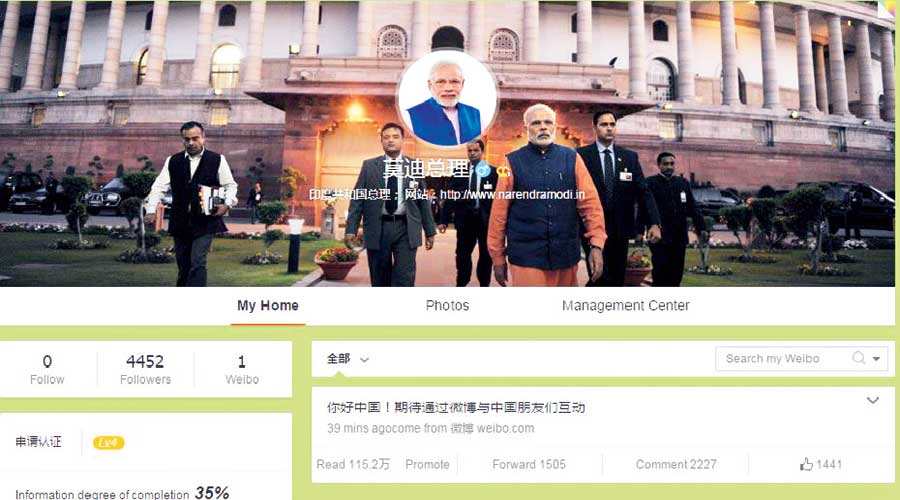 HOW WILL YOU WISH XI NOW, SIR?
On May 4, 2015, Narendra Modi's website proudly announced: "PM Narendra Modi now on Weibo!" Weibo is among the 59 apps banned on Monday night.
The picture on the right accompanied the 2015 announcement, which said: "Prime Minister's first post on Weibo: 'Hello China! Looking forward to interacting with Chinese friends through Weibo'."
The website said: "In a move that will enhance communication with sisters and brothers of China, Prime Minister of India Shri Narendra Modi made a debut on the Chinese social media platform, Weibo. This is first of a kind attempt by a leader across India."
In subsequent years, Weibo was Modi's preferred platform to extend birthday greetings to Xi Jinping, except last year when he wished the Chinese leader in person.
After the border flare-up on June 15, some media reports had said Chinese social media accounts, including Weibo, had deleted a recent speech by Modi to chief ministers.