Congress to PM: Don't be nervous, tell the truth
Rahul chips away at Modi's carefully chiselled machismo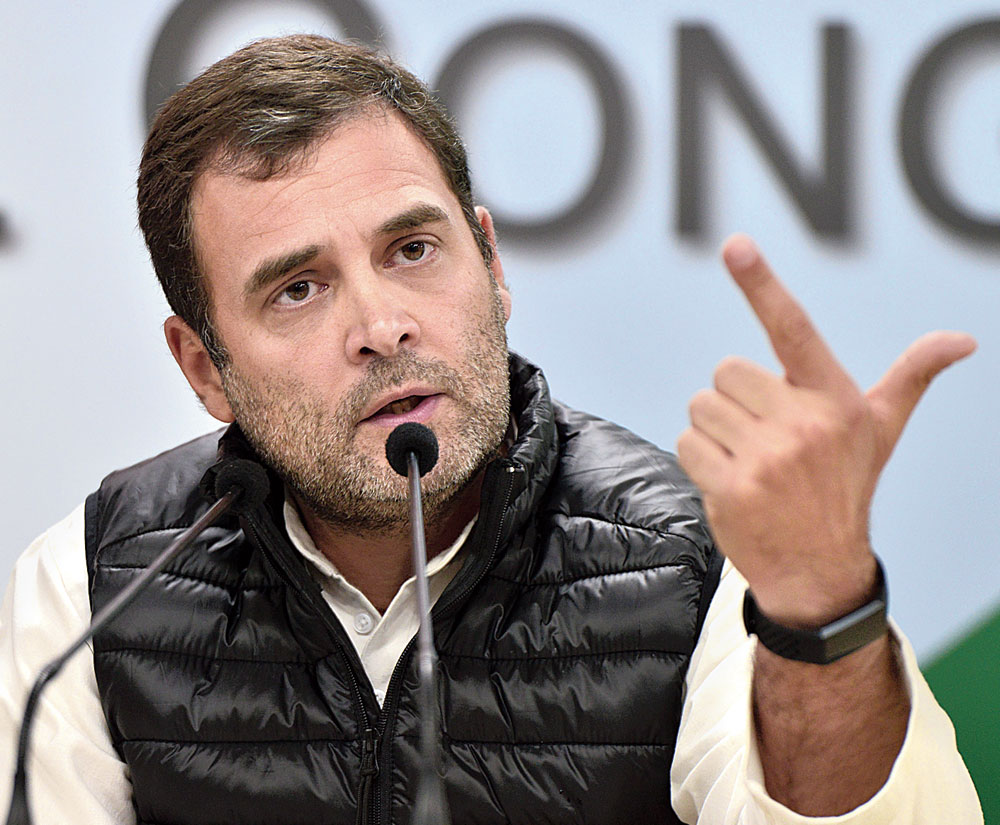 Rahul Gandhi
(File picture)
---
New Delhi
|
Published 27.06.20, 03:20 AM
|
---
Rahul Gandhi on Friday said Narendra Modi speaking the truth about Chinese intrusion without fear or nervousness was a prerequisite for a united India to throw out the encroachers, chipping away at the Prime Minister's carefully chiselled machismo as the Congress stepped up pressure on the government to ensure status quo ante at the border.
"Pradhan Mantri ji, aapko sach bolna hi padega. Ghabrane ki koi zaroorat nahin. Agar aap kahenge zameen nahin gayi aur sach mein zameen gayi hai, China ka fayda hoga (Prime Minister, you will have to speak the truth. No need to be nervous. If you say no land has been captured and the truth is that land has been captured, then China will stand to gain)," Rahul said in a video message as part of the SpeakUpForJawans campaign that the Congress launched on social media on Friday.
Unfazed by the criticism for questioning the Prime Minister, Rahul said: "Hamein mil kar inse ladna hai, aur inko utha kar waapis fekna hai. Toh aapko sach bolna padega. Bina dare, bina ghabraye (We have to unite to fight them and throw them out. For that, you have to speak the truth. Don't be frightened, don't be nervous. Aap boliye (You speak up), China has snatched our land and we are going to act. The entire country will stand behind you."
The Congress MP recalled that the Prime Minister had said at last Friday's all-party meeting that nobody had intruded into Indian territory and not even an inch of land had been encroached upon. Security experts, retired generals, media reports and satellite pictures had pointed to transgressions and encroachment on India's land, Rahul pointed out.
He repeated his question that had triggered a major controversy: who was responsible for sending the soldiers "unarmed" to the June 15 meet with Chinese troops during which 20 Indian personnel were killed.
Rahul's emphasis on the Prime Minister's no-intrusion statement demonstrated a well-crafted plan to expose Modi's strategic mistake as any forward movement militarily and diplomatically on India's part would be viewed against the backdrop of that claim. After Modi's ambiguous comments, the PMO had to issue a clarification that the Prime Minister had been referring to the situation post-June 15 while saying that there had been no intrusion.
The Chinese authorities have not missed any opportunity to highlight the Indian Prime Minister's claim and declared sovereignty on the entire Galwan Valley, which had not been disputed since the 1962 war.
By repeatedly asking the Prime Minister not to be frightened, Rahul has been targeting Modi's "56-inch-chest" strongman cult, legitimised by the 2019 surgical strike on Pakistan. The Prime Minister himself had extracted the maximum political capital from it before last year's Lok Sabha polls, asserting: "Modi ne mara, ghar mein ghus kar mara (Modi killed them after entering their den)."
The Congress, which observed "Shaheed Samman Diwas" in every state on Friday to pay homage to the slain soldiers in Ladakh, kicked up a social media storm by posting countless videos on the Chinese standoff.
Apart from party chief Sonia Gandhi, videos were posted by Congress general secretaries, working committee members, chief ministers, state unit chiefs, spokespersons, MPs and heads of frontal organisations. Many videos showed residents of Ladakh speaking about Chinese intrusions and expressing sorrow and anger at the Prime Minister's claim that nobody had intruded into Indian territory.
Paying homage to the soldiers who lost their lives at the Galwan Valley and expressing solidarity with the armed forces, Sonia said: "Today when there is a crisis situation on the India-China border, the central government cannot abandon its responsibility. The Prime Minister says there is no intrusion while the defence and foreign ministries talk of heavy Chinese presence and transgressions by Chinese troops. If China had not encroached upon our land, how and why were our soldiers killed? We want to know how and when will the government take back the land grabbed by China."
The Congress president drew attention to irrefutable evidence of Chinese incursions, saying: "Isn't China violating our territorial integrity by making constructions in the Galwan Valley and Pangong Tso? Will the Prime Minister take the country into confidence on the situation? The government should support and empower the soldiers. That will be a true patriotic act."
The Congress also issued a statement signed by former ministers of state for defence M.M. Pallam Raju and Jitendra Singh, which painted an alarming picture of the border.
The statement said: "China has now occupied our territory up to 18km inside the LAC, in the Depsang Plains, up to Y-Junction, Bottleneck, as per multiple reports. Chinese forces are now 7km short of the Ladakhi town of Burtse, on the Darbuk-Shyok-Daulat Beg Oldi road. Reports also suggest that China has come as close as 25km from the crucial airstrip of Daulat Beg Oldi, that is within artillery range.
"This is the same Depsang Plains, the area called Bottleneck or Y-Junction, where the Chinese had made incursions in 2013. The UPA government stood firm and ensured the withdrawal of Chinese forces.
"We ask simple questions: Why is the government afraid of acknowledging Chinese incursion in the Galwan Valley and the Depsang Plains? Why is the government demoralising our brave solders by issuing contradictory statements? Why is the government's diplomacy not helping in protecting and restoring India's territorial integrity? What has India gained from the Prime Minister's personal outreach to various countries in general and China in particular? What has India achieved from the five trips of the Prime Minister to China, three trips of the Chinese Prime Minister to India and 18 meetings between the two leaders?"