Independence Day week date for Chandrayaan-2 orbit
The spacecraft is expected to enter the lunar orbit the week the country celebrates its 73rd Independence Day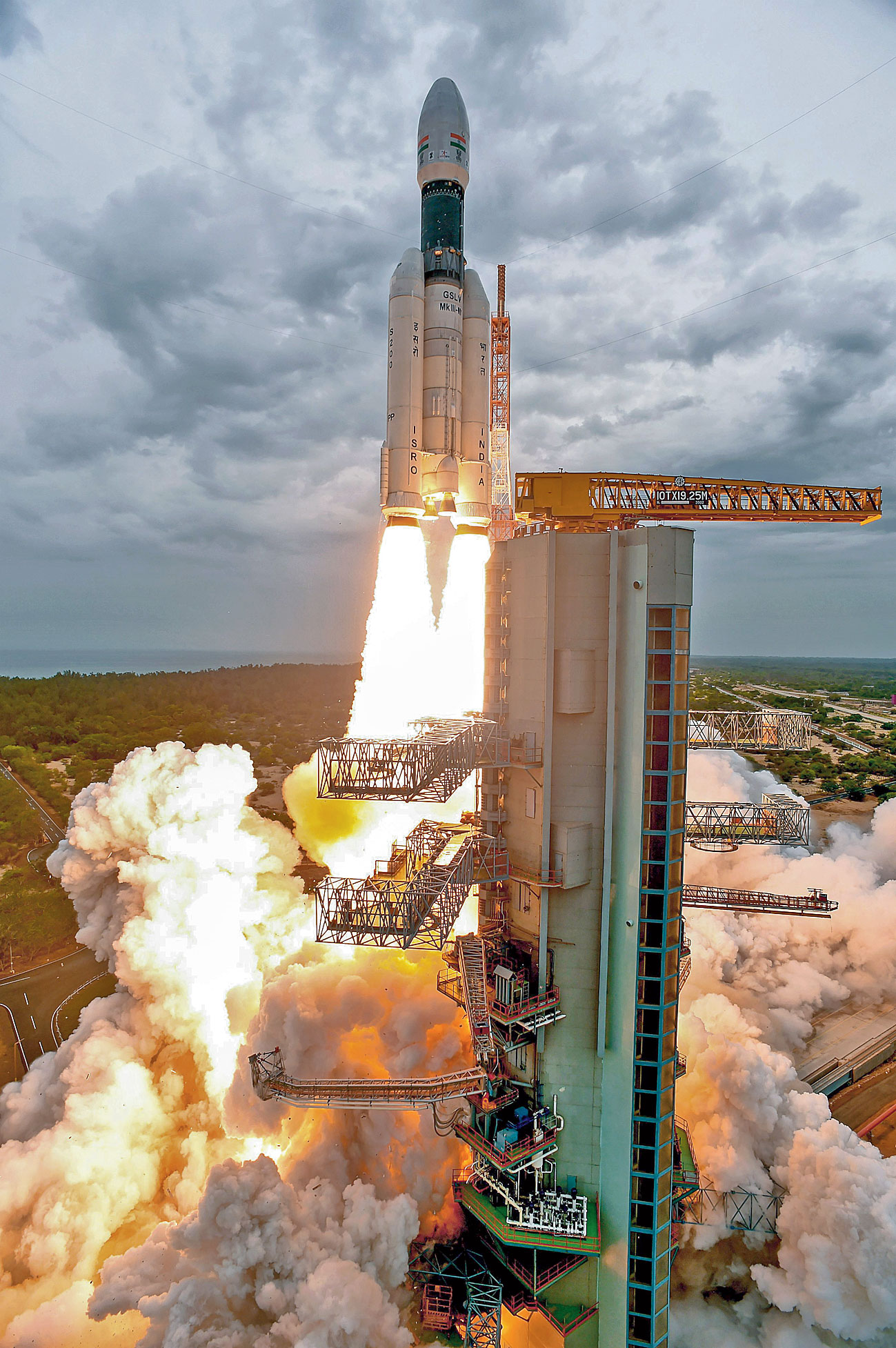 ---
---
India's Chandrayaan-2 spacecraft, crammed with electronics, scientific instruments, cameras, a lander craft and a rover, is expected to enter the lunar orbit the week the country celebrates its 73rd Independence Day.
The Indian Space Research Organisation (Isro) on Wednesday made public a "mission plan" for Chandrayaan-2's 48-day journey towards the Moon that seeks to nudge it into a trans-lunar orbit on August 14.
Engineers at Isro's satellite tracking and control centre in Bangalore on Wednesday fired an onboard thruster to raise the spacecraft's orbit, the first of five such manoeuvres before it is injected into the lunar orbit.
They activated the propulsion system at 2:52pm for 57 seconds and placed the spacecraft into a new elliptical orbit, with its closest point 230km from Earth and the farthest point, about 45,100km.
The next such orbit-raising firings have been scheduled for July 26, July 29, August 2 and August 8, the space agency said, the firings aimed at step-wise increases in the spacecraft's farthest point from Earth.
An orbit-raising operation on August 14 will place Chandrayaan-2 into a trans-lunar orbit. The spacecraft is expected to reach the Moon's neighbourhood on August 20, Isro said.
Isro launched Chandrayaan-2 on Monday, using its giant rocket, the Geosynchronous Satellite Launch Vehicle Mark III, aimed at making India the fourth country to soft-land a spacecraft on the Moon.
The spacecraft's three components — the orbiter, the lander and the rover — carry scientific instruments to study the lunar surface, minerals, the Moon's exosphere and to search for water ice near the lunar polar regions.
Space analysts say the successful launch of Chandrayaan-2 hinged on a quiet but confident gamble Isro took and from which it extracted a bonus. The choice of the rocket — GSLV Mark III — that ferried Chandrayaan-2 into space represented a subtle deviation from Isro's tradition of declaring its launch vehicles as operational after three developmental flights.
The GSLV Mark III had two developmental flights — the first on June 5, 2017, and the second on November 14, 2018 — before Monday's Chandrayaan-2 launch on a slightly modified GSLV Mark III, which Isro officials labelled as an operational flight.
Isro had through the late 1980s and 1990s adopted a strategy of conducting three developmental flights to observe the performance of launch vehicles before freezing the design and declaring them operational.
The space agency had conducted three developmental flights of two of its earlier rockets — the experimental Augmented Satellite Launch Vehicle (ASLV) in 1987, 1988 and 1992, and the Polar Satellite Launch Vehicle (PSLV) in 1993, 1994 and 1996. The PSLV is now the space agency's commercial workhorse rocket.
Senior space officials say there is nothing sacrosanct about three developmental flights. They were considered necessary during the early decades of India's rocket-building efforts because Isro was still learning many of the technologies — propulsion, guidance and control. "Over the years, as we've used such technologies over and over again, we've gained confidence," a senior Isro official said.
The confidence also emerges from a strategy of building rockets that would share technologies — solid-fuelled and liquid-fuelled rockets — that only changed in size and design as rockets became bigger and more powerful.
The GSLV Mark III is Isro's most powerful rocket — a three-stage launch vehicle that uses solid strap-ons and a core liquid booster, and a cryogenic upper stage fuelled by liquid oxygen and liquid hydrogen — and the most challenging Isro has built yet.
Space officials said the rocket's performance during the Chandrayaan-2 launch met expectations.
"I am extremely happy to announce that GSLV Mark III successfully injected Chandrayaan-2 into an orbit of 6,000km more than its intended orbit," Isro chairman K. Sivan said.
Over the next three to four weeks, Isro engineers plan to fire rocket thrusters onboard Chandrayaan-2 to raise its orbit higher and higher. The extra 6,000km achieved translates into more fuel available to engineers during these orbit-raising manoeuvres.
Isro plans to use the GSLV Mark III to launch its first human space-flight mission scheduled for 2022.