Income tax department raids Anurag Kashyap, Taapsee Pannu properties
Both have been outspoken critics of the govt and have freely expressed their views on various issues, including the farmers' protest and the new citizenship regime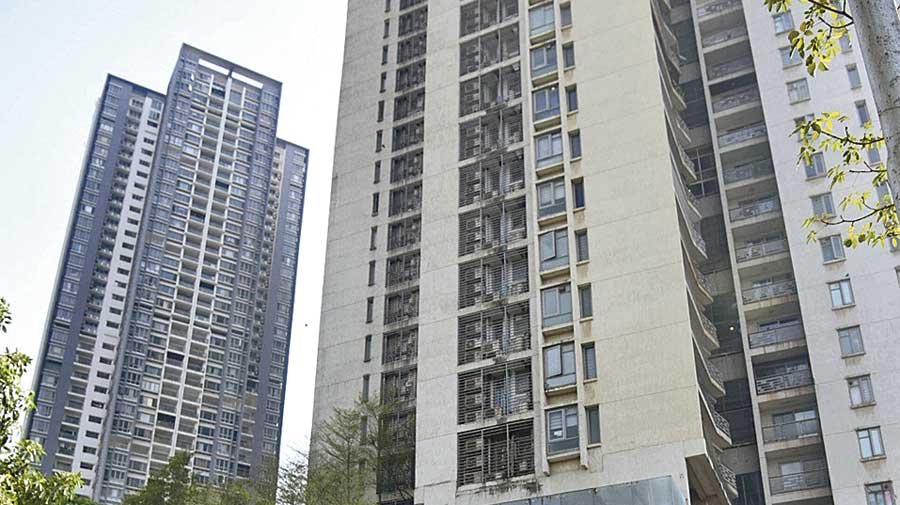 Imperial Heights where Taapsee resides.
PTI
---
New Delhi
|
Published 04.03.21, 01:48 AM
|
---
The income tax department on Wednesday searched the homes and offices of actress Taapsee Pannu and film director Anurag Kashyap, both part of an endangered clan of celebrities who have been vocal against the Narendra Modi government.
Sources said the searches were carried out at over 25 locations in Mumbai and Pune. Pannu and Kashyap were questioned by tax officials, the sources said.
Some executives of celebrity and talent management company KWAN are also being raided. 
The premises of the now-defunct Phantom Films, which was co-promoted by Kashyap and producers Vikas Bahl and Madhu Mantena, are also under the scanner. Phantom Films was dissolved in 2018.
Kashyap and Pannu, frequent collaborators, have been outspoken critics of the government and have freely expressed their views on various issues, including the farmers' protest and the new citizenship regime, at a time when most film stars have either chosen to remain silent or toe the government line. 
"The IT raids were expected as both Kashyap and Pannu have been very vocal against the Modi government's policies. We were expecting it to happen any time soon because they were refusing to kowtow to the government as most Bollywood stars have," a former CBI joint director told The Telegraph.
"The raids are also a message to them and their ilk — fall in line or else…," he added.
Maharashtra minister Nawab Malik slammed the raids. "The raids were conducted by the IT department against those who take a stand against the government or its policies. Both are outspoken celebrities and the action is an attempt to suppress their voice," he said.
The Samyukta Kisan Morcha, the umbrella outfit of protesting farmers, condemned the raids. 
"Despite numerous objectionable attempts by the government, the farmers' movement in India is gathering strength. Many international and national celebrities and well-known individuals have been lending support to the farmers' cause. Instead of fulfilling the farmers' legitimate demands, the government is seeking ways to harass and attack farmers and their supporters," the SKM said in a statement.
"The IT raids unleashed on Taapsee Pannu and others are part of this desperate attempt by the government. The SKM condemns this…."
Actress Swara Bhasker and director Anubhav Sinha expressed solidarity with Pannu and Kashyap. Bhasker tweeted: "Appreciation tweet for @taapsee who is an amazing girl with courage and conviction that is rare to see now days.. Stand strong warrior! 
"Appreciation tweet for @anuragkashyap72 who has been a cinematic trailblazer, a teacher and mentor of talent and a man with rare candour and a brave heart! More power to you Anurag."
Sinha tweeted: "Kashyap and Taapsee I love you both. Just."
The Centre denied any overreach. "The income tax department probes someone based on whatever information they get. The issue goes to court later," Union minister Prakash Javadekar told reporters in Delhi.
Recently, Pannu had appeared to criticise the show of solidarity by celebrities, including actors like Akshay Kumar and Ajay Devgn and filmmaker Karan Johar, with the government in response to pop star Rihanna's post drawing attention to the farmers' protest. 
Pannu had tweeted on February 4: "If one tweet rattles your unity, one joke rattles your faith or one show rattles your religious belief then it's you who has to work on strengthening your value system, not become 'propaganda teacher' for others." 
A day before, she had reposted a tweet from last year in Hindi: "Don't scare anyone so much that the fear is gone. And one should be a little wary of a person who does not fear."
Both Kashyap and Pannu are targets of vile trolls, mostly supporters of the BJP, on social media.
Kashyap had condemned the violence against anti-citizenship act protesters. He had also expressed support for actress Rhea Chakraborty after she was hounded and jailed in connection with the death of Sushant Singh Rajput. Kashyap had slammed Bollywood actors for not speaking up against her vilification.
A perception is growing that the Centre wants to control Bollywood. "The government has already done that with the media and now Bollywood is the target as it is the last independent bastion of a secular and liberal medium of mass entertainment," said an analyst of the entertainment industry.
He said the trend started with Prime Minister Narendra Modi's "grin-and-share-it" moment with Bollywood actors in January 2019 at an event just weeks ahead of his re-election campaign. Bollywood's A-listers had flown from Mumbai to Delhi to meet Modi and discuss how they could work towards "nation-building" and then shared pictures on social media along with effusive praise for the politician. 
Months after being re-elected, Modi had invited top actors and filmmakers to his residence in October 2019 to discuss initiatives to mark the 150th birth anniversary of Mahatma Gandhi. Among those present were Shah Rukh Khan, Aamir Khan, Kangana Ranaut, Sonam Kapoor, directors Rajkumar Hirani, Rajkumar Santoshi and producers Ekta Kapoor and Boney Kapoor.
Last month Akshay, Devgn, Johar and Lata Mangeshkar were among those who tweeted with hashtags coined by the foreign ministry, urging people to stand united and not fall for propaganda after singer Rihanna and climate activist Greta Thunberg tweeted about the farmers' protest.
Many have pointed out how Amitabh Bachchan and Akshay used to comment on burning issues during the Manmohan Singh government, including fuel price hikes, but had been silent when prices touched an unprecedented Rs 100 in some parts of the country recently.
Among the celebrities who have spoken strongly against attempts to redefine India are Bhasker, Mohammed Zeeshan Ayyub, Farhan Akhtar, Jaaved Jafferi, Sinha, Kashyap, Pannu, Prakash Raj and Richa Chadha.
Ranaut, a self-confessed Modi supporter, was last September accorded Y-category security by the Centre after a tussle with the Maharashtra government.
A Twitter user wrote on Wednesday: "Y security cover to the actress who accused farmers of being terrorists. And IT raids against the actress who spoke in favour of farmers."