In veiled attack on RSS, Congress leader Rahul Gandhi calls them '21st century Kauravas'
Addressing a street-corner meeting after the Bharat Jodo Yatra, Gandhi says Haryana is the land of the Mahabharata and went on to take a dig at RSS and ruling dispensation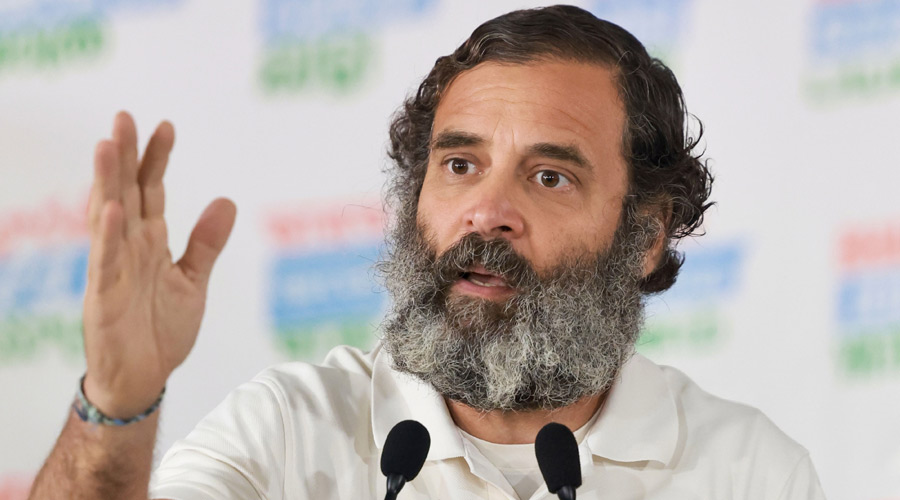 Rahul Gandhi
File picture
---
Chandigarh
|
Published 09.01.23, 08:57 PM
|
---
Congress leader Rahul Gandhi on Monday launched a veiled attack on the Rashtriya Swayamsevak Sangh (RSS) and dubbed them as "21st century Kauravas".
Addressing a street-corner meeting after the Bharat Jodo Yatra led by him reached Ambala district Monday evening, Gandhi said Haryana is the land of the Mahabharata and went on to take a dig at the RSS and the ruling dispensation.
"Who were the Kauravas? I will first tell you about the 21st century Kauravas, they wear khakhi half-pants, they carry lathi in hand and hold shakhas.... India's 2-3 billionaires are standing with the Kauravas," he alleged, referring to the RSS.
"Did the Pandavas do demonetisation, implement wrong GST? Would they have ever done so? Never. Why? Because they were tapasvis and they knew that demonetisation, wrong GST, farm laws are a way to steal from tapasvis of this land.... (Prime Minister) Narendra Modi did sign on these decisions, but the power of India's 2-3 billionaires were behind it, whether you agree or not." he said.
"People don't understand this, but the fight which was at that time, it is same today. Between whom is this fight? Who were Pandavas? Arjuna, Bhim...they used to do tapasya," he further said.
He asked the gathering if they had heard about the Pandavas spreading hatred on this land and doing any crime against an innocent person.
"On one hand there were these five tapasvis and on the other hand there was a crowded organisation. With the Pandavas, there were people of all religions. Like this (Bharat Jodo) Yatra, nobody asks anyone from where he comes. It is a shop of love. The Pandavas had also stood against injustice, they too had opened shop of love in the market of hate," he said.