Pension? Give us water: Voters
Siddipet's urban residents happy with TRS, villagers worry about crops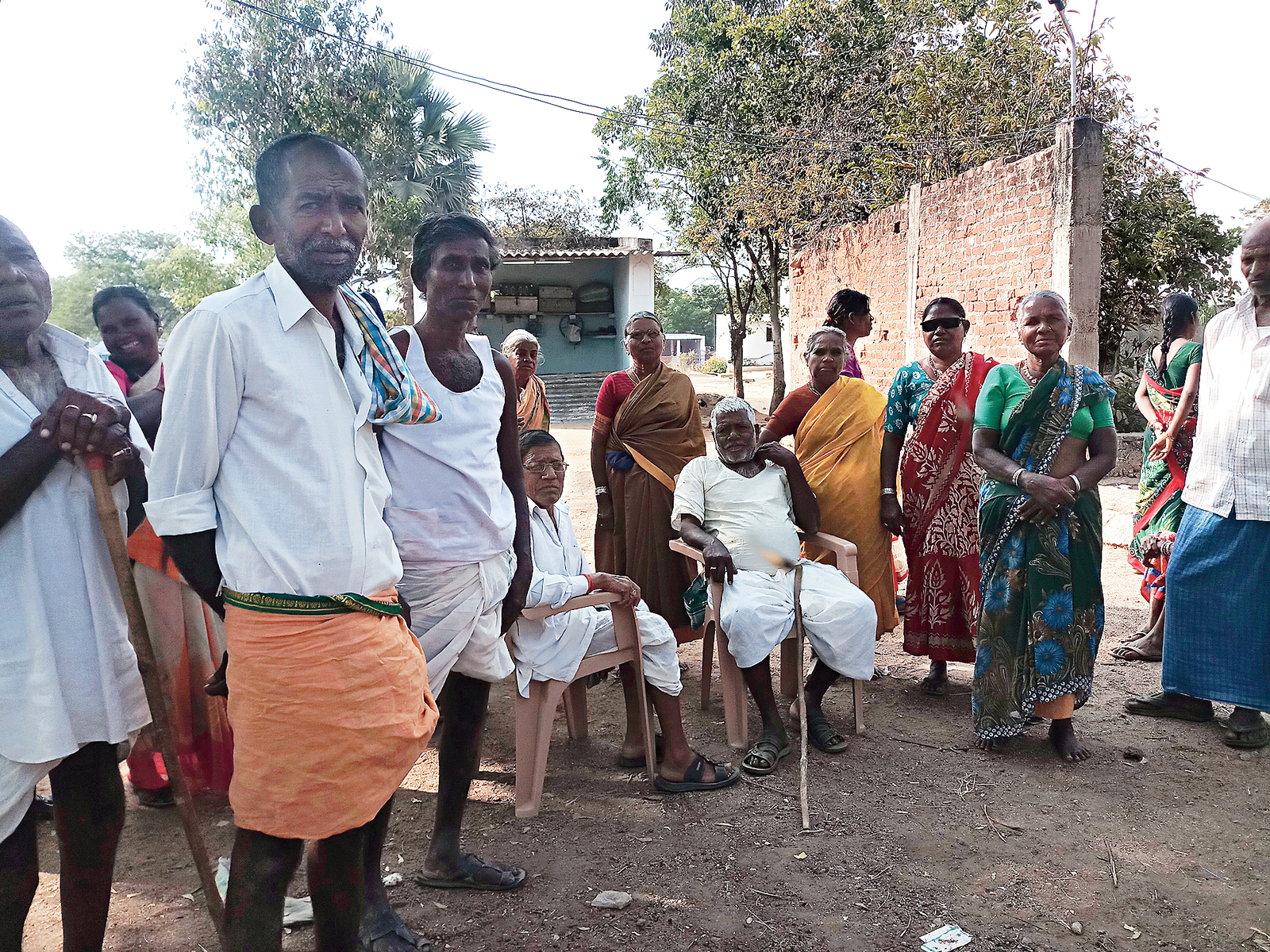 Elders wait for pension at Siddipet district's Chowdarpally hamlet, which faces an acute water crisis.
Picture by Pheroze L Vincent
---
Siddipet (Telangana)
|
Published 04.12.18, 10:35 PM
|
---
Gowriamma, bent with age, yelled at this reporter: "Keep the pension, give us water."

She was standing in a huddle outside a panchayat office in Siddipet district's Chowdarpally hamlet.
Several seniors like her were waiting for their monthly pension of Rs 1,000 from the government of poll-bound Telangana, disbursed by a postman who was offering prayers for the mobile signal to stay strong enough to verify the fingerprints of the beneficiaries.
"Without water all our farms are spoilt — the ears of the corn are too small to fetch a fair price and the cotton bolls are also smaller. We sank a borewell 1,000ft deep but still did not get water. Our sons are sitting at home or migrating to Hyderabad as they don't even get wage labour for four to five days a month. Now we are surviving on this pension," village elder Kondaiah told this paper.
The pension scheme, in seven different categories, is a trump card of the ruling Telangana Rashtra Samithi. But in Siddipet district, which has got scanty rainfall for almost a decade, patience is running dry.
Chief minister K. Chandrashekhar Rao's Gajwel seat, and his nephew and minister T. Harish Rao's Siddipet constituency are in this district, and the government works here as efficiently as it does in Hyderabad.
But while urban voters are largely satisfied with uninterrupted electricity and the multitude of welfare schemes, the contest for votes is closer in the dry rural heartland of the Deccan Plateau.
Lambada tribal L. Kumar in Wargal has installed drip irrigation lines on an acre, fully funded by a Centre-state scheme.
"I've sown seeds of different vegetables. We have dug a well 400ft deep that is not giving enough water, and my previous maize crop failed. Even with the drip my yield won't be great but we will survive until the rains, if it rains," he said.
Most villages in this belt receive drinking water from the state's Mission Bhagiratha. The government is also funding the digging of ponds, and has helped farmers switch to fruit cultivation with lesser water usage.
"I haven't partaken of the two-bedroom home scheme or pension. It's a tough fight between the TRS and the Congress. Our boys don't get jobs in all the industries that have come up here. It's all outsiders from Maharashtra and Karnataka. During droughts we need wage labour, " Kumar said, pointing to a tarpaulin factory opposite his farm.
Landlords like Kumar are eligible for a Rs 8,000 grant a year on every acre of farmland under the state's Rythu Bandhu scheme.
But landless peasants and sharecroppers aren't entitled to the grant. At least 1,149 farmers, most of them sharecroppers, have committed suicide in Telangana in the four years since its formation. Agricultural wages are as low as Rs 250 for women and Rs 300 for men.
Anjaiah used to grow corn near Gajwel, but now sells corn with his wife at Hyderabad's Tank Bund — a tourist spot. He has returned home to vote.
"With 24 hours' free power, we pumped more water for the fields. Now the water level is too low. I make a little more money (in Hyderabad), although I spend on rent. It's worth it as my three daughters and a son are in a better English-medium government school. For this I will vote for the TRS," Anjaiah said.
The Jawahar Navodaya Vidyalaya in Wargal has sunk 15 borewells in the last two decades. Only two work now, one at 800ft and the other at 500ft.
Across rural Siddipet, Rajanna Sircilla, and Karimnagar districts, farmers repeat the same tales of woe — falling water levels, and doles being allegedly cornered by TRS workers.
The Congress-led alliance doesn't have an alternative narrative, and is banking on the popularity of its candidates and the rage of sharecroppers and urban underemployed youths against the incumbents.
Malayya has protested for months for higher wages from the panchayat he works for in Sircilla — KCR's son and minister K.T. Rama Rao's seat. More than 60 years old, Malayya has worked as a contractual sanitation worker for 30 years and earns Rs 2,100 a month. His contemporaries, who are permanent staff, in Hyderabad earn up to Rs 60,000 a month.
"I sat on a three-month dharna at the tehsildar's office. Several of us protested in Hyderabad and gave a memorandum to the chief minister. When the Congress came to campaign, they said that if I elect their man as MLA, he would surely become a minister and make our jobs permanent. I replied that we already have a minister as MLA, will you fight for me?" he said.
An hour's drive from the parched fields, municipal gardeners water lawns in Sircilla. Until five years ago, the place appeared in the news for suicides by its weavers. It now has an industrial park for textile units.
A seat held by the CPI for most of its electoral history, the town now resembles a movie set with lush green traffic islands and fountains — all set up in the last 18 months by the TRS government.
Nakka Muthiah, a weaver left this place for Mumbai in 1974 when he was 16. "I did menial jobs, the worst jobs to survive. I gradually saved up and started a powerloom business (in Mumbai) that is now doing well. My sons are Bombaywallahs but I retained my vote here and return to vote," Muthiah said.
"If there were jobs like there are today, I would never have left. Somebody has captured our ancestral land here but I am not bothered. I feel like coming back," he told this paper, standing beside a fountain popular for selfies.