In Kasaragod, they're winning the war against virus and how
In two weeks, this Kerala district is likely to be Covid-19 free; extended quarantine, intense surveillance and lots of testing helped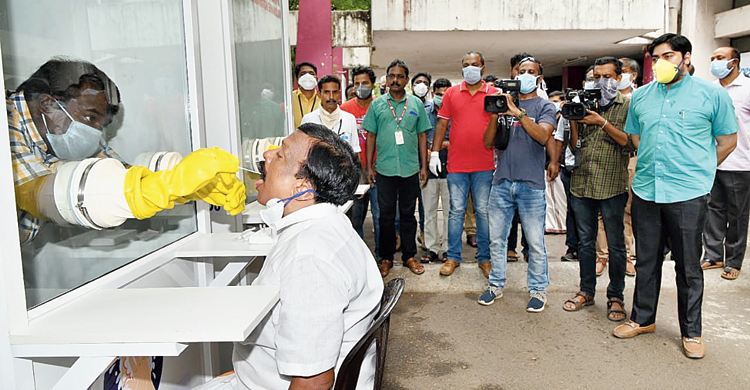 A walk-in throat swab collection kiosk at the Government Medical College at Kalamassery in Ernakulam, Kerala.
Picture credit: The Ernakulam district administration
---
New Delhi
|
Published 19.04.20, 06:24 PM
|
---
In one corner of Kerala, humans seem to be winning the war against the coronavirus.
A few weeks ago, Kasaragod in the north Kerala, was one of the worst affected districts in the country, although it hasn't reported any deaths due to the virus so far. But in about two weeks, the district administration of Kasaragod hopes to be Covid-19 free.
How did the district with only two ventilators in its government hospital pull this off? Early imposition of 28-day, as opposed to the Who-mandated 14 days, quarantine measures; regular testing, and an aggressive social campaign that forced people to stay indoors seem to have worked for it.
Kasaragod district collector D. Sajith Babu credits the local administration for extending the quarantine period to more than what the Pinarayi Vijayan-led state government imposed. The district discovered early on that people were being diagnosed as Covid-19 positive much after the mandated 14-day quarantine period.
"We'd find cases after days. Just yesterday (Friday) we had a positive case after 28 days," Babu told The Telegraph online on Saturday. The third Covid-19 patient in the country, a student who had returned from Wuhan in China, was from Kasaragod and was diagnosed on February 4. It took him 17 days to be virus-free.
28-day quarantine
Nationally, 14 days is considered to be the correct duration of the quarantine period. It is what has been mandated by the World Health Organisation. Kerala had imposed a 28-day quarantine period since the first week of March. On Friday, the Kerala government marked Kasaragod, along with Malappuram, Kozhikode and Kannur, as a red zone district most vulnerable to the virus.
"I took a chance… decided that for anyone outside my district, whoever had come after February 20, he/she should go for quarantine. Altogether up to April 14, I got 55 days as quarantine period," said Babu. He estimates that over 20 cases turned out to be Covid-19 positive after remaining asymptomatic for more than three weeks.
Praise from Union ministry
Located in the northernmost part of Kerala, Kasaragod was one of the first districts reporting a Covid-19 patient in India. Two and half months later it became a model for Covid-19 operations in the country.
On Saturday, the Union health ministry cited Kasaragod as an example of successful implementation of containment strategies that led it to flatten the curve.
"A 'break-the-chain' campaign was carried out in an effective manner and a hundred per cent house-to-house survey was also carried out in the district," said Union health ministry joint secretary Lav Agarwal during his daily briefing.
Various measures undertaken by the state and district authorities earned the Centre's applause. Kasaragod was praised for its best recovery record. Of the 168 positive cases reported, 115 patients recovered which is an impressive 68 per cent.
Agarwal also praised the Kasaragod district administration for its clinical management and effective use of drones and geo-spatial technology for surveillance. He also noted the challenges faced by the district in terms of its location and migrant population.
Early lockdown, more testing
District collector Babu said in a population of 13.1 lakh residents, nearly 2 lakh worked in the Gulf. Nearly 90 per cent of them were based in Naif, a densely populated neighbourhood in Dubai. "In the last few days, just three days before international flights were stopped, we had 450 people returning to the district," Babu said.
Kasaragod, he noted, had imposed a lockdown before the Prime Minister's announcement. "We went into a lockdown two days before the entire country was shut down," said Babu. "I had imposed Section 144 on the night of February 22. And the social pressure we created encouraged people to immediately report anyone breaking the quarantine period."
Kasaragod took the WHO director-general's call to "Test, test, test" seriously. District medical officer A.V. Ramadas believes testing was key to its containment measures, apart from the extended quarantine period.
"We were testing more than anywhere else in the country," said Ramadas. By early April, he recalled, the district was testing 100-150 samples every day. At the time, the entire state of Kerala was conducting an average of 500 tests per day.
"To prevent community spread we covered 15,000 houses until now in the hotspots. I think we have covered more than 75,000 individuals, testing anyone who showed Covid-like symptoms," said Ramadas.
Babu added that all first and second-level contacts were tested. Later, community level random testing was also started. Currently, 200-220 tests are being conducted in Kasaragod everyday.
Concern over critical care facilities
Both Babu and Ramadas admitted, however, that the administration was worried about providing critical care. Located nearly 550km from the state capital, the people of the district relied on Mangalore in Karnataka for better healthcare facilities. But when the state border was sealed on March 21 fearing a Covid-19 spread from Kasaragod, the administration was concerned about high-risk patients.
"My district has only two ventilators. With just two ventilators in government hospitals I was worried that if something went wrong we'd be finished," said Babu.
Ramadas said early action and wide testing measures helped Kasaragod avoid critical cases. As of Sunday, there are 42 positive cases admitted in Kasaragod hospitals. Ramdas believes that if everything went well, "In two weeks, we should reach zero cases."