Indian Medical Association calls out Centre's 'hypocrisy'
IMA denounces failure on Covid warrior data
Doctors accuse the Modi govt of 'hypocrisy' for describing healthcare workers on the frontlines of the epidemic as 'warriors' but not caring to count the number of virus deaths among them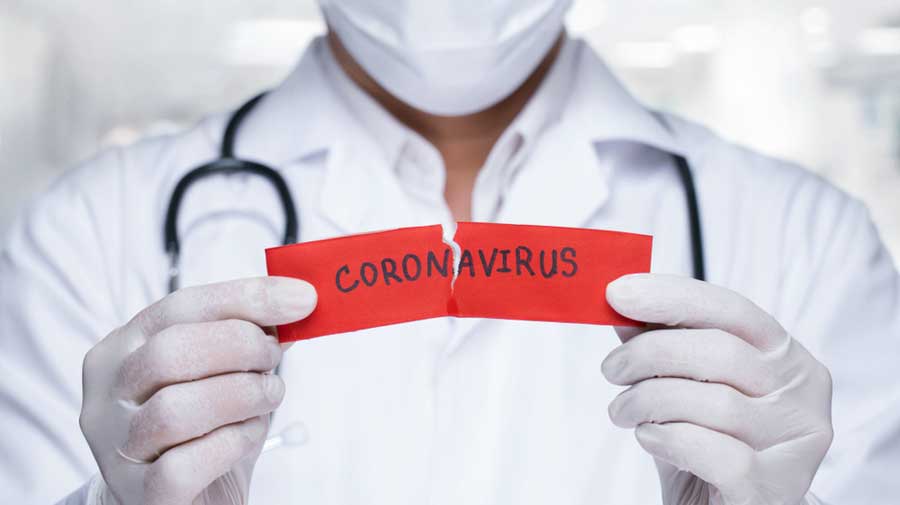 The IMA said 382 doctors had already died from Covid-19 and decried the Union health ministry's assertions in Parliament that health is a state subject and the Centre does not maintain data on Covid-19 infections or deaths among healthcare workers.
Shutterstock
---
New Delhi
|
Published 18.09.20, 02:00 AM
|
---
The Indian Medical Association, the country's largest body of doctors, has accused the Narendra Modi government of "hypocrisy" for describing healthcare workers on the frontlines of the coronavirus epidemic as "warriors" but not caring to count Covid-19 deaths among them.
The IMA said 382 doctors had died from Covid-19 and decried the Union health ministry's assertions in Parliament that health was a state subject and the Centre did not maintain data on Covid-19 infections or deaths among healthcare workers.
Senior doctors not associated with the IMA too have expressed surprise that the Centre is not tracking deaths among healthcare workers, saying that is tantamount to a nation at war not counting casualties among its soldiers.
Union health minister Harsh Vardhan had in a statement in Parliament earlier this week acknowledged healthcare workers' contributions during the pandemic.
However, the health ministry, replying to parliamentary questions, had said it does not collect data on infections or deaths among healthcare workers but maintains a record of insurance claims received from their families after deaths among them.
The IMA has said in a sharply worded statement that any attempt to pretend that information about infections and deaths among healthcare workers does not merit the attention of the nation is "abominable".
"If the government doesn't maintain the statistics of the number of doctors and healthcare workers infected by Covid-19 and statistics of how many sacrificed their lives… it loses the moral authority to administer the Epidemic Act, 1897, and the Disaster Management Act," the IMA said.
The Centre had earlier this year invoked the two acts, empowering itself to enforce epidemic-related advisories.
The IMA said the Centre's attitude "exposes the hypocrisy" of calling healthcare workers "corona warriors" and yet denying them the status of martyrdom.
Earlier, the Centre had declared that it maintained no data on the deaths of migrants, another segment of the population that has suffered heavily because of the pandemic and the lockdown.
"There is a reluctance to admit that healthcare workers have sacrificed their lives," R.V. Asokan, IMA general secretary, told The Telegraph.
"The Centre is enforcing coronavirus advisories in all states, but they do not consider it necessary to count casualties among healthcare workers."
Doctors have underlined that healthcare workers represent precious resources, especially during pandemics. Several countries such as Italy and the US have since the beginning of the pandemic maintained records of Covid-19 infections and deaths among their healthcare workers.
In the US, for instance, the Centres for Disease Control and Prevention have recorded 156,306 infections and 690 deaths among healthcare professionals.
"Tracking such numbers is important because any unusual increase can alert authorities about the need for interventions," a senior physician at a central government hospital in India, who requested not to be named, told this newspaper.
"Infection and death counts among healthcare workers also serve as measures of the effectiveness of the personal protective equipment."
The health ministry and the Indian Council of Medical Research, along with the states, maintain records of all those who were tested, all those found positive and all those who died. "It should not be difficult for the Centre to get this data (about healthcare workers) on a regular basis from states," a senior doctor at a government hospital said.
The IMA had until Thursday documented 382 Covid-19 deaths and 2,238 infections among doctors across the country. Asokan said the association collected information daily from its state branches, which rely on around 1,700 local town branches to gather data on deaths and infections among doctors.
The 382 doctors who have died include 42 each from Andhra Pradesh and Karnataka, 39 from Gujarat, 36 from Maharashtra, 28 from Bengal and 23 from Bihar. General practitioners and family doctors have disproportionately high infections, Asokan said.
"General practitioners and neighbourhood doctors are at particularly high risk of exposure because they remain the first port of call for most patients, including those with respiratory symptoms. Patients do not go directly to Covid hospitals," he said.
Asokan said the data the IMA had collected suggested that doctors, who are at a greater risk of exposure than the general population, also have higher mortality levels.
The IMA's own database, albeit incomplete, has counts of 2,238 infections and 382 deaths — implying a fatality rate of 17 per cent, which is more than 10 times the national Covid-19 case fatality rate of 1.6 per cent.
Senior IMA officials concede that a comparison based on incomplete data is inappropriate. "We want to be proved wrong. We hope that the government counts the deaths among doctors and other healthcare workers and proves us wrong," Asokan said.