'I'd rather build a cadre than poach leaders'
Days after she joined the Trinamul, Sushmita Dev spoke about her giant leap and what it means for politics in the Northeast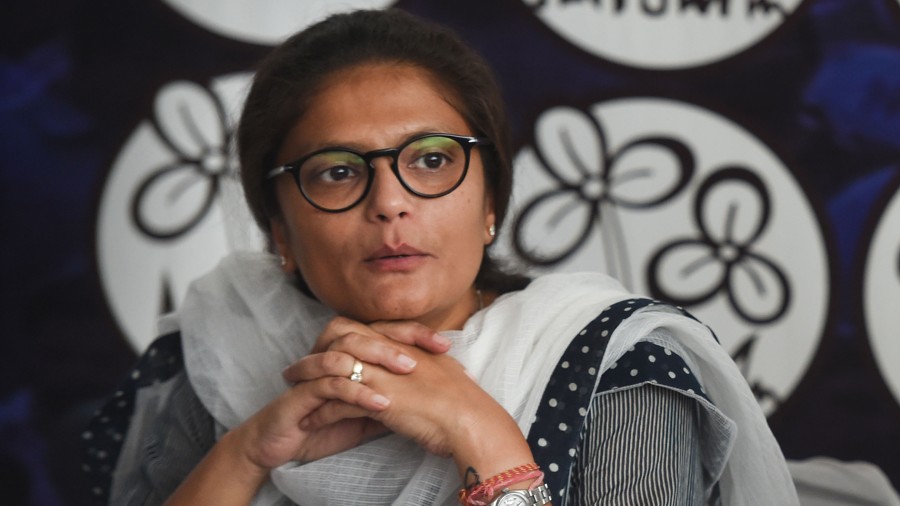 ---
Published 12.09.21, 12:45 AM
|
---
The day Sushmita Dev quit the Congress, a disgruntled Kapil Sibal reacted thus in a social media post: "The party moves on with eyes wide shut... While young leaders leave, we 'oldies' are blamed for our efforts to strengthen it." 
Sushmita, 48, former Lok Sabha MP and till recently president of the All India Mahila Congress, is believed to be a close associate of Rahul Gandhi. Her resignation has been part of the great and continuing unravelling of the grand old party that has in recent times lost young leaders such as Jyotiraditya Scindia, Priyanka Chaturvedi and Jitin Prasada to rivals.
"It is not possible to be with the Congress anymore," says Sushmita. "It's a completely ideologically messed up party," she adds with a deep sigh when I finally connect with her, a fortnight after she has joined the Trinamul. Unlike many others, she doesn't express any grouse against the party's high command. She'd rather talk about future possibilities.
"After the massive victory of the Trinamul in West Bengal, I believe Mamata Banerjee is the strongest national leader. She can fight and vanquish the BJP, the country's biggest enemy. By joining the Trinamul, I will be able to help her," she says over phone.
She is talking from her home in Tarapur in Silchar. I can imagine her sitting beside a huge portrait of her father and veteran Congress leader Santosh Mohan Dev. Dev Sr was one of Rajiv Gandhi's most trusted aides and ministers. I had visited the house on a windy evening of February 2019, before the Lok Sabha elections; it is located on a road named after her grandfather, Satindramohan Dev, a freedom fighter and an associate of Jawaharlal Nehru.
Apart from legacy loyalties, Sushmita had firmly established her position in the Congress after she ousted Kabindra Purkayastha, a BJP stalwart of the Northeast, in the 2014 Lok Sabha elections. It was also sweet revenge; Dev Sr had lost to Purkayastha in 2009. Obviously, it hasn't been easy for her to sever ties with the Congress. In a letter to interim Congress chief Sonia Gandhi, Sushmita did not mention why she was resigning, just that she cherished her "three-decade-long association" with the party.
Soon after Sushmita joined the Trinamul, hordes of Congress cadres followed suit. She, however, insists, "I would rather build a cadre base than poach leaders of other parties. You cannot do politics without cadres."   
Over the past few years, the Congress party's base in Assam's Barak Valley, as built and consolidated by Santosh Mohan Dev over decades, has been disintegrating. Dev Sr had been instrumental in forming Congress governments in Tripura and other northeastern states in his heyday. But at some point, the RSS-BJP combine's prolonged fanning of ethnic differences in the region created the context for its own ascent.
Since a large number of people in the region are migrants from erstwhile East Bengal, the BJP dangled the carrot of the Citizenship (Amendment) Act or CAA; they promised fast-tracked citizenship to Hindu emigres. This helped the BJP draw Hindu voters to its fold; in 2019, Sushmita lost to greenhorn Rajdeep Roy of the BJP. 
To add salt to injury, in the 2021 Assam elections, the Congress in Assam decided to forge an alliance with the Badruddin Ajmal-led All India United Democratic Front. This further alienated the Congress's Hindu vote bank in Assam and the party lost. Says Sushmita, "I had warned against this alliance, but they were desperate," she laments. "Besides, the Congress sent leaders like Bhakta Charan Das (from Odisha) and Manish Chatrath (from Delhi) for electioneering; they were clueless about the Northeast ."
According to her, Himanta Biswa Sarma, the new chief minister of Assam, is hand-in-glove with a section of the Opposition there. These leaders now sing paeans for Sarma instead of standing up to the BJP's anti-people policies.
"He has thoroughly communalised the political space in Assam and the region. He's been pursuing a politics of chauvinism — linguistic and religious — to impress his boss Amit Shah so that he could become the chief minister," says Sushmita. It is his chauvinism, according to her, that has resulted in the border disputes between Assam and neighbours Mizoram and Meghalaya. She adds, "Now that he's CM, he doesn't bother much about other northeastern states."
Sushmita believes that in this backdrop of strife and chaos, people are looking for a non-Congress and non-BJP alternative. "The Trinamul can fill the political void," she says. When I ask her whether Mamata Banerjee will be viewed as a typical Bengali leader in the region, she shoots back, "Her influence is no longer confined to Bengal. She's been in national politics far longer than Prime Minister Modi..."
Political observers such as Joydeep Biswas, a political scientist with Assam University, believe Sushmita will be projected as the chief ministerial candidate in Tripura by the Trinamul in the 2022 Assembly elections. Biswas says, "Just like Mamata, she is a street-fighter and hardworking. Give her five-six years and she'll turn the tide of politics in the Northeast." 
As for Sushmita, this is what she has to say. "By foisting a chief minister like Biplab Deb on the people of Tripura, the BJP has sent the message that they just want to grab power and have no interest in governance. I know the state well, thanks to my father, and I can expedite the process here."
Têtevitae
1972: Sushmita is born to Congress leader Santosh Mohan Dev and his wife Bithika in Silchar
After her postgraduation from King's College, London, becomes a Bar-at-law from Middle Temple, UK
2011: Fights Assam Assembly elections and wins
2014: Becomes MP from Silchar
2017: Becomes president of All India Mahila Congress
2019: Loses Silchar Lok Sabha seat to the BJP 
August 2021: Quits the Congress and joins the Trinamul