ICMR flags 'major safety concerns' about merck's new anti-Covid-19 pill
Bhargava says anti-viral medicine molnupiravir won't be included in health ministry's coranavirus treatment protocol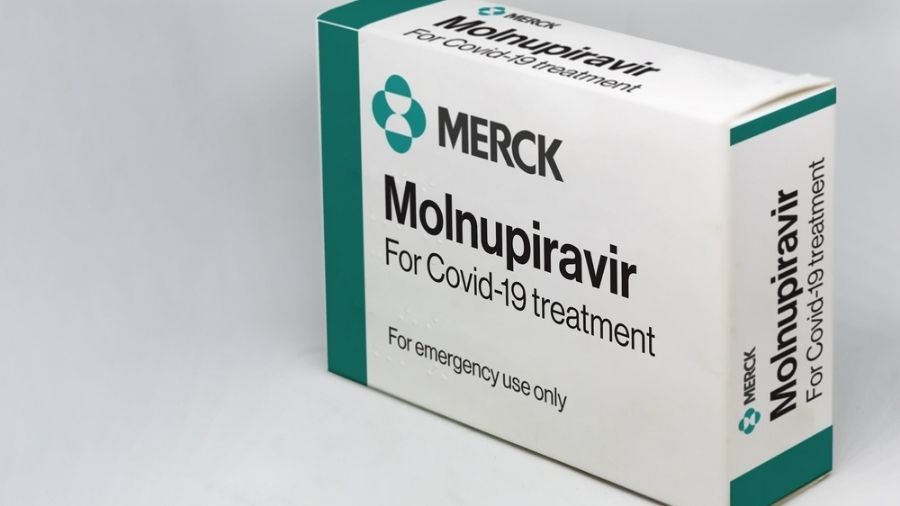 The latest studies released by Merck show that the anti-viral cut the risk of hospitalisation from Covid 19 by 30 per cent, down from a 50 per cent reduction in the risk of hospitalisation reported early in the trial. 
Shutterstock
---
New Delhi
|
Published 07.01.22, 03:01 PM
|
---
So you want to take Merck's new anti-viral pill to treat your Covid-19 at home? Maybe not so fast. The Indian Council of Medical Research (ICMR) has flagged what it says are "major" concerns about the safety and effectiveness of experimental drug molnupiravir which has just been launched in India by local drug-makers. The medicine being sold for Rs 1,399 for a five-day course is intended as an at-home treatment for keeping high-risk patients out of the hospital.
Even though the Indian drug regulator and the US Food and Drug Administration (FDA) granted emergency use authorisation for the pill, the ICMR says it's not including the anti-viral in the health ministry's Covid-19 treatment protocol due to worries about whether the risks outweigh the benefits.
When the FDA cleared the Merck drug by a narrow committee vote for emergency use for patients over 18, it added an important health warning: it said the pill should only be prescribed in cases where other FDA-authorised treatments are not accessible or were not clinically appropriate. 
Importantly, the FDA has authorised another anti-viral pill, Paxlovid from Pfizer (not yet available in India) for much wider use in patients 12 and over. Furthermore, the FDA gave Paxlovid a glowing recommendation, calling it a "major step forward in the fight against this global pandemic".
Molnupiravir is indicated for Covid patients who have a high risk of progression of the disease including hospitalisation or death. Patients must take pills twice a day for five days within five days of experiencing symptoms.
"This drug has major safety concerns. It can cause teratogenicity, mutagenicity, and it can also cause cartilage damage and can also be damaging to muscles," Indian Council of Medical Research (ICMR) Director-General Balram Bhargava said.
Teratogenicity means a risk that a substance can cause foetal defects while mutagenicity refers to transmissible changes in the genetic cell structure.
An easy-to-administer oral treatment to keep Covid patients out of hospital is seen as the potential holy grail for helping the world return to normal in the face of the pandemic. But there's a growing sense among scientists that molnupiravir may not be the right pill. In fact, there have been a lot of questions about whether the FDA should have authorised its use in the first place.
Bhargava said that any male or female using the drug would have to practise "effective contraception" for three months as there could be foetal damage. "So, it is not included in the national task force treatment," he said.
The French government scrapped its order for the anti-viral with the health minister saying the study results "weren't good."
Initially, when Merck announced the pill, scientists believed it might be a gamechanger that could alter the course of the pandemic. But new studies have raised questions about the effectiveness of the medicine along with concerns about its potential side effects.
The latest studies released by Merck shows that the anti-viral cut the risk of hospitalisation from Covid 19 by 30 per cent, down from a 50 per cent reduction in the risk of hospitalisation reported early in the trial.  "That's not all that good," Katherine Seley-Radtke, a medicinal chemist who develops antiviral drugs at the University of Maryland, Baltimore County, told Nature magazine. In fact, she said, "It's pretty lacklustre."
In particular, there is concern that the medicine could create new Covid-19 variants that evade immunity and make the pandemic last longer due to the way it works. The medicine injects itself into the virus's RNA, creating errors and stopping the virus's ability to copy itself. 
"For at least several days, the drug is in the body mutating the virus — but not all virus genomes have picked up enough mutations to die off. For those initial few days, then, the patient is a breeding ground for viable mutated viruses. The first days of molnupiravir treatment present a clear opportunity for mutant viruses to be transmitted to family members or caregiver," said Dr Michael Lin, an associate bioengineering professor at Stanford University, writing in The Washington Post.
A UK study led by Andrew Hill of the University of Liverpool reported that "two late-stage trials of molnupiravir based in India have been discontinued due to lack of significant efficacy in treating moderate patients." Merck said the trial organisers had a different definitions of the term "moderate" disease.
The FDA advisory committee eventually recommended the emergency use of the pill by 13-10. Importantly, the FDA said in a statement, "molnupiravir is limited to situations where other FDA-authorised treatments for COVID-19 are inaccessible or are not clinically appropriate and will be a useful treatment option for some patients with COVID-19 at high risk of hospitalisation or death." 
The FDA recommendation for Pfizer's anti-viral is far more upbeat, calling the protease inhibitor pill "a new tool to combat COVID-19 at a crucial time in the pandemic as new variants emerge and promises to make antiviral treatment more accessible to patients who are at high risk for progression to severe COVID-19." A protease inhibitor blocks the activity of a key enzyme that the coronavirus needs in order to replicate.
Monoclonal antibody treatments lower the risk of severe COVID-19 by as much as 85 per cent. But they are expensive and must be administered intravenously, requiring a clinical or a hospital setting.
Indian pharmaceutical companies have a lot at stake in the marketing success of the molnupiravir. Over a dozen Indian firms are making it, including Dr Reddy's, Natco, Aurobindo, Mylan, Strides, Cipla, Sun Pharma and Torrent with the price per capsule starting at Rs 35. 
Pfizer's results from a study of Paxlovid on 2,246 Covid patients at high risk of more severe disease due to risk factors like age, weight or heart problems, was far more promising. Out of those who were given Paxlovid within five days of symptoms, just eight or 0.8 per cent of the total had to go to the hospital. In the placebo group, 66 or 6.3 per cent were hospitalised, meaning that overall Paxlovid cut the hospitalisation risk by 89 per cent. Also, significantly, no patients who were prescribed Paxlovid died compared to 12 who were given the placebo.
It may be a while before Paxlovid reaches India, though. Pfizer says it's in talks with India and other countries to introduce the pill. The Economic Times reports that the company has said a cheaper generic version may not be available until later this year and in the meantime, it is offering a "tiered pricing for low and middle-income countries. It said "sub-licences" to "qualified generic drugmakers" for Paxlovid's production might start being issued in February.