I am being cursed and a false binary is being created: Kanhaiya
He couldn't attend the news conference, held to protest the arrests of anti-CAA activists, because he had been held up at an MP's home over a meeting related to the upcoming Bihar elections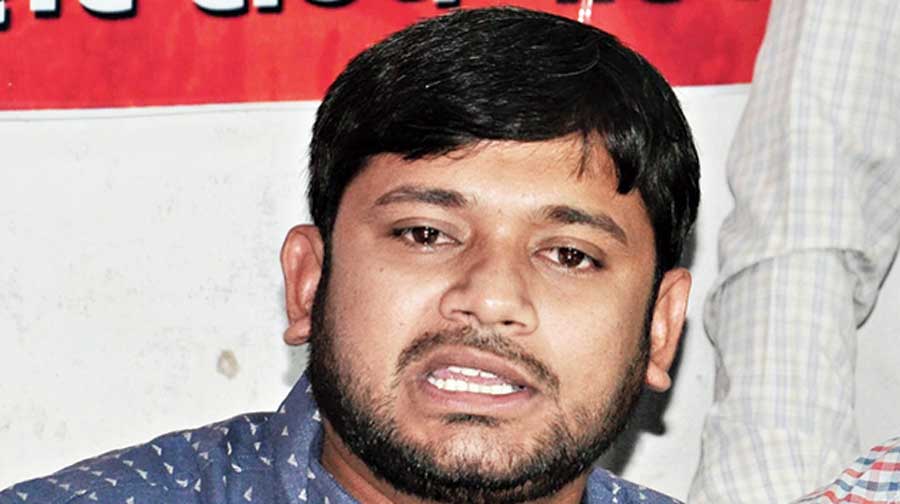 Kanhaiya Kumar
File picture
---
New Delhi
|
Published 18.09.20, 01:16 AM
|
---
CPI leader Kanhaiya Kumar has explained his uncharacteristic silence on social media for almost two months: he finds it vulgar to tweet about how he has helped people.
"I don't want to tweet pictures of relief work to promote myself and embarrass those who have received help. My tweets in the past too were only about the movements and causes I was working for and not personal publicity," Kanhaiya told The Telegraph on Thursday.
On Wednesday, he had been absent from a news conference held in support of Umar Khalid, who was recently arrested in a Delhi riot case and with whom Kanhaiya had been jailed in 2016 when both were JNU students. It led to murmurs of "ditched by Kanhaiya" at the Press Club of India.
But the CPI leader told this newspaper: "The Left has been clear that the police probe is a sham. It has protested (to press) for the prosecution of BJP leaders (who made incendiary speeches ahead of the February riots) from Day 1.
"Yet why am I being personally held accountable for not attending a press conference? Are such questions asked of members of other Opposition parties?"
He added: "I'm being cursed whether or not (I do something), and a false binary is being created by some over (the act of) speaking about one political prisoner more than the other. We have been fighting for the release of all political prisoners, be it Sudha Bharadwaj or Anand Teltumbde or Umar."
Kanhaiya said he couldn't attend the news conference, held to protest the arrests of anti-CAA activists on terror charges in connection with the Delhi riots, because he had been held up at an MP's home over a meeting related to the upcoming Bihar elections.
Now a member of the CPI's national executive, Kanhaiya has been a rage on social media for his satirical comments targeting Prime Minister Narendra Modi, his government's failures and the alleged crimes of the BJP-RSS.
But his social media accounts had been silent since the end of July. On Wednesday, he broke the silence with a long Facebook post on the media trial of political prisoners like Umar amid the havoc the pandemic has unleashed in the country.
His comment boxes are now filled with jibes about his waking up after a "long slumber", and questions about why he has chosen to speak out now and where he was when his "karmabhoomi" (workplace) Bihar was ravaged by floods.
Kanhaiya told this newspaper that he had come to Delhi on March 15 to consult lawyers for the first hearing of his sedition trial, which was expected to begin in April. He has stayed mostly in Ajoy Bhawan, the CPI headquarters.
Since then Covid-19 has claimed his uncle, a former teacher he was close to, and the CPI's Bihar state secretary Satyanarayan Singh, a father figure to Kanhaiya.
Four members of Kanhaiya's family have been infected. The parents of three close friends have died from Covid-19, including one whose passing was communicated to him while he was speaking to this newspaper.
"I couldn't go to their cremation because of the lockdown. This entire time I have been on the phone trying to connect people in need to our comrades and others who could help… I'm not in the frame of mind to tweet satire," Kanhaiya said.
"I can't even go home as we have a one-room house, where I would be putting my aged mother at risk. In Bihar, more than 50 people travel with me because we are always at risk of being attacked. I can't do that now as I can't put the families of these people at the risk of exposure to Covid."
He continued: "We don't have a huge organisation, neither am I from a rich family. Yet we have tried to help whoever we can, with people sitting in Delhi, Patna and Begusarai coordinating with people across India.
"We have arranged for 13,000 workers to be fed by the All India Trade Union Congress (of the CPI) in Coimbatore. We have fed artistes who were hungry for three days, given ration kits and clothes to flood-hit families in Bihar. There are good journalists out of work who can't pay rent. We've tried to help them too.
"Not just the CPI comrades but many others helped us, including an MP and an MLA from the Aam Aadmi Party in Delhi. After the lockdown was relaxed, I have travelled to five states in the north for both relief and political work."
Kanhaiya said he was now focused on poll-bound Bihar although he would not contest.
"I will be moving to Patna where I shall do whatever election work the party gives me. We need a narrative that speaks of livelihood issues and breaks this discourse of Hindus versus Muslims," he said.
"The BJP must be defeated in the state that has the highest number of migrant workers. People who question my commitment because I don't want to contest should be concerned more with how we need to build unity among the Opposition parties."