Human shield shuns voting, but can't skip poll duty in Kashmir
On Thursday, the turnout in Srinagar was just 15 per cent but still more than double last time's figure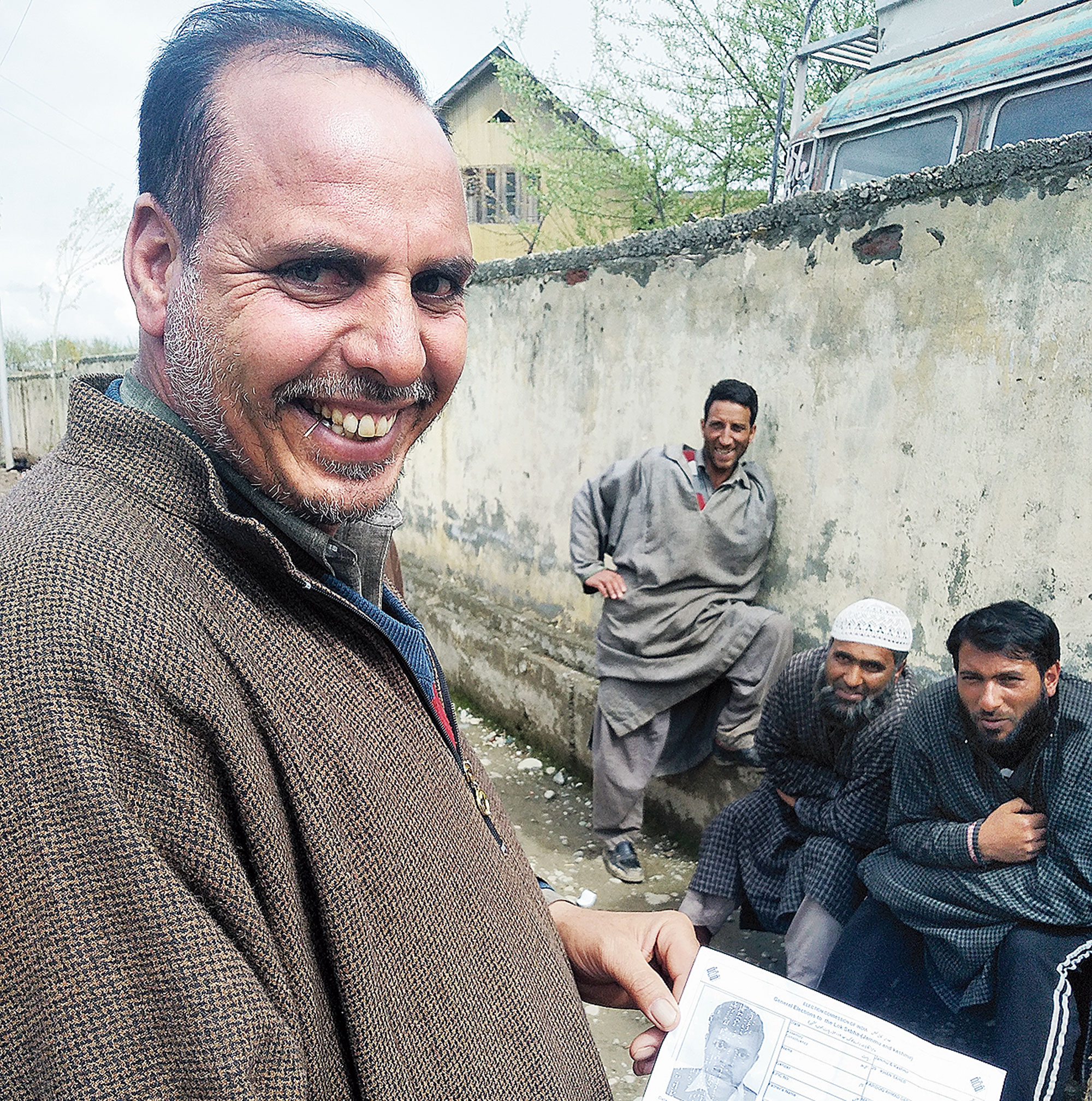 ---
---
Farooq Ahmad Dar wants to shun elections, but the elections won't let him.
The man who had vowed never to vote again after being tied to an army jeep as a human shield during an election two years ago was on poll-related duty on Thursday, although he didn't cast his vote.
Dar, 28, has been hired as a sweeper at the government health centre in Khansahab, 15km from his home in Chill, in Budgam district. On Thursday, he had to man a medical camp set up near a polling station in Khansahab for the voters and polling personnel.
"On election days, medical teams have to be on special duty at polling stations till the election staff leave. He (Dar) was part of a medical team (at Khansahab)," Nazir Ahmad, chief medical officer of Budgam, said.
Ahmad said that people on poll-related duty can vote by postal ballot in advance but Dar had chosen not to. Sources said hundreds of government employees are averse to joining poll-related duty but cannot refuse lest they lose their jobs.
Dar had been the first to vote in Chill that day in April 2017 when the Srinagar parliamentary constituency witnessed an abysmal seven per cent turnout in a by-election and the deaths of seven civilians as stone-throwers took on the forces.
He had then left for his sister's village when Major Leetul Gogoi, accusing him of being a stone-thrower, strapped him to the bonnet of his jeep and drove him around as a human shield and a warning to the mobs.
The incident triggered outrage across the country and outside but many in the central government and the army chief, General Bipin Rawat, defended the army's action. Rawat called it an "innovative" way of fighting a "dirty war" and awarded Gogoi a commendation card.
On Thursday, the turnout in Srinagar was just 15 per cent but still more than double last time's figure. There was little violence.
When The Telegraph reached Dar's home in Chill, around 60km from Srinagar, his family said he was away "somewhere on medical duty for elections".
His elder brother Fayaz Ahmad confirmed that Farooq had never voted after that public humiliation.
"Even if he were here, it's impossible that he would have voted after all he has suffered in the past two years. He didn't vote even for me in last year's panchayat polls, where I was elected sarpanch of our village," Fayaz said.
He said Dar had struggled to find a bride and eventually married a woman from far-off Pir Panchal in Jammu. Apparently, families were reluctant to marry their daughters to him fearing repercussions from the court case he has filed seeking punishment for his army tormentors and compensation.
Elections are generally not a taboo in Chill, a backward village with ramshackle houses dotting its hilly landscape where bread-and-butter issues dominate the discourse. Around 180 of its 800-odd voters had voted by 2pm. Fayaz said he was likely to vote later.
When this correspondent tracked Dar down in Khansahab, he was helping his superiors. He refused to talk, expressing anger at the media for branding him a stone-thrower (quoting the army).
"I can't talk also because my case is in the courts. Please leave me alone," he said.
His associates said Dar was paid Rs 840 a month and was upset that no one had offered help.