How Twitter reacted to Malala's plea to UN on Kashmiri students
Several have accused the Nobel laureate of carrying forward Pakistan's agenda and turning a blind eye to the plight of minorities in the neighbouring country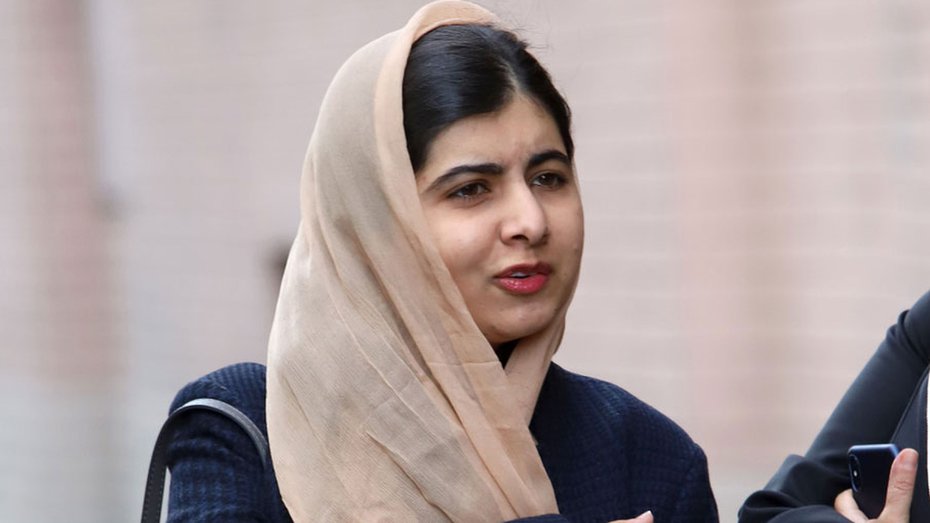 The 22-year-old education rights activist, Malala Yousafzai, had urged United Nations General Assembly to help students in Kashmir go safely back to school.
Shutterstock
---
New Delhi
|
Published 16.09.19, 08:27 AM
|
---
In May 2016, art of living preacher Ravi Shankar had said Malala Yousafzai did not deserve the Nobel Peace Prize, a quote reported in several dailies and news websites. 
This was two years after she was awarded in Oslo. Malala, the famed human rights activist, was shot by the Taliban gunman in December 2012 for her campaign on girls' education in the Swat Valley in northeastern Pakistan. The Taliban, who are opposed to the education of girls, have destroyed hundreds of schools in Pakistan.
On Saturday, Malala, who has since become a name on children's education rights, tweeted that she was deeply concerned about reports that Kashmir's children "have not been able to attend schools for more than 40 days", and "about girls who are afraid to leave their homes".
Some called Malala an agent of Pakistan for selectively speaking on Kashmir. Some others were reminded of Ravi Shankar's words uttered three years ago.
I am deeply concerned about reports of 4,000 people, including children, arbitrarily arrested & jailed, about students who haven't been able to attend school for more than 40 days, about girls who are afraid to leave their homes.

— Malala (@Malala) September 14, 2019
I am asking leaders, at #UNGA and beyond, to work towards peace in Kashmir, listen to Kashmiri voices and help children go safely back to school.

— Malala (@Malala) September 14, 2019
Shiv Sena leader Priyanka Chaturvedi accused her of "carrying forward" the Pakistani agenda in the 'garb' of Kashmiri girls. 
Pakistan doesn't react to how it's perceived in the world, carries forward their agenda and how Malala is helping run that agenda on Kashmir in the garb of her 'concern' for Kashmiri girls but am loving the meltdown Indians are having on behalf of Malala. So touching.

— Priyanka Chaturvedi (@priyankac19) September 15, 2019
Replying to Malala's tweet, BJP leader Shobha Karandlaje pointed out the the Nobel Peace Prize winner should look at how minorities are treated in Pakistan.

Sincere request to the Nobel winner, to spend some time speaking with the minorities of Pakistan.

To speak against the forceful conversation & persecution taking place on the minority girls in her own country!

Developmental agendas got extended to Kashmir, nothing suppressed! https://t.co/Um3BmGuJwi

— Shobha Karandlaje (@ShobhaBJP) September 15, 2019
Gaurav Goyal, the Chandigarh Bharatiya Janata Yuva Morcha president, too accused Malala of 'driving' a 'nepharious agenda,' asking her if a Nobel laureate should interfere with a country's internal matter. Congress leader Salman Nizami slammed her for 'selective outrage', telling her to look at Pakistani terrorists attqacking Kashmiris.
Before you preach peace and human rights to rest of the world, can we talk about #Balochistan #Sindh #GilgitBaltistan .
Do you think a noble laureate should interfere in internal affairs of some country & drive nepharious agendas.#BharatRatna #Malala #MalalaYousafzai @HMOIndia pic.twitter.com/isrKCud7Gu

— Gaurav Goel (@goelgauravbjp) September 15, 2019
Dear @Malala.

Appreciate your concern for Kashmir, but Pakistani terrorists had fired this Kashmiri girl (Usma) last week whn her poor father tried to open his shop. Aapke saath bhi aisa he hua tha. You fight for girls rights? Thn why no tweet on this? Why selective outrage? pic.twitter.com/OaxsjLIWrm

— Salman Nizami (@SalmanNizami_) September 15, 2019
Several people on Twitter said Ravi Shankar had correctly pointed out that Malala did not deserve the Nobel.     
Sometime I feel noble prizes given for a very small issue like she was given. Most spend their lifetime to do some scientific research, writing books but she .... ravishankar ji is right, she does not deserve noble prize.

— ShashiKB (@KbShashi) September 15, 2019
He is shree shree Ravishankar ji( @SriSri )
She must didn't deserve #Novel_prize, but haan she deserved a place , #PM of porkistan. #ImranKhan just save ur chair.@Malala

— ⚔️PIYUSH KAYASTHA🏹 (@tweet_piyush_) September 15, 2019
@Malala doesn't deserve Nobel Peace prize: Sri Sri Ravishankar.
Dear Malala
You received noble prize for doing nothing. Actually it was all western media political vendetta.They want to score a point so you got the noble peace prize for "DOING NOTHING" for peace. @SriSri pic.twitter.com/CyGChIZpWj

— Amit Pandey (@dr_amitpandey) September 15, 2019
Life in Kashmir since the August 5 lockdown remains far from normal. Most shops and schools are shut and public transport has gone off the roads in the Valley.

The efforts of the state government to reopen schools have not borne any result as parents fear for the safety of their children.