How Tricolour was dragged into Capitol frame
Roasted on social media for carrying the national flag to an American show of bigotry, Kochi-born Vincent Xavier Palathingal, is not too fazed if a tad defensive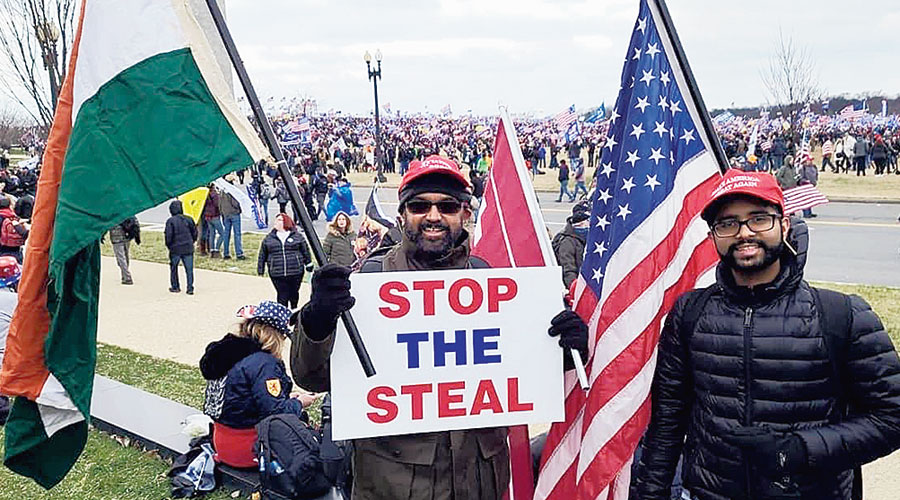 ---
|
Kochi
|
Published 09.01.21, 03:35 AM
---
Software entrepreneur Vincent Xavier Palathingal, 54, says he left Kerala a quarter century ago and settled in the US to escape "large-scale Leftist violence and atrocities" at home.
Now he finds himself defending his decision to join — Indian Tricolour in hand — a rally at Capitol Hill on Wednesday, soon after which large-scale Rightist violence erupted.
But, roasted on social media for carrying the national flag to an American show of bigotry, the Kochi-born chairperson of the US-based Accubits Technologies, which has an office at Technopark in Thiruvananthapuram, is not too fazed if a tad defensive.
He has glib answers to every difficult question, much like the man he reveres: US President Donald Trump.
"I carried the Indian national flag to prove that Trump's supporters are not rigid American nationalists with racist tendencies as projected by the media but a set of peaceful agitators with a pan-global vision and inclusiveness," Xavier said over the phone from Fairfax county, Virginia, where he is a state committee member of the Republican Party.
"Commonly, people of different nationalities take part in protests with their national flags. My only point was that Trump still enjoys enormous international backing, and he has many Indian fans."
As for the violence, he insists he had no part in it and it was all the handiwork of about 50 Leftists who had infiltrated the crowd of protesters.
"I have reason to believe that the 50 men who unleashed violence belong to the Left group Antifa, which Trump had described as a set of terrorists. They might have sneaked into our peaceful democratic protest against the rigging of the election to defame our leader Trump," he said, flogging a discredited conspiracy theory.
"I'm not a rioter, and the vast majority gathered there had not rioted. The 50 men were trained in adventurous and violent activities. You may have seen the visuals in which they climbed the walls of the building. I'm a Trump fan who took part in the protest peacefully."
While Xavier's old friends in Kerala acknowledged the extreme hatred the former Congress party activist harboured for the Left ideology, they contested his claim that he had left the state for political reasons. They said he had obtained US citizenship to try and build a transnational business.
Xavier, involved in many Malayali forums in the US and vice-president of the largest of them, the Federation of Malayalee Associations of Americas, has angered community members from both Kerala and America.
Shashi Tharoor, Congress MP from Thiruvananthapuram, has questioned "Indians with the same mentality as that Trumpist mob, who enjoy using the flag as a weapon rather than a badge of pride" and asserted: "That flag there is a warning to all of us."
Xavier's Facebook page showed a glut of angry messages, with netizen Suresh Madhavan alleging he had "disgraced India for your two minutes of fame" and Philip Joseph, apparently a US-based Malayali and Republican, asking: "Who gave you the authority to carry Indian flag in a riot before capitol hill?"
Sounding somewhat on the back foot, Xavier told The Telegraph there were five other Keralites in the siege but they had not attracted attention because they did not carry the Indian flag.
Xavier told Manorama News that this was the first time he had carried an Indian flag to a pro-Trump rally although he had participated in three of them before.
He has deleted from his Facebook page pictures he had uploaded of himself holding the Indian flag at the Capitol Hill siege.
Instead, he has tweeted pictures of the pro-Trump protesters carrying the national flags of various countries, including Vietnam, Iran and South Korea.
"American patriots — Vietnamese, Indian, Korean & Iranian origins & from so many other nations & races, who believe massive voter fraud has happened joined rally yesterday in solidarity with Trump," he tweeted.
Nissim Mannathukkaren, associate professor with the department of international development studies at Dalhousie University, Canada, said there was a "compact between White supremacism and Hindutva".
"There is nothing surprising about Indian and saffron flags waved at the insurrection in Capitol. Around 28 per cent of Indians in America voted for Trump. But the support for Trump's majoritarian racist nationalism in America is even larger amongst the Indian diaspora," he told The Telegraph in an email.
"This is the compact between White supremacism and Hindutva, founded on common enemies like Islam despite the fact that Indians are themselves a racial minority in the United States."
He added: "But the largely affluent Indians are the 'good minority' who can participate in 'Make America Great Again'. And this compact is what was reflected in the open endorsement of Donald Trump by Narendra Modi in his 'Ab ki baar Trump sarkar' call."
Washington-based software professional Sajith Nair, 44, who said he knew Xavier through a common association with US-based Malayali organisations, asserted the Accubits chairperson only recently began promoting himself as a hardcore Trump fan.
Xavier was born at Champakara near Vyttila on the outskirts of Kochi city. Thrissur resident Sheeba Jayan said Xavier had been involved with the Congress-backed students' union at the Government Engineering College in Thrissur, where both had studied.
Xavier later worked as project engineer with the Kerala Industrial and Technical Consultancy Organisation in Kochi, and as site engineer with the Ali-Al Sehebani Associates at Al-Hofuf, Saudi Arabia.
He moved to the US to study for a master's in civil engineering at the University of Reno. He later he worked with the Maryland State Highway Administration, Metro Washington Council of Governments, and Fannie Mae.
In 1998, he started Amaram Technology, providing IT support to businesses and government bodies. Accubits was incorporated in 2016.
Xavier had unsuccessfully contested school board elections at Fairfax county. He is the founder of a political think tank, the Indo-American Centre. He told this newspaper that Trump had appointed him a member of the US Export Council.
Some of his former classmates and friends said Xavier had maintained his ties with the Congress party, hosting several senior Congress leaders from Kerala during their US visits.
In a Facebook post, Xavier had described Congress politician Hibi Eden's election to the Lok Sabha from Kochi as a reflection of God's curse on Pinarayi Vijayan's government, which had allowed women to enter the Sabarimala temple.
Additional reporting by K.M. Rakesh in Bangalore