How to write CV? Join a college
A Delhi University teacher complained that the commission was foisting additional courses without creating additional teaching posts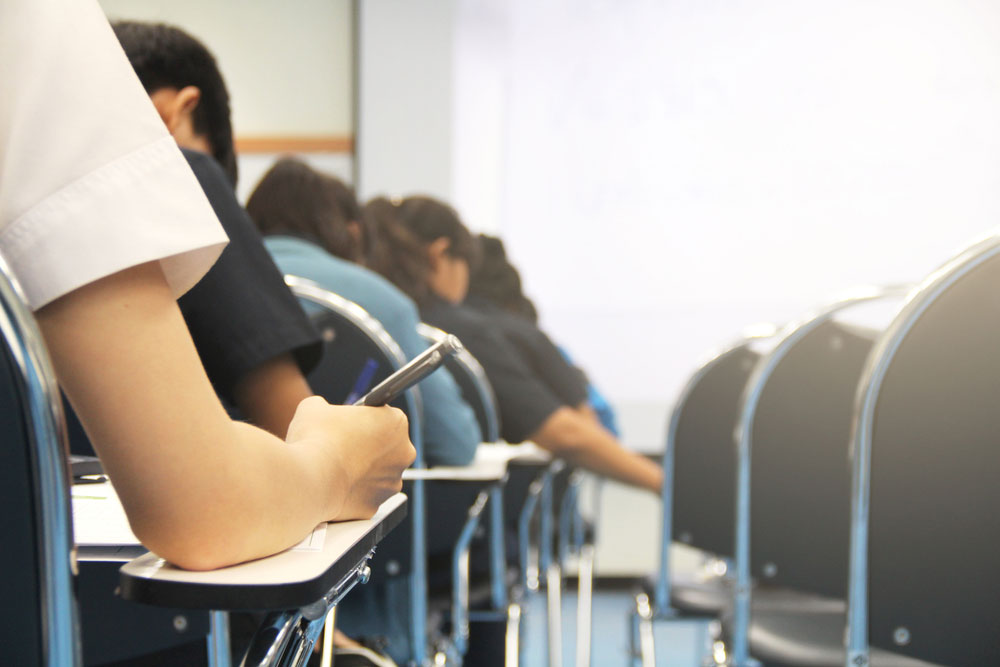 Sources said the universities would be free to introduce them from the second semester of this academic session since the first semester has already started.
(Shutterstock)
---
New Delhi
|
Published 11.09.19, 08:50 PM
|
---
The University Grants Commission on Wednesday rolled out additional "life skill" courses for undergraduate students across general streams, billing it an effort to improve their communication and critical abilities and teach them how to write CVs and impress job interviewers.
Some academics, however, said the teaching of critical thinking and other life skills, such as proficiency at writing and verbal communication, are most effective at the school level.
Sanjay Dhotre, junior human resource development minister, released the Curriculum for Life Skills (CLS) prepared by the commission, the higher education regulator.
It includes four courses: communication skills, professional skills (including career skills and team skills), leadership/management skills and universal human values.
These courses together carry eight credits, which suggests they will be compulsory for the students, although commission sources said it had not been decided yet whether the universities would make these courses mandatory.
Commission chairman D.P. Singh said the framework of the CLS would be circulated among all the universities next week.
"They (the universities) will decide how to implement them," he said.
Sources said the universities would be free to introduce them from the second semester of this academic session since the first semester has already started.
Each of these courses will have training modules under sub-themes. For example, the communication skills course will have training modules on critical thinking, cognitive skills, critical writing, non-verbal communication, the asking of probing questions, email writing, the drafting of proposals for higher studies, digital literacy and the effective use of social media.
The course on professional skills will have components such as preparing one's resume, exploring career opportunities, making presentations before employers and conference audiences, and participation in interviews and group discussions.
The modules on management skills will touch on leadership, ethics, teamwork, networking, self-regulation and ideation. The modules on universal human values will cover topics such as love and compassion, truth and non-violence, righteousness and peace, service and renunciation.
Commission vice-chairman Bhushan Patwardhan said online lectures for each of these courses would be made available.
Labour economist Ravi Srivastava cited the example of the developed nations to say the teaching of life skills should start at school. He said that even Class III-level schoolchildren in the West were set assignments that forced them to do research and learn to communicate well.
Srivastava feared that undergraduate students prescribed the life skill courses might end up mugging short-cut guidebooks, oriented towards passing exams.
"Students in most universities do not study the prescribed texts even for their core subjects. The same thing is likely to happen with the life skill courses," Srivastava said.
He also cited the need to create more jobs, citing how a committee set up under Sarada Prasad had found that only 12 per cent of the youths given skills training under the government's vocational courses had landed jobs.
"Quality education and training should start at an early age. But even that does not translate into jobs unless new opportunities are created. The market must reward skill," Srivastava said.
A Delhi University teacher complained that the commission was foisting additional courses without creating additional teaching posts.
"If the regulator is serious about teaching life skills, it must sanction additional faculty posts in the public universities. The existing humanities and science teachers cannot be expected to teach leadership or entrepreneurship," the teacher said.
Commission secretary Rajnish Jain said there were no immediate plans to sanction additional teaching posts at the universities for the life skill courses.