How Kerala resists hartal now
Anyone committing violence deserves to be arrested and put in jail: Resident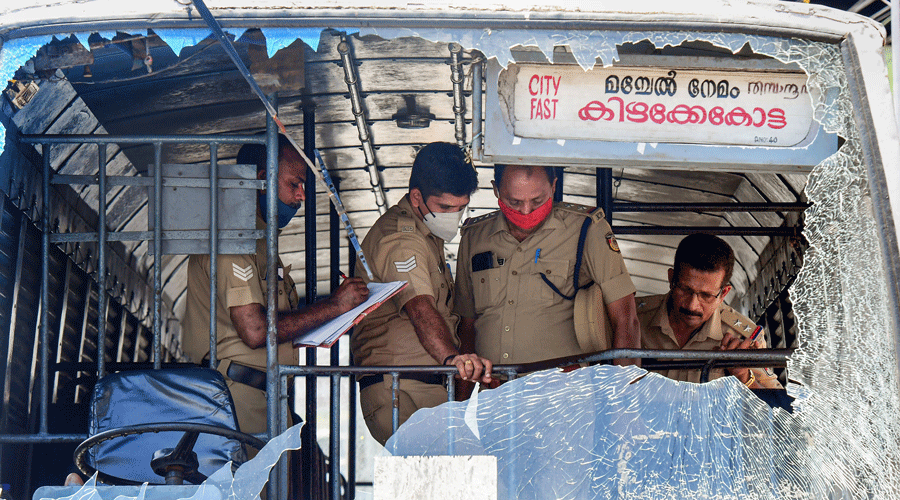 Police personnel take stock of the damages done to a Kerala State Road Transport Corporation bus in Thiruvananthapuram on Friday.
PTI picture
---
Kochi
|
Published 24.09.22, 01:28 AM
|
---
It started on the afternoon of Thursday, September 22, 2022.
News of the raids on the Popular Front of India (PFI) was already out that morning. The development became palpable when a simple visit to the house of an aunt in Ernakulam became a tad complicated.
For reasons best known to the authorities, the Kerala headquarters of the National Investigation Agency (NIA) sits bang in the middle of an old residential colony. It is a quiet place. That afternoon, the roads in the area stood cordoned off. Media teams hung around at a distance from the NIA office. Reaching my aunt's house, some 300 metres away, required extra walking via lanes that hadn't been closed to traffic but still featured policemen.
By evening, news of a hartal on September 23 was out. There was an element of nervousness in the air because the PFI is widely considered to be a mercurial outfit. Stories circulate of its capacity to deploy fast. But the real reason for the PFI being dreaded is its association years back with the chopping of an academic's hand. It is also linked to a few gruesome murders. Consequently, there was trepidation in the air as the state slipped into the eve of a hartal called by the PFI.
Early Friday morning, the usual hustle and bustle of people embarking on work was absent at the lodge I was staying in. Instead, a couple of lodgers stood gazing at the road from the windows. The situation didn't seem as bad as anticipated. Shops and business establishments appeared shut. But people were out, there was a small amount of traffic and very importantly, three-wheelers (autorickshaws) were operating.
High above this scene a Metro train passed by. Private buses were absent. Years ago, a hartal typically meant no movement. This scene was different. At the reception of the lodge, I asked the manager whether hartals in Kerala had changed over time.
"It is not like before. Why should we all shut down because somebody has a grievance? Those of us who want to go about our lives, we do so," he said, the tone of his voice betraying the anger people felt at having their day held hostage by the threat of violence.
Some structural changes also helped. The Metro was one. It can't be blocked like regular roads and railway lines. As long as the Metro is alive and running, other services feeding into it will also operate. Outside the nearby Metro station, a small line of three-wheelers had assembled to transport people. "It is possible for us to work. Besides, as the day moves towards evening and the 6pm end of the hartal approaches, more businesses will open up," one of the drivers said.
The lodge and the Metro station were in the heart of Ernakulam. A few hotels had opened in the neighbourhood to serve breakfast. I went to one and treated myself to dosa and tea. "Its not like before. We can function," the cashier said as I paid the bill.
Across the road, a general store had opened. "Anyone committing violence deserves to be arrested and put in jail," one of two men standing outside told me. "They are free to call for protests and shutdowns. But if I open my shop and they obstruct me, I can approach the police and eventually the courts. If I complain, the police will come quickly. The courts have also said clearly that we shouldn't be stopped from working," he said, highlighting the contribution of court rulings to the new-found confidence in staying open despite a hartal.
Hartals hurt in proportion to where its architects wield influence. Ernakulam is both a centre of commerce and a city receiving people, arrived to work. Its momentum is hard to halt. Aluva nearby, the people I spoke to said, could be different. At the Metro station, while buying a ticket to Aluva, I asked the lady at the counter if the Metro was favoured by the public on days of hartal. "Yes," she replied.
Probably because there was fear of trouble given the type of politics behind the call for a hartal, the Metro train I boarded had just a smattering of commuters. Travelling in it through hartal-bound Ernakulam reminded me of my first ride in Mumbai's monorail (it was commissioned before Mumbai's Metro).
Riding above the road-level congestion and thick population of Mumbai had felt very different. In Kerala, what you leave behind as you gain elevation is the regression of the state's politics. All those kilometres to Aluva went by smoothly. Unlike Ernakulam, Aluva seemed comprehensively shut down. Although eateries within the Metro station were open and a few three-wheelers were out, most restaurants and shops were shut. An occasional state transport bus headed towards North Parur.
My objective was to walk to the local state transport depot and take a bus back to Ernakulam. Not far from the station, I saw in that landscape of shut establishments a cobbler ready for work on the footpath. Forty-two-year-old Murthy was born near Bolghatty in Ernakulam but currently lives with his mother in Aluva. He used to work at the government guest house in Kozhikode but things gone wrong and a series of expensive advocates had forced him into the current predicament — a combination of gardening, cutting grass and repairing shoes.
"I can set myself up for work today. There is no problem in that. Nobody will drive me away. But the issue with hartal is lack of customers. Who is out and wanting to repair a shoe?" he asked.
Murthy mentioned he hadn't had a morning cup of tea or breakfast. A small tea stall nearby was functional. I gave have him Rs 50. Realising that I was headed for the transport bus stand, he offered a suggestion. "Sometimes on days like this, an agency comes there to distribute food parcels to the needy. It may be difficult to eat today. So, take a parcel if they offer one. If they give an extra parcel, take that too; you can save it for dinner," he said in all seriousness.
Barring a couple of tender coconut vendors and an instance of construction work discreetly going on, Aluva was quite shut. A small crowd of people hung around the local bus depot. Realising it may take time for the regular frequency of trips to happen, I changed my plan. I hopped on to a bus for Trippunithura that would drop me off at Kalamassery.
At Kalamassery, as shut as Aluva was, I got on to the Metro headed to Ernakulam and got off at Edappally to see if the famous Lulu Mall was open. It was shut. "The mall should open by 6pm," a security guard assured. And so, it was back to Metro and onward to my lodge.
For the record, Friday's hartal witnessed sporadic cases of violence in Kerala. But of Ernakulam, I would say this — the prevailing ambiance on a hartal day reminded of the typical Mumbai shutdown. In Maharashtra's capital, people impatiently count the hours to 6pm and normalcy. By three and four in the evening, the shutdown has almost worn off. Ernakulam isn't there yet but is headed in that direction.
That is saying a lot for how Kerala treats hartals now. In my childhood, nothing stirred. Now life resists. By late afternoon on Friday, there was news of Kerala High Court initiating a suo motu case against the PFI and its call for hartal, which the court felt amounted to contempt of its earlier order on shut downs.
⚫ The author is a freelance journalist