Horns of a dilemma
Stray cattle menace gores Uttar Pradesh, cutting across party loyalties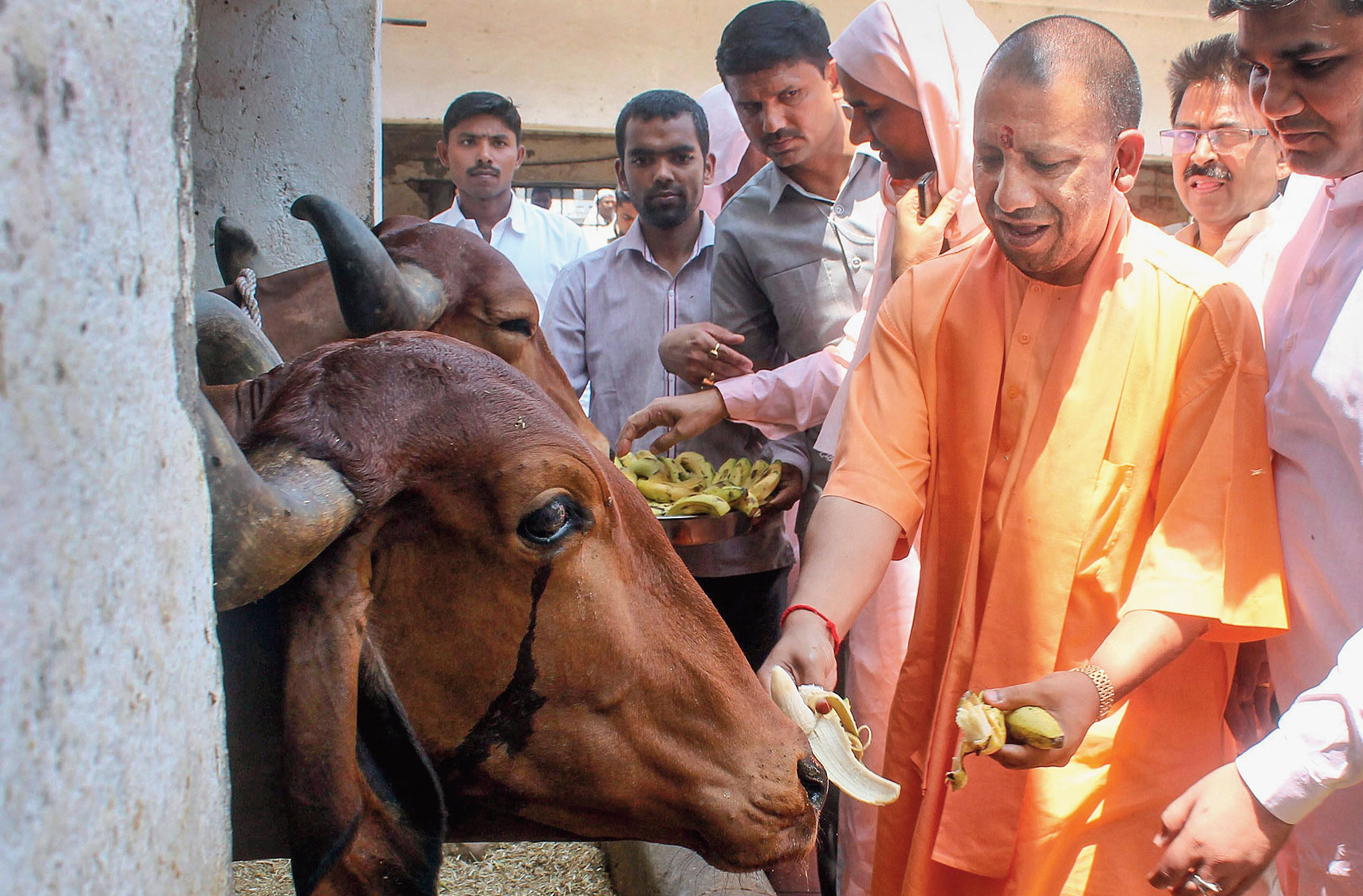 File picture of UP chief minister Yogi Adityanath feeding a cow at an ashram in Varanasi.
(PTI)
---
Sultanpur
|
Published 05.05.19, 07:00 PM
|
---
Cow politics appears to have come full circle in Uttar Pradesh with farmers fondly remembering the "purana (old) system" when they could just sell off their cattle.
"Jab tak doodh deti hain, gau mata hai. Jab doodh dena bandh karti hain, maar kar bhagaa rahe hain log aajkal (Cow is god till she gives milk. After that, people thrash her and chase her away now)," rued Suresh Prasad Maurya of Bachhrawan village in Rae Bareli, who flaunts his support for the BJP but holds the party, especially the Yogi Adityanath government, responsible for the stray cattle menace that is a state-wide phenomenon.
This set off a debate among those who had dropped by his hardware shop on the Lucknow-Allahabad highway. Some blamed the cattle menace on the people while the majority directed their anger at chief minister Adityanath, saying: "How long can we take care of old cows? The government should make some arrangement."
Some even within the BJP's core constituency privately refer to the stray cattle menace as "Yogiji's surgical strike on Modiji," insisting that this bread-butter issue caused by stray cattle destroying crops — and even attacking humans — has the potential to undermine the chest-thumping nationalism-centred narrative that is the party's staple this election. "The stray cattle issue has increased manifold since the Yogi government came and people with saffron scarves began their cow vigilantism with state sanction," said one.
"The earlier system was better when we used to sell-off unproductive animals and use that money to buy new ones," said a villager in Kannauj.
When the issue of animal slaughter was brought up, this man shot back: "Cows were anyway not slaughtered in UP. Is it alright for us to torture the unproductive cattle and leave them to die?"
With the crackdown on slaughterhouses and the shrinking of the market for old animals, those who have ageing cattle tie the animals' mouths up and let them loose.
"Grazing grounds are few. So is water. We need them for productive animals. We tie their mouths up so that they don't eat and drink. Even then we cannot risk them entering our fields as they destroy the crop," a farmer said. "We spend nights guarding the fields from stray animals; not all of us can afford fencing."
This is a widely heard complaint across many parts of India's most politically significant state and even cuts across the rural-urban divide with the bigger cities such as capital Lucknow and industrial Kanpur — besides highways — having to deal with the traffic hazard of stray cattle.
A slaughterhouse in Kanpur's Bakar Mandi has been turned into a cow shelter where stray animals from the city are "deposited" daily. When The Telegraph tried to access it, an employee said he was under instruction not to let anyone in.
Mohammad Danish, an electrician from Chamanganj minding his friend's shop in the locality, said: "Every day they bring in stray animals in a truck and take back a couple of dead animals. There is very little food or water available. See from here. It is clear that they have no protection from the sun in this kind of heat."
Without taking his eyes off his smartphone, he added: "Their intention was to rob Muslims of their livelihood. That has been achieved. Hindus and Muslims are equally troubled by stray cattle."
Even political rallies are not spared. A bull entered a Mahagathbandhan rally in Kannauj, triggering a war of words between Adityanath and his predecessor Akhilesh Yadav. There is also a buzz that something similar happened a few days later near a helipad prepared for the CM's chopper. And cows struck dead by vehicles on highways are becoming a common sight. "No one stops for fear of being lynched," said driver Ashish Shukla, adding that fear of stray cattle is now a speed governor at night on highways.
The menace continues even after a hue and cry was raised last winter when locals tied up stray cattle in a government school in Aligarh and six cows died at a shelter in Mathura. In most such instances, no case is registered. The official reason: The absence of a formal complaint.
The few cow shelters are ill-equipped to deal with the growing population of unproductive cattle. In December last year, the state government released Rs 10 crore each for the 16 Nagar Nigams of UP to construct cowsheds for stray cattle. The 75 districts of the state have also got Rs 1.20 crore each for new shelters.
Earlier, in 2017, out of 653 urban local bodies in the state 69 were chosen for construction of new cowsheds. Funds of Rs 10 lakh to Rs 30 lakh were released at that time to each of these bodies, but barring in Lucknow, Moradabad and Bareilly the work has not been completed. And stray cattle can still be found in most areas in Lucknow.