Himalayan glaciers melt at double the speed
Study pegs annual ice loss at 8 billion tonnes of water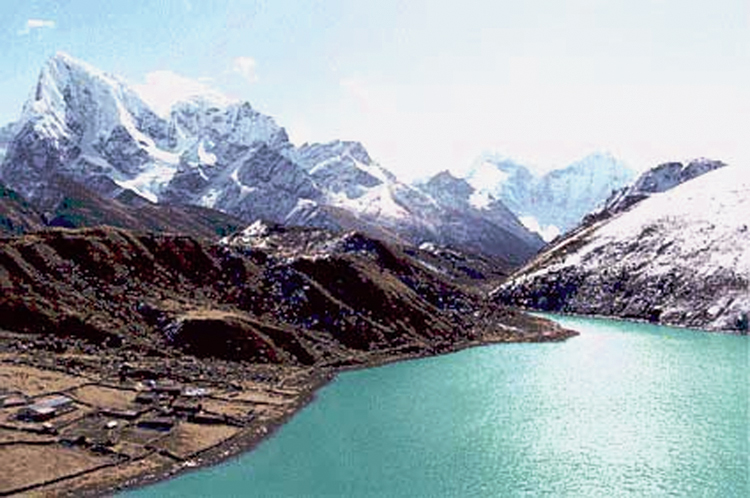 Scientists estimate that about 800 million people across South Asia depend on the seasonal runoff from Himalayan glaciers
A file picture
---
New Delhi
|
Published 20.06.19, 01:55 AM
|
---
Ice loss in glaciers across the Himalayas has doubled over the past 20 years compared with the preceding two decades, scientists said on Wednesday, adding fresh evidence for the impact of global warming on glacial melting.
A study that used declassified Cold War-era spy satellite images has found that the average ice loss rate between 2000 and 2016 was 0.43 metres of water equivalent per year and 0.22 between 1975 and 2000.
The study by researchers at Columbia University in the US has suggested that the current average annual ice loss is about 8 billion tonnes of water, or the equivalent of about 3 million Olympic-size swimming pools.
Their findings have been published in the research journal Science Advances.
"This is the clearest picture yet of how fast the Himalayan glaciers are melting and why," said Joshua Maurer, a research scholar at Columbia's Lamont-Doherty Earth Observatory. "Most individual glaciers are not losing ice uniformly. The melting is concentrated mainly at lower elevations where some ice surfaces are losing as much as five metres per year."
Scientists estimate that about 800 million people across South Asia depend on the seasonal runoff from Himalayan glaciers along rivers for drinking water, irrigation and hydropower and the ice loss will threaten water supplies within decades.
The accelerated melting will initially contribute to excess runoff during summers but, the researchers expect that the volume of water will taper off within decades as the glaciers continue to lose mass.
Maurer and his colleagues used declassified images from KH-9 — an American spy satellite used for reconnaissance between 1971 and 1986 — to measure ice loss for 650 of the largest glaciers across India, China, Nepal and Bhutan.
Their study covered a 2,000km transect along the Himalayan region.
These 650 glaciers account for 55 per cent of the region's total ice volume. The observations suggest that of the total ice mass present in 1975, about 87 per cent remained in 2000 and 72 per cent remained in 2016.
The ice loss in the Himalayan glaciers is not as fast as in the Alps, the researchers said. Their analysis has also suggested that temperature change is possibly the main factor underlying the accelerated ice loss.
The greater annual ice loss is likely to translate into heavier summer runoffs. In some areas, meltwater lakes may build up behind natural rock debris and threaten communities living downstream with floods during extreme rain events.