BJP able to protect support base
Himachal Pradesh bypolls: Congress wins three assembly seats
The party's performance was pathetic in Assam, a state it ruled for decades and hoped to regain in the last election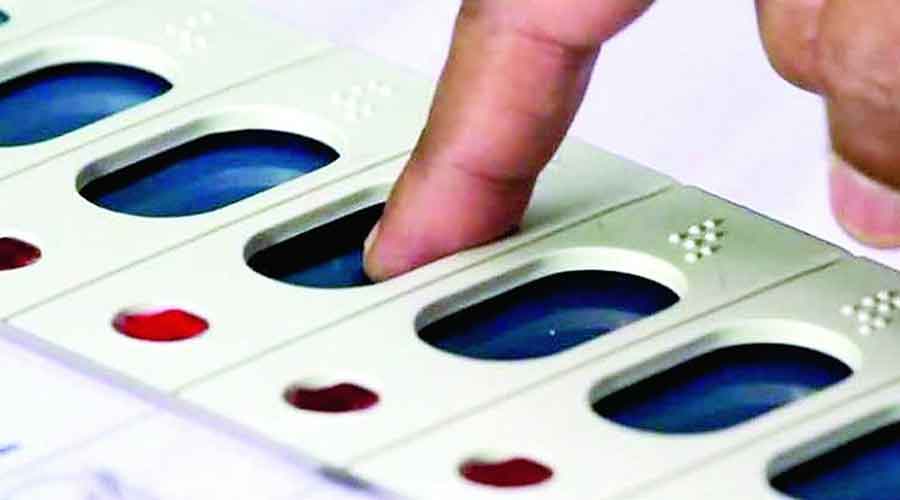 ---
New Delhi
|
Published 03.11.21, 02:47 AM
|
---
The Congress on Tuesday rejoiced in its thumping victory in the Lok Sabha and Assembly seats in Himachal Pradesh but the bypoll results from across the nation by no means signalled the revival of the party.
The Congress snatched the Mandi Lok Sabha seat from the BJP in Himachal, apart from winning three Assembly constituencies.
But there were worrying signs for the Congress from many other states as the BJP appeared to have protected its support base despite the price rise, the economic slide and unemployment.
The Congress's performance was pathetic in Assam, a state it ruled for decades and hoped to regain in the last Assembly election. A tough contest in Assam would have given the party some consolation but the vote difference ranged between 40 per cent and 50 per cent.
There were no signs of revival in the rest of the Northeast as well. The BJP and its allies won all the nine Assembly seats spread over three states in the Northeast.
In Bihar, where the Congress fought separately from old partner RJD, voters contemptuously rejected its candidates despite powerful campaigning by Kanhaiya Kumar and other leaders.
While the Congress candidate fetched 4.28 per cent votes in Kusheshwar Sthan, the performance in Tarapur was worse at 2 per cent votes. The party will have to work very hard to rebuild its organisation in Bihar if it intends to persist with the go-alone strategy.
In Telangana, where the Congress nurtures illusions of a strong revival, its candidate got 1.48 per cent votes, forfeiting deposit.
Although the Congress did well in Rajasthan by winning both the Assembly seats — Dhariawad and Vallabhgarh — it failed to slice away BJP votes in Madhya Pradesh despite making a huge issue of the Covid deaths and petrol-diesel prices.
The BJP won the Khandwa Lok Sabha seat in Madhya Pradesh and shared the honours with the Congress in two Assembly seats.
In Karnataka, too, the Congress and the BJP won one seat each. While Congress leaders described this as resurgence, the BJP has shown it can hold onto its vote in spite of the inflation and the Covid mismanagement.
Haryana vindicates this argument. The Congress presumed the farmers' agitation will knock the BJP out but that's not the indication from the bypoll result.
The Congress candidate came third in the Ellenabad seat, polling 39,000 votes fewer than the BJP candidate. INLD leader Abhay Singh Chautala won the Ellenabad bypoll, defeating his nearest rival, Gobind Kanda of the BJP, with a margin of 6,739 votes.
In the Dadra and Nagar Haveli Lok Sabha constituency, the Shiv Sena wrested the seat from the BJP while the Congress candidate was nowhere to be seen.
In many constituencies, Congress candidates were found to be competing with Nota votes. This was the case in Bihar, a state where the Congress is out of power for decades, and Assam, a state the Congress had won three successive times recently.