High court keeps off PSA
Omar Abdullah and Mehbooba Mufti, were booked under the PSA on Thursday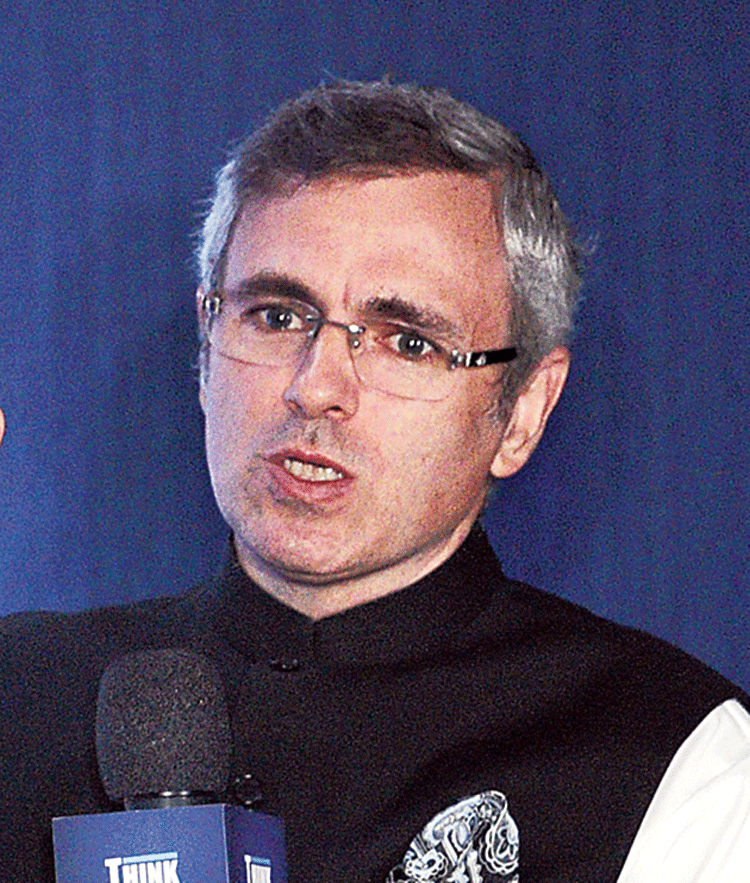 Omar Abdullah
File picture
---
Srinagar
|
Published 07.02.20, 08:59 PM
|
---
Jammu and Kashmir High Court on Saturday said it was not the proper forum to scrutinise the merits of an administrative decision to detain a person under the Public Safety Act, the stringent law that allows for detention without trial for up to two years.
Justice Tashi Rabstan of the high court made the observation while dismissing a petition seeking the release of Kashmir High Court Bar Association president Mian Abdul Qayoom, who is lodged in Agra jail under the PSA.
On Thursday, two jailed former chief ministers of Jammu and Kashmir, Omar Abdullah and Mehbooba Mufti, were booked under the PSA.
"A court is not a proper forum to scrutinise the merits of an administrative decision to detain a person. The court cannot substitute its own satisfaction for that of the authority concerned and decide whether its satisfaction was reasonable or proper, or whether in the circumstances of the matter, the person concerned should have been detained or not," Justice Rabstan said.
"A law of preventive detention is not invalid because it prescribed no objective standard for ordering preventive detention, and leaves the matter to subjective satisfaction of the executive."
Former advocate-general Ishaq Qadri said courts could not absolve themselves of their duties and that the high court's observation was "not a decision according to the law".
"It (judgment) is contrary to its decisions. Around 99 per cent of PSAs have been quashed by courts in the past 30 years here. In all those cases, the court had said we have jurisdiction, but today they are saying they have no jurisdiction," Qadri told The Telegraph.
Qayoom was detained on August 5, 2019, the day the government revoked Jammu and Kashmir's special status. He was subsequently booked under the PSA and sent to Agra jail. His family says Qayoom, 76, has developed several ailments during his detention and also suffered a heart attack.
The petition challenging Qayoom's detention had claimed that the grounds that had been cited to detain him under the PSA in 2010 had been repeated this time.
While dismissing his petition, the court said preventive detention was not punitive but preventive and was invoked with a view to prevent a person from committing activities regarded as prejudicial to certain objects.
"Preventive detention is, thus, based on suspicion or anticipation and not on proof. The responsibility for security of State, or maintenance of public order, or essential services and supplies, rests on the executive and it must, therefore, have necessary powers to order preventive detention. Having said that, subjective satisfaction of a detaining authority to detain a person or not, is not open to objective assessment by a court," the high court said.
"…This court does not sit in appeal over a decision of the detaining authority and cannot substitute its own opinion over that of the detaining authority when grounds of detention are precise, pertinent, proximate and relevant," the court said.
Justice Rabstan said Qayoom's petition "sans any merit and is, accordingly, dismissed".