Scorching heat: When City of Joy leaves Delhi behind
Calcutta's seasonal maximum heat index stands at 50°C, compared with national capital's 45.6°C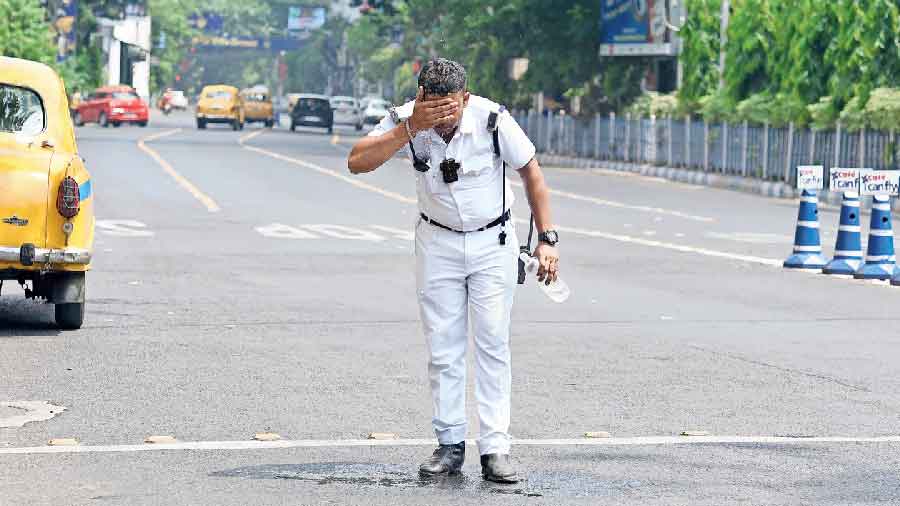 A cop tries to cool himself amid scorching heat in Calcutta on April 24
Gautam Bose
---
New Delhi
|
Published 08.07.22, 03:15 AM
|
---
Calcutta this summer experienced the worst of heat measured through both temperature and humidity among four Indian cities, touching a level four degrees higher than Delhi, a climate and the environmental group has found.
The Centre for Science and Environment (CSE), New Delhi, said its analysis of heat trends had calculated Calcutta's seasonal maximum heat index as 50°C, compared with Delhi's 45.6°C. The heat index is the apparent temperature the body feels when humidity is combined with air temperature.
A heat index value between 41°C and 43°C is "dangerous" while 54°C and higher is "extremely dangerous", the CSE said.
The analysis has also underlined concerns that parts of cities serve as "heat islands" hotter than surrounding regions.
The CSE analysis, which covers the period from 2015 through 2022, has found that the monsoon season has been 0.3°C to 0.4°C hotter than the average during the 1951-80 period. The post-monsoon period — October through December — has been hotter by 0.73°C.
The elevated urban temperatures result from the heat trapped by the excessive occurrence of hard and dark surfaces in cities as well as the waste heat generated through machines. The extra heat should dissipate after sunset, but pollution and the continuing generation of waste heat prevent cities from cooling.
Hyderabad showed the most pronounced heat island effect with temperature variations of up to 7.1°C within the city while Calcutta had the least pronounced effect with a variation within 1.3°C.
The CSE, citing data from the National Crime Records Bureau on accidental deaths, including those linked to extreme weather, said the southern peninsula had reported more deaths (2,444) from heat stroke than the northwest (2,137) between 2015 and 2020.
"These are disturbing trends as policy preparedness to mitigate rising heat due to climate change is nearly absent in India," Anumita Roychowdhury, executive director for research and advocacy at the CSE, said in a media release.
"Without heat action plans, rising air temperature, radiating heat from land surfaces, concretisation, waste heat from industrial processes, air-conditioners, and erosion of urban greens and water bodies will worsen public health risks."
The CSE analysis has found that heat waves were the second most deadly natural force in India during the period from 2000 to 2020, claiming 20,615 lives, after lightning which killed 49,679 people.