Heard at Shaheen: Fearful no more
The protesters are furious at BJP leaders' accusation of being paid Rs 500 a day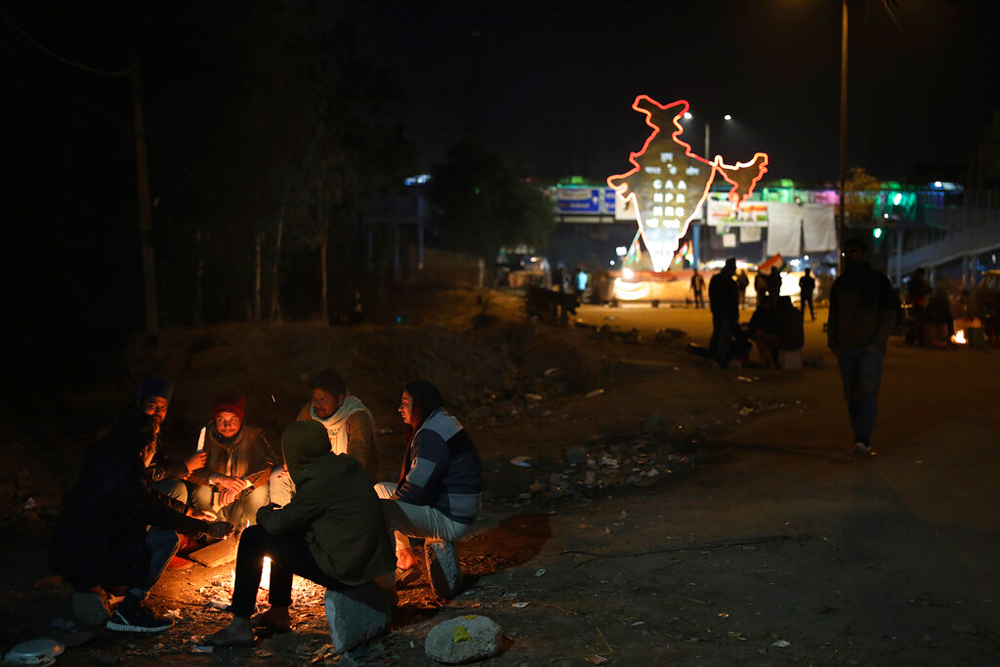 ---
---
Shaheen Bagh's sense of outrage is deepening with the ruling establishment not just refusing to engage with the protesters but making allegations that they feel are vitiating the discourse.
Sitting in the freezing cold for 40 days now, the protesters are furious at BJP leaders' accusation of being paid Rs 500 a day and Uttar Pradesh chief minister Yogi Adityanath's jibe that the men are sleeping at home while shamelessly sending their women out to the dharna.
Many of the women protesters said it was beneath their dignity to respond to such slander but some said that one could not expect empathy from those who "habitually spit venom".
Although the women have led and sustained the sit-in and inspired similar resistance countrywide, the presumption that the men have used them as pawns while continuing to enjoy home comforts betrays poor understanding.
Mohd Qasim, who was at Shaheen Bagh on Thursday night with his two-year-old grandson, was indignant. "How do we react to a leader like Yogi? I'm here with this child because his mother is sitting in dharna," he told The Telegraph.
"It's not that the men are pushing the women forward; the entire society is in emotional chaos. For Muslims, the CAA-NRC (Citizenship Amendment Act-National Register of Citizens) is like a death warrant. This protest has disturbed every family here. It's a gruelling struggle that doesn't give joy to anybody. It's not as though the men are sleeping snug under the quilt."
Asked if he could be identified by name since he risked losing his job as a schoolteacher, he retorted: "Please quote me; the time to be fearful has passed. Bardasht ki hadd hoti hai (There's a limit to how much one can bear). Even the children are spontaneously bursting into sloganeering inside classrooms. They are in panic."
He added: "It's a crisis of existence now. The Constitution is in peril. And if a chief minister believes that Muslim women don't have the conscience to speak against injustice, a teacher must correct him. Islam has given greater freedom and rights to women than any other religion. Look around here, the men and women are out on the street together."
While the women indeed occupy centre stage, the men are all around them, making arrangements, studying at pavements, dealing with visitors.
Adil, a young man who hasn't been to his stitching unit for 38 days, said: "Over 200 of us (men) are here round the clock. Some boys lost their jobs because they couldn't regularly attend to their work. But nobody cares."
He went on: "Zameer ki ladai hai (It's a battle of conscience). The entire society is aggrieved. (Prime Minister) Narendra Modi tried to fool us with a lofty slogan, 'Sabka sath, sabka vikas, sabka vishwas (Support and development for all, trust of all)'. I thank him because we are now empowered by sabka sath and sabka vishwas. Others have come with us."
Adil said he had gained at least a hundred new Hindu friends during the protests. "Sikhs had come here from Punjab. They have returned but are in constant touch with us. They continually ask if we need any help," he said.
"The shops here have been closed for so many days but the owners have waived rent. We have sustained our protest without the support of any party or NGO because society has been together — men and women, old and young, educated and illiterate."
Mohsin, who too has been at the protest site without a break, said the allegation that the women were hired for Rs 500 a day "makes us laugh".
"We don't accept money from anybody. Just announce here that you need milk, and 50 packs will appear from nowhere. People are sending goods, paying out of their own pocket," he said.
"We accept things in kind -— rice, dal, biscuits, water bottles, tea…. Some people bring cooked food and distribute it free. Tea is served through the night, till 4am. My sisters, mother, grandmother and all other relatives have abandoned everything else to be present here."
The predominantly Muslim crowd presents an inclusive picture. While the Tricolour flutters in every corner and cries of "Jai Hind" reverberate ceaselessly, the majority of the speakers from the dais are Hindu.
Sikhs are running the langar (community kitchen), distributing free food. Artistes and activists cutting across caste and religious lines are dominating the discourse.
Patriotic pride is evident all over, as on the huge banner saying: "Jinhe naaz hai Hind par woh kahan hain/ Yahan hain, yahan hain, yahan hain (Where are those who are proud of India/ They are here, here, here)."
Many of those at the protest, who said they came here regularly and also joined other programmes against the new citizenship regime, insisted that this wasn't a concern solely for Muslims and would impact the whole country for decades.
"Our slogan is, Samvidhan bachane nikle hain, aao hamare saath chalo (We have come out to save the Constitution, come join us). We are not fighting for community rights or welfare," Rafiq, a student, said.
"We were silent when the Supreme Court's very problematic order on the Ayodhya dispute arrived; we didn't fight when a flawed triple talaq bill was passed. Now we are fighting for the idea of India."
Rafiq urged the "brave women" from the dais to continue the struggle, saying: "Lambi hai gam ki shaam… magar shaam hi to hai (The evening of grief is long but it's only an evening, after all)."
So far, the Shaheen Bagh initiative has shown no sign of losing momentum. People keep coming every day in thousands.
Nusrat, a young woman, said that even a day's absence from the protest filled her with guilt.
"There's so much despair and frustration because the government has not been responsive. We don't know what will happen but every single person coming here knows where they are going. We don't fear anything now. If we have to die for this cause, we must," she said.
For these men and women, discretion has definitely not been the better part of valour. Many of them realise that the government would clear the site one day, probably after the completion of the Republic Day celebrations. But they are convinced that fresh protests will erupt in different forms.
A shy Asma Khatun, who drags her husband to the protest every evening, said: "I will come as long as these women are here. If they go elsewhere, I will follow."
At one level, these women are happy that their voice is being heard across the country. They believe that their generation should be prepared to make any sacrifice to protect the constitutional guarantees of equality and justice for their children.
They also believe that it would be a good deal for the Modi-Shah duopoly to retreat on the citizenship regime because most people are now asking for nothing except the right to live without harassment.