Health outlay rise zero in real terms: Analysts
Increase from last year's outlay of Rs 62,659 crore was not large enough to account even for inflation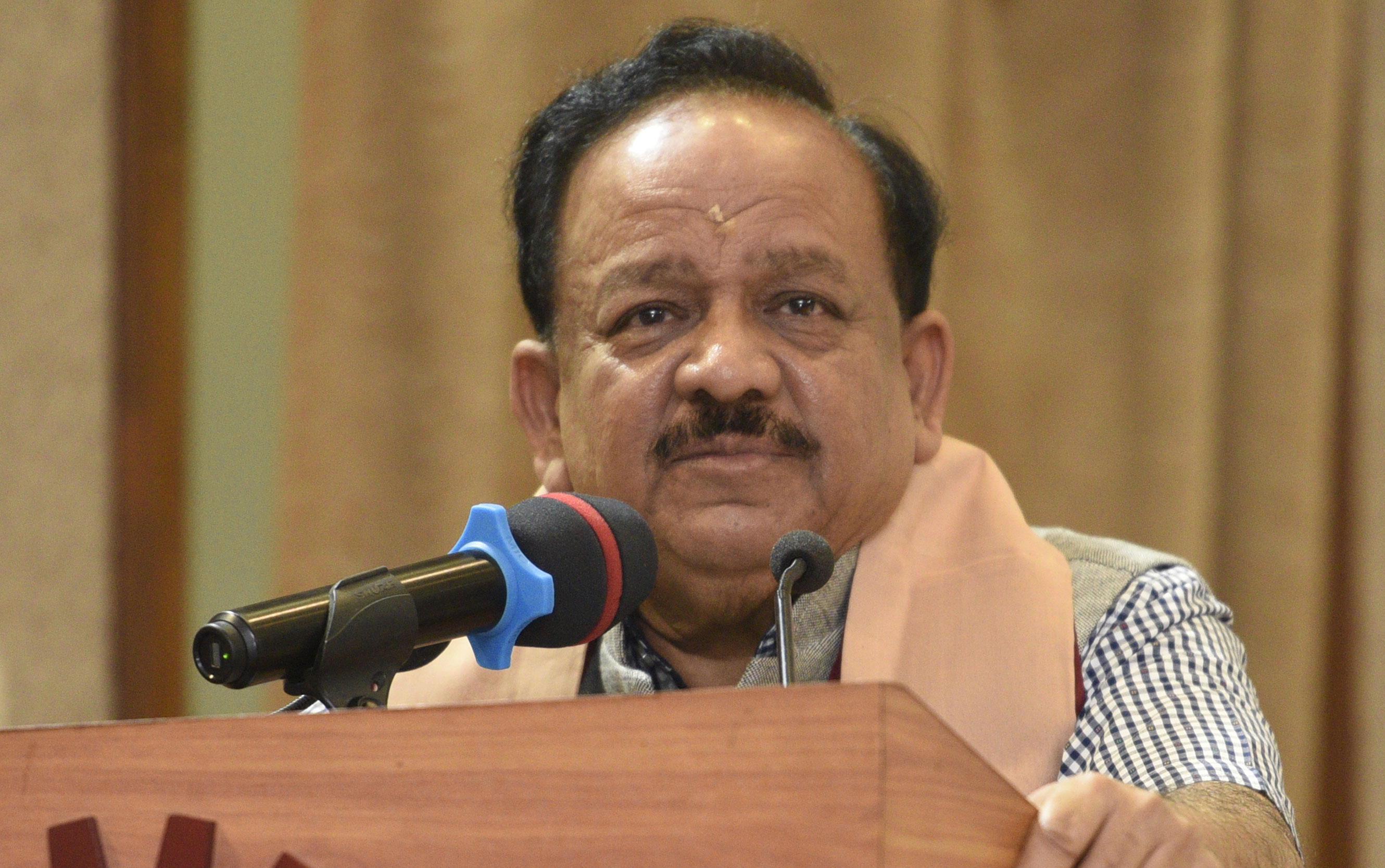 Health minister Harsh Vardhan on Saturday described the 3.75 per cent rise as an "appreciable increase" and said it "indicates the strong focus of the government on the health sector".
Telegraph file picture
---
New Delhi
|
Published 02.02.20, 07:43 PM
|
---
The 2020-21 Union budget has proposed Rs 65,011 crore for health services, a 3.75 per cent rise over last year that analysts said was no increase in real terms and inadequate to meet the Narendra Modi government's own health targets.
The budget has also iterated a policy of setting up hospitals in public-private-partnership (PPP) mode in underserved districts, disregarding concerns expressed by top public health experts that inviting private entities to manage public hospitals will not help the poor or vulnerable populations.
Health minister Harsh Vardhan on Saturday described the 3.75 per cent rise as an "appreciable increase" and said it "indicates the strong focus of the government on the health sector".
But health sector analysts said the increase from last year's outlay of Rs 62,659 crore was not large enough to account even for inflation.
They also pointed out that two government programmes that cover hospital costs for poor households and a nationwide network of health and wellness centres had received no increases this year.
"When you factor in inflation, the increase of less than 4 per cent is zero in real terms," said Sakthivel Selvaraj, director of health economics at the Public Health Foundation of India, New Delhi.
The outlay for 2020-21 for the Pradhan Mantri Jan Aarogya Yojana — a scheme that provides up to Rs 5 lakh per year per household to cover hospital costs — is Rs 6,400 crore, the same as the initial outlay last year, although the PMJAY's revised budget outlay for 2019-20 was halved to Rs 3,200 crore.
"The budget for the PMJAY should have been much higher — going by the government's own expectations. The figures indicate that it is not working as intended. We need to understand why," said Abhay Shukla, a community health physician and senior coordinator with the Pune-based, non-government Support for Advocacy and Training in Health. "Why, for instance, did the PMJAY budget contract instead of expand this past year?"
Health experts have also pointed out that the budget outlay is not in line with what is required to increase public spending to 2.5 per cent of the gross domestic product, a target set by the Modi government in the national health policy unveiled in 2017.
"The overall increase in the health budget when adjusted against inflation is low and won't create the momentum needed for a public financing goal of 2.5 per cent of the GDP by 2025 which requires a near-doubling by then," said K. Srinath Reddy, a senior cardiologist and president of the Public Health Foundation of India.
Finance minister Nirmala Sitharaman in her budget speech said the government proposes to set up hospitals in PPP mode in select underserved districts where at present there are no hospitals covered by the PMJAY scheme.
The health ministry also said medical colleges would be attached to district hospitals in PPP mode to address shortage of qualified medical doctors.
But the Indian Medical Association, the country's largest body of doctors, on Saturday echoed concerns expressed by public health experts that inviting the private sector to manage public hospitals was tantamount to "backdoor corporatisation of civil hospitals" and would not help the poor. "The IMA disagrees with this and asks the government to revisit this decision," the IMA said.
Vivekanand Jha, a senior nephrologist and head of the George Institute for Global Health, New Delhi, had told The Lancet last month: "We have seen profits and financial returns are uppermost in the minds of private investors and corporate managers…. It is not as if the quality of care in privately run (hospitals) is superior to that in state-run hospitals when measured on objective parameters. Letting such corporate entities run district hospitals would prove fatal for the health system."
The National Health Policy had prescribed allocating 60 per cent to primary healthcare but a steady decline in allocations to the National Health Mission that covers key primary health services has also stirred concern.
The NHM outlays have fallen from 57 per cent in 2018-19 to 53 per cent in 2019-20 to 51 per cent for 2020-21, The Population Foundation of India (PFI) said in a statement on Sunday.
"This has stagnated budgets for reproductive and child health and is likely to adversely affect maternal, child and adolescent health, including family planning," said Poonam Muttreja, PFI's executive director.
The PFI has pointed out that amid the discourse on population stabilisation gaining momentum and need for greater investment in family planning services, the allocation for family welfare schemes has actually declined over the past three years from Rs 770 crore in 2018-19 to Rs 700 crore in 2019-20 to Rs 600 crore for 2020-21.