Direct khap participation to swell farmer ranks
They have decided to block all the highways connecting Uttar Pradesh with Uttarakhand and Delhi on December 19 to mount pressure on the government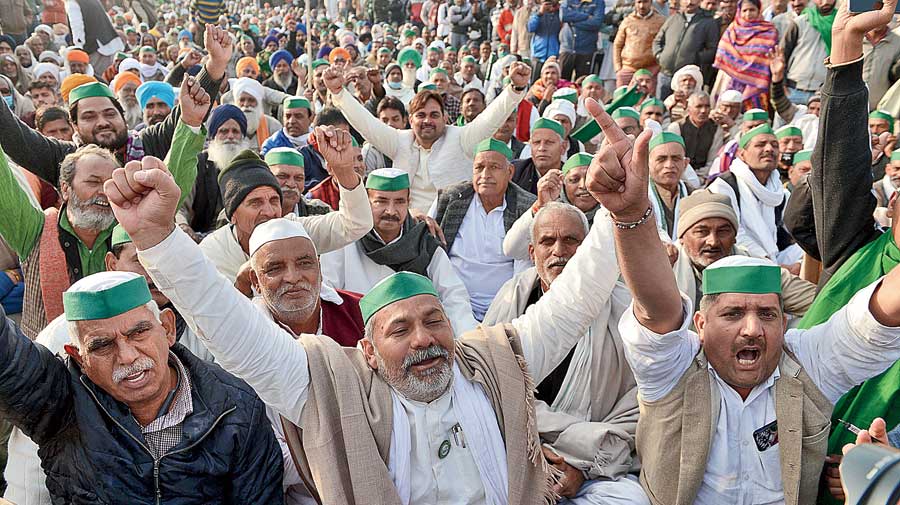 ---
Lucknow
|
Published 18.12.20, 02:20 AM
|
---
The heads of all the 15 khaps or traditional sub-caste councils in western Uttar Pradesh set off for Delhi's Ghazipur border on Thursday afternoon with about 100 supporters each to join the farmers' dharna against the three new farm laws.
Bharatiya Kisan Union leader Rakesh Tikait said the khaps had been sending food, cots and other essentials for the farmers protesting at Delhi's borders, but he had now asked them to join in directly.
"Their direct participation means a lot to us. Each khap leader has a following of over 10 lakh people. Let the government imagine what will happen if they and all their followers descend on Delhi's borders," Tikait said.
Each khap represents a gotra (clan or patriline) within the farmer-dominated Jat community. The khaps command immense clout in the villages and, despite lacking legal authority, continue to discharge their traditional responsibility of settling disputes or issuing diktats on community matters.
Some among the 84 khaps in western Uttar Pradesh, Punjab and Haryana have earned notoriety as kangaroo courts by ordering murders of inter-caste or intra-gotra couples or banning western clothes and mobile phones for women.
The 15 khap leaders of western Uttar Pradesh, all aged above 60, arrived at Baraut in Baghpat district on Thursday morning and held a meeting till afternoon, chalking out their strategy.
Among them were Naresh Tikait who heads the Baliyan khap, Chaudhary Virendra Singh (Latiyan khap), Baba Surajmal (Battisa khap) and Surendra Singh (Desh khap).
They then set off on the 150km journey to the Ghazipur border along the Meerut-Delhi highway in separate convoys of tractors, tractor trailers and cars. They expect to reach the Ghazipur border, near Noida, on Friday, Virendra Singh said.
"Lakhs of people want to join us. We'll halt in several villages on our way to ask them to wait for the next round of instructions," he said.
"Currently, there are only 100 people with each khap leader. The others eager to travel to Delhi's borders will do so when the government uses force against us."
He added: "We request the government to repeal the new farm laws instead of irritating us."
Sources said the khap members and others accompanying the khap chiefs were from 150 villages.
Ravindra Dauraliya, BKU divisional (Meerut) president, said: "We are arranging food, blankets and everything else the khap leaders and their followers need for a comfortable stay at the dharna site. They (khap leaders) are highly respected in their areas and need special attention."
He said the police had put up barricades at several places to disrupt the khap leaders' journey but added that they would make it to the Ghazipur border "at any cost".
The khap panchayats have also decided to block all the highways connecting Uttar Pradesh with Uttarakhand and Delhi on December 19 to mount pressure on the government to repeal the new farm laws.
Rakesh Tikait, who is on dharna at the Ghazipur border, said: "The way the Centre is trying to divide the farmers by sending its people to infiltrate our protest and create confusion is a clear indication that our demand will not be accepted easily. That's why we requested the khap leaders to join the movement directly."