HC nod to marriage of minor not a precedent: Supreme Court
Apex court refrains from staying the HC judgment, saying such a ruling would affect the interest of the married minor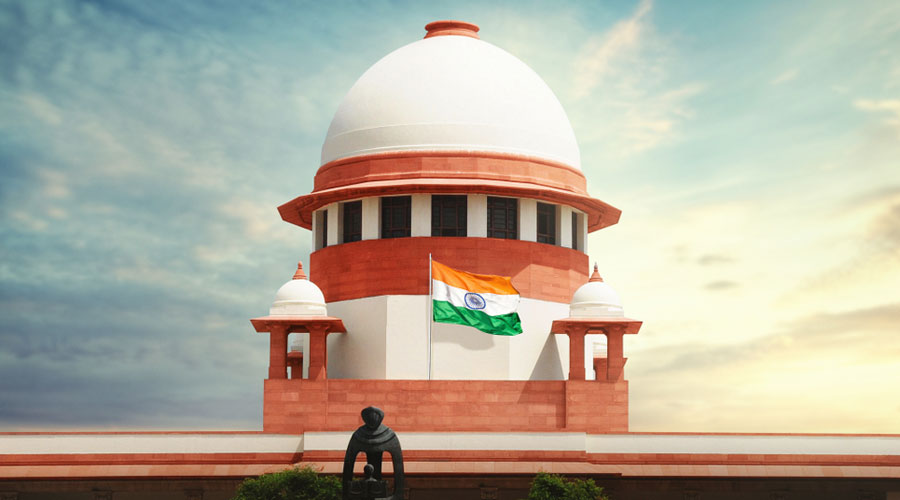 Supreme Court of India
File picture
---
New Delhi
|
Published 14.01.23, 03:28 AM
|
---
The Supreme Court on Friday ruled that a Punjab and Haryana High Court order upholding a minor girl's marriage under Muslim personal law would not be treated as a precedent by other courts.
But the apex court refrained from staying the high court judgment, saying such a ruling would affect the interest of the married minor.
The girl was married at 16.
The high court had ruled the marriage permissible since Muslim personal law allows marriage on attaining puberty, which it sets at 15 years.
Under Indian statutory law, the marriageable age for girls is 18.
The National Commission for Protection of Child Rights (NCPCR) has challenged the high court order and argued that the marriage of a minor is illegal and open to the charge of rape under the Protection of Children from Sexual Offences (Posco) Act, Child Marriages Restraint Act and IPC 375. The bench of Chief Justice D.Y. Chandrachud and Justice P.S. Narasimha issued notices to the couple on the NCPCR's petition.
"If we stay (it) then the girl has to go back to her parents and she does not want that," the bench observed. "Her parents wanted her to marry her maternal uncle. What will happen is, the moment we stay she will be restored to her parents."
However, the CJI said in an interim order: "Pending further orders… the September 30 (2022) order of the Hon'ble Punjab and Haryana High Court shall not be relied upon as a precedent in any other case."
On October 17 last year, the NCPCR plea had come up before another apex court bench that agreed to examine the larger issue of whether a Muslim girl can be allowed to marry on attaining puberty under the personal law despite the Posco Act's provisions.
However, that bench, of Justices Sanjay Kishan Kaul and Abhay S. Oka, did not issue notices on the NCPCR plea or stay the high court order. The high court had directed police to provide protection to the 16-year-old girl and her 21-year-old husband as their families were opposed to the marriage.
The NCPCR plea later came up before the bench headed by Justice Chandrachud. Delhi High Court had in Imran vs State of Delhi, 2019, ruled against the permissibility of underage marriages under personal law.
The NCPRC also referred to the apex court judgment in lndependent Thought vs Union of India, 2017, which said that merely because child marriages have been conducted across the country does not mean the tradition is acceptable or should be sanctified.