India's vaccine prince still in the UK
Has Poonawalla finally woken up to the enormity of the challenge?
'Can't be the global saviour because the task was too gigantic for one company… I wish others took the risk that I did'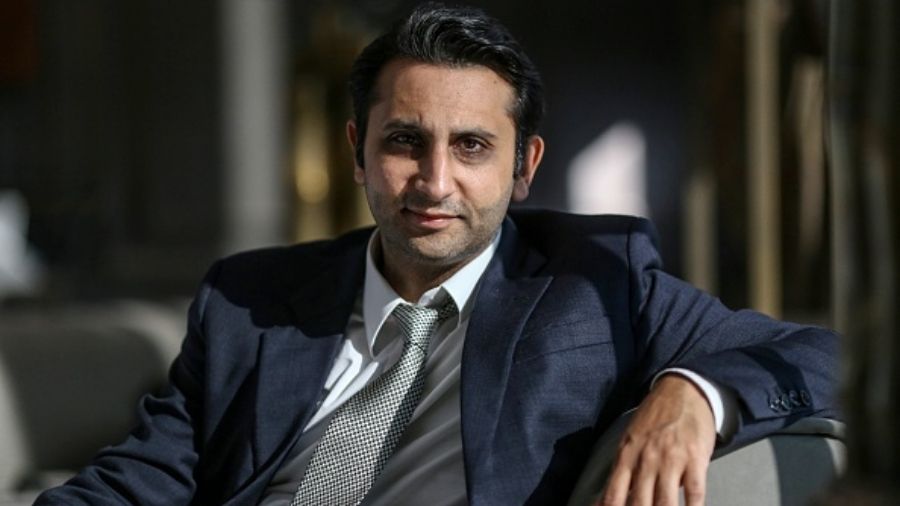 Adar Poonawalla.
File picture
---
New Delhi
|
Published 09.05.21, 05:07 PM
|
---
What's up exactly with India's vaccine prince, Adar Poonawalla? Last Sunday, the Serum Institute chief executive tweeted he'd be back in India "in a few days" after stirring an uproar by saying he fled to London to escape threats from politicians and businessmen demanding to jump the vaccine queue. A few days now have stretched into a week and a company spokesman says Poonawalla "will return soon" but is giving no dates.
In the meantime, the billionaire has been on a media blitz. After telling The Times, London, firmly he wouldn't be flying home for "an extended time" because he was worried about what might happen to him if he didn't supply vaccines pronto to powerful callers who wouldn't take "no" for an answer, he swiftly backtracked when the comments triggered a storm in India. 
Poonawalla, who's renting a Mayfair mansion for $69,000 a week, insisted he was in London only for a short business trip and he'd be flying back shortly to Pune to supervise the scaling up of his Serum Institute of India (SII) plant to 100 million doses monthly from 72 million. He also said he was there to visit his wife Natasha and two children who attend school in London.
But one week later, there's no sign of the return of Poonawalla, who took over the reins of the company from his horse-breeder turned vaccine-manufacturer father a decade ago. His office in India insisted that it didn't "have the specific schedule, but, as mentioned, he will return soon." The Serum Institute chief, meanwhile, has been giving one interview after another to leading newspapers including the Financial Times and the New York Times. 
'Victimised unfairly'
To the Financial Times, he repeated that he would return soon to India but added he felt he'd been "victimised very unfairly and wrongly". Then, referring to a controversy in India over the pricing of the vaccine, he told The New York Times "there's no end to the cribbing, the complaining, the criticising."
During his stay in London, the 40-year-old Poonawalla also announced that his company, the world's largest manufacturing firm, would be investing $335 million in the UK though he didn't specify whether it would be on R&D work or clinical trials or on a manufacturing plant.
Poonawalla defended not having enough vaccines ready for the combined, insatiable demand from India and the world, saying that by January it had begun to look like the pandemic had been beaten back in India and that boosting production wasn't an urgent necessity. Besides, he pointed out to the FT that the Indian government had gone slow and, "there were no orders, we did not think we needed to make more than 1 billion doses a year."
Poonawalla could face a string of lawsuits because he hasn't delivered on his global commitments. He received $300 million from the Bill Gates Foundation to help add manufacturing capacity to supply Covid-19 vaccines to the Gavi Alliance. Poonawalla has said that AstraZeneca has already served Serum Institute with a legal notice for not honouring contractual obligations. Poonawalla says that Serum has "temporarily deferred" its deliveries due to the government's vaccine export ban.
Too much confidence
Some observers suggest that Poonawalla, who brimmed with confidence in 2020 about Serum Institute's capacity to meet Indian and global vaccine demand, may have simply overestimated his company's capabilities even though it churns out 1.5 billion doses of other vaccines a year. Last week, Poonawalla issued a statement saying that it isn't "possible to ramp up production overnight" because vaccine-making is a specialised process.
The Serum Institute chief had told the BBC last November that the company would boost its production to 100 million doses monthly by January 2021. However, a fire broke out at the new facility which was being constructed on the Serum Institute campus in Pune. Initially, he said "there would be no loss of Covishield production due to multiple production buildings that I have kept in reserve to deal with such contingencies. But he now says the blaze derailed his plans to ramp up to production and he says the expansion plans will be completed by July and the company will hit its 100 million doses monthly target.
Poonawalla said to FT that the Indian government had also bungled because it delayed placing fresh orders for vaccines and had initially only placed orders for 21 million doses. The government placed a larger order for 110 million doses at the end of March when it became clear that the pandemic was in vertical take-off mode. "I'm just a manufacturer," he told the FT, adding, "I don't decide these policies". At the same time as asserting he was being victimised for the vaccine shortfall, he acknowledged he "needed to grow a thicker skin."
From 'Y' to 'Z' category
To The New York Times, he retreated from earlier comments made to The Times when he said that "threats is an understatement" and that "the level of expectation and aggression is unprecedented." Instead, Poonawalla, who has "Y" category security and who now has applied to the courts for "Z" class, said merely that the threats were, "nothing we can't handle."
Serum Institute will convert one production line in Pune to make Covid-19 vaccines now that it has received a fresh capital infusion from the Government which will help to ensure that it doesn't run into financial difficulties through overly rapid expansion. Poonawalla insisted that, "we just try to equally distribute it across the states, adding that, "the government was guiding us about this."
Similarly, to The New York Times, Poonawalla insisted that his privately held company shouldn't be blamed for the current shortages, "This is something coming from India," he said, "It's not the supplier that is defaulting."
'I took risks early on'
Also, he admitted frankly that Serum Institute could not ride across the world and be a global saviour because the task was too gigantic for one company. "The problem is nobody else took the risk that I did early on," he said, adding: "I wish that others did."
Serum Institute had planned to divide its doses between India and the world, Poonawalla told NYT. Last year, he had said that four out of 10 doses were likely to go to fulfilling foreign commitments. He may have to find a new way forward on this score.
Poonawalla said he knows that the world's eyes are still on him and his company: "Everyone is depending on us to be able to give this magic silver bullet, in an almost infinite capacity," he told the NYT. At the same time, he said: "There's this tremendous pressure from state governments, ministers, the public, friends, and they all want the vaccine. And I'm just trying to equitably distribute it as best I can."