Haryana Police use water cannons, as farmers push through barricades
Protesters determined to enter state as part of their 'Delhi Chalo' march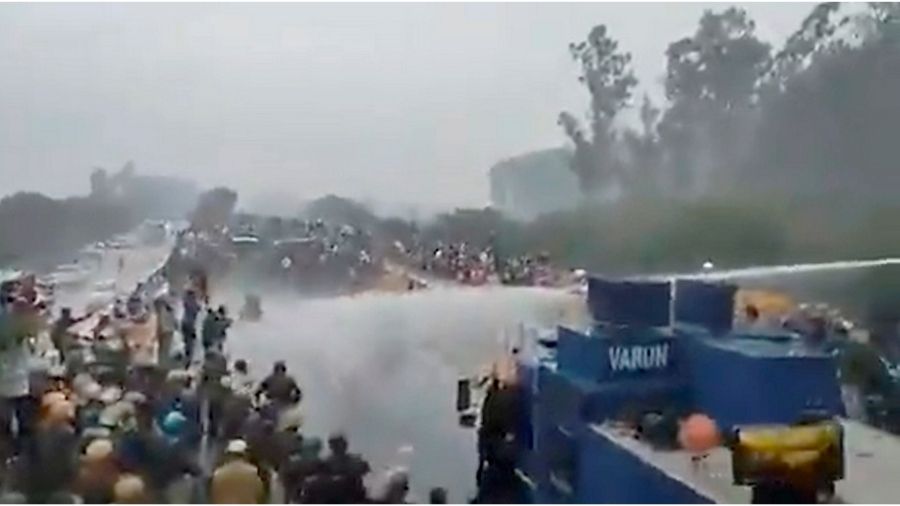 ---
|
Ambala
|
Published 26.11.20, 03:00 PM
---
Punjab farmers were sprayed with water cannons while they broke police barricades at the state's border with Haryana and pushed through them towards Delhi during their protest to the national capital on Thursday.
A huge number of farmers, determined to make their 'Delhi Chalo' march against the Central farm laws successful, reached close to Delhi by late evening despite every attempt of stopping them.
There were traffic snarls during the day at Delhi's border with police checking vehicles coming in from Haryana and Uttar Pradesh. Metro services were restricted.
At the Punjab-Haryana Shambhu border, police and Punjab farmers in their tractor-trolleys were locked in a confrontation for a couple of hours in the morning.
The Shambhu interstate border witnessed spiralling tension in the morning as Haryana Police used water cannons and teargas to disperse thousands of them amid a cold wave, who in turn chucked some barricades into a river.
The farmers faced off with the police at a bridge with the Ghaggar river flowing below, with trucks and tractors being queued up and people were seen shouting slogans while waving black flags.
Announcements on loudspeakers by the police could be heard, asking the farmers who assembled at the Punjab side of the border to disperse. Before long, smoke from the teargas clouded the air as uniformed security personnel milled sound, while the protesters stood up on their trucks. Television footage showed some bricks lying on the road as well.
Apart from this confrontation in Ambala district, there were face-offs between the protesters and police in Haryana's Sirsa, Kurukshetra, Fatehabad and Jind districts bordering Congress-run Punjab.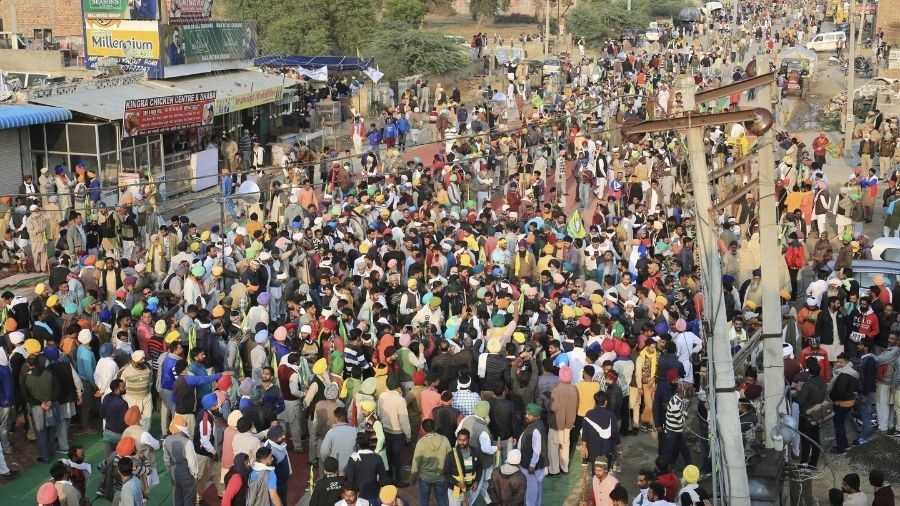 Police had set up steel and cement barricades to stop the tractor-trolleys from coming, some of which were loaded with food.
In an attempt to stop farmers from marching to Delhi, Haryana had completely sealed its borders while multi-level barricades were put up at several places.
But after a few hours, they were let through at most border points.
barricades were also set up at other points on this Amritsar-Delhi highway that passes through BJP-run Haryana.
At Karnal, there was another face-off and police again used a water cannon.
By afternoon, several groups of protesters from Punjab and Haryana were travelling towards Delhi on tractor-trolleys. Police diverted private vehicles and long lines of trucks were parked on the road.
On Wednesday, too, the police resorted to water cannons when a large group of Haryana farmers near Mohra village in Ambala jumped over barricades.
A splinter group however, managed to proceed to Tiyora-Tiyori village on the Ambala-Kurukshetra border, where police again used water cannons to stop their march to Delhi.
Led by BKU chief Gurnam Singh Charuni, this group of farmers has reached Karnal as part of their march to Delhi.
The BJP-led government of Haryana had earlier informed that it will seal its borders with Punjab on November 26 and 27 to prevent farmers from going to Delhi.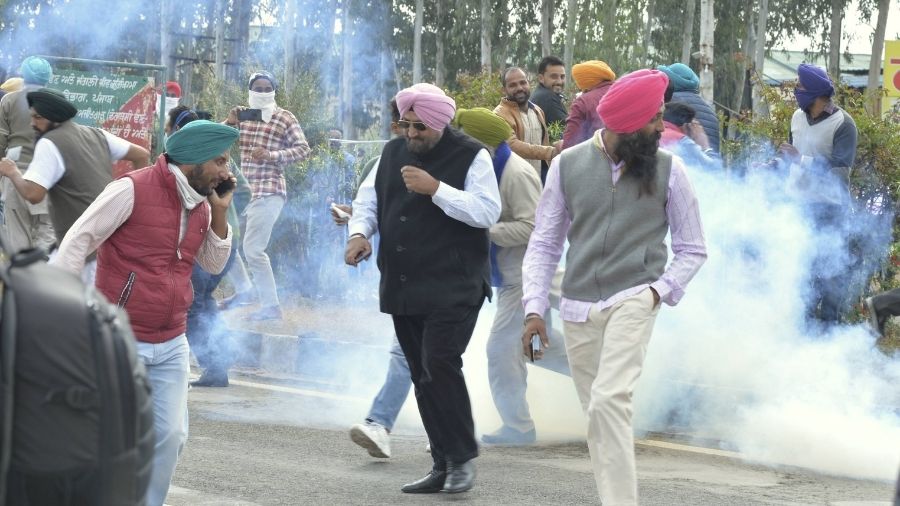 On Wednesday, Delhi Police said it had not accepted requests from various farmers outfits to protest in the city on these dates. It had, on Tuesday, said legal actions will be taken against anyone who comes to Delhi to gather amid the Covid-19 pandemic.
Punjab farmers, representing over 30 farm bodies, have announced they will go to Delhi through several routes -- Lalru, Shambhu, Patiala-Pehowa, Patran-Khanauri, Moonak-Tohana, Ratia-Fatehabad and Talwandi-Sirsa. Tension was escalating at all the border points.
They assembled near the borders in tractor trolleys laden with rations and essentials for their proposed Delhi march.
Haryana authorities have also imposed prohibitory orders under Section 144 of the CrPC in several parts of the state to prevent assembly of protesters.
Farmer bodies said they will hold a dharna wherever they are stopped from moving towards the national capital.
Bharatiya Kisan Union (Ekta-Ugarhan) general secretary Sukhdev Singh Kokrikalan has said around 25,000 women will participate in the protest march and over 4,000 tractor-trailers have been arranged for it. The organisation claimed that over two lakh farmers associated with it will enter Haryana through Khanauri and Dabwali.
Punjab farmers are demanding the repeal of the new farm laws,, which they should be replaced with another set of laws framed after wider consultation with stakeholders. They also want a guarantee on the minimum support prices (MSP).