Hall of free speech at centre of portrait row
Jinnah timing tells a tale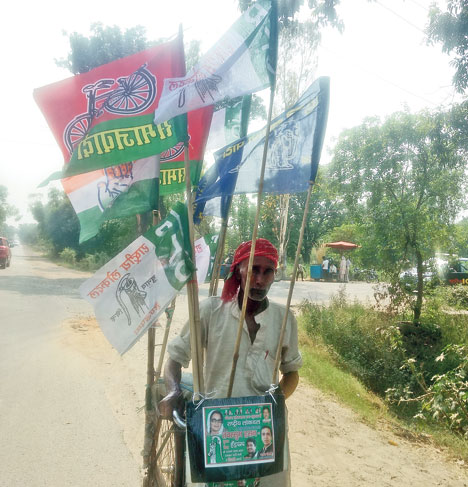 ---
Published 07.05.18, 12:00 AM
|
---
Aligarh: For 113 years, the majestic Siddons Union Debating Hall has been a landmark presence, dedicated to debate and free speech, at what is now Aligarh Muslim University.
Even more illustrious are some of the speakers who have graced its dais: they include Mahatma Gandhi and Mother Teresa. The globally revered duo and 144 other public personalities, including late Prime Minister V.P. Singh, were made honorary life members of the students' union over the past 98 years.
Many of their portraits now gaze down from the walls of the building, now better known as the students' union hall.
Teachers and students are therefore baffled that one of the dozens of portraits, that of Muhammad Ali Jinnah, has suddenly triggered a controversy 80 years after it was put up.
The consensus is that it's all a Sangh-BJP ploy to create communal tension and reap political gains.
Local MP Satish Gautam of the BJP had set the ball rolling, writing to vice-chancellor Tariq Mansoor on Monday that Jinnah's portrait must be removed.
On Wednesday, the Hindu Jagran Manch and the Hindu Yuva Vahini, a militia founded by chief minister Yogi Adityanath, stormed the campus to try and remove the portrait but faced student resistance.
A police baton charge sent six people to hospital, among them three AMU students, including students' union president Maskoor Ahmad Usmani and secretary Mohammed Fahad.
Yet Gautam had never sought the portrait's removal during his recently ended three-year stint as member of the AMU Court, the university's highest decision-making body, said communication studies professor M. Shafey Kidwai.
"This (Jinnah's portrait) is a kind of archival preservation. We do not celebrate Jinnah the way it is being made out," Kidwai, who also supervises varsity's public relations department, said.
A 'museum'
Syed Ali Nadeem Rezavi, head of history at the university, said the hall was virtually a museum that reflected the history of institution, which had begun life in 1875 as the Muhammadan Anglo Oriental College before being converted into Aligarh Muslim University.
In 1884, the college set up the Siddons Club to promote debate and the spirit of inquiry. The Siddons Union Debating Hall, established in 1905, became the students' union hall after the establishment of the AMU.
But the legacy continued. The students' union invited prominent personalities to speak and made them life members. Mahatma Gandhi was the first to receive the honour, in 1920. Allama Iqbal, lyricist of Sare Jahan Se Achchha, became the second in 1928.
The honours roll includes Ram Vilas Paswan, Lok Janshakti Party leader and a minister in the Narendra Modi government.
Customarily signing the record book after being made a life member, V.P. Singh had written how "touched and honoured" he was at joining a list headed by the Mahatma.
"The vision of fraternity, brotherhood and secularism that has been the vision of the founding father of this institution (Sir Syed Ahmed Khan) is the only hope of this country," he wrote.
Rezavi said there were two sides to Jinnah's personality: he was not just the founder of Pakistan but was also among the tallest Congress leaders once. He had visited AMU as a Congress member on February 5, 1938, when he was given life membership.
"When (Hindu Mahasabha leader) Vinayak Damodar Savarkar was speaking against a community, Jinnah was fighting against colonial rule," he said.
"No one is supporting Jinnah's ideology. That does not take away the fact that he fought for freedom when Savarkar fought against a community."
Historian Irfan Habib said Savarkar had propounded the two-nation theory at a Hindu Mahasabha meeting in 1938 before Jinnah spoke about it in 1940.
"Savarkar tendered an apology to the British to secure his release from jail. I'm not saying you have to remove Savarkar's statue from Parliament's premises," Habib said.
"In fact, if Savarkar were made a life member of the students' union, his portrait would have been here too."
Habib said he did not support Jinnah's insistence on the creation of Pakistan. "But it's also a fact that Jinnah was part of the national (freedom) movement. He successfully defended Bal Gangadhar Tilak in 1916," he added.
"He never bowed before the British. But in 1939, he became irreconcilable (over Pakistan). That cannot be supported."
Azam Mir, vice-president of the AMU Old Boys' Association, said the varsity was being targeted selectively and cited how a couple of BJP stalwarts had praised Jinnah in the past.
"L.K. Advani went to Jinnah's mausoleum in Pakistan in 2005 and described him as 'ambassador of Hindu-Muslim unity' (by quoting freedom fighter Sarojini Naidu's words)," Mir said. "Jaswant Singh praised Jinnah in his book Jinnah: India, Partition, Independence."
Advani's praise of Jinnah had angered the Sangh, costing him the BJP president's post and causing long-term damage to his political career. Jaswant, former Union finance and foreign minister, was expelled from the party.
Mir cited how no one was objecting to Jinnah's former home in Mumbai being known as Jinnah House. Habib too pointed to how several hostels in AMU, Allahabad University and Banaras Hindu University bore the names of British colonial rulers.
Fahad, the injured students' union secretary, accused the Sangh parivar of "playing politics on the issue" to deflect attention from the government's failures.
Hundreds of students have been agitating on the campus seeking arrest of the attackers and punishment for police "excesses". Afzal Khan, a BSc student, said the agitation had received support from other central universities and AMU alumni from across the world.
He said former Vice-President Hamid Ansari was supposed to be made life member of the students' union on the day the violence happened. Ansari had been on the campus, invited to an event, which was cancelled after the attack.
"They came only to disrupt. The programme could not be held. Our protest is against the security breach," said Ali Habib, another student.