Gyanvapi radar archaeological survey ordered
The directive comes on a 30-year-old petition that claimed a temple existed under the mosque at the site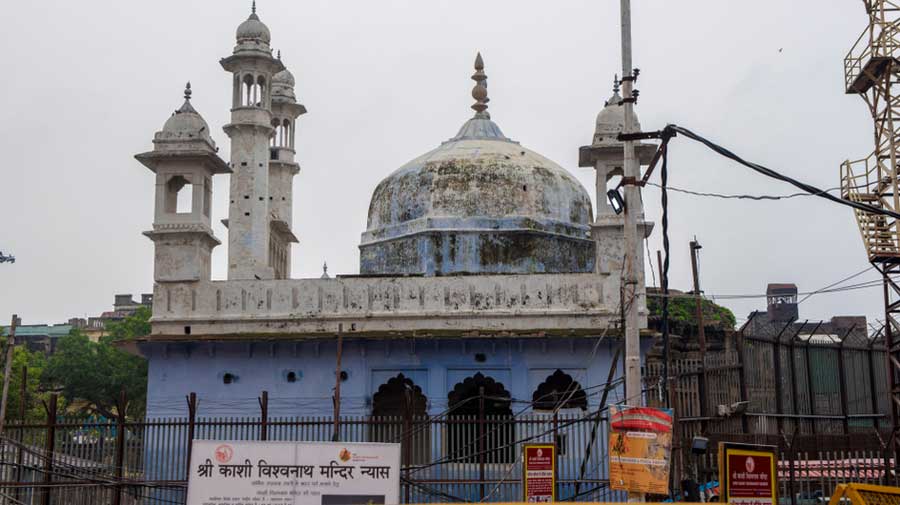 ---
Lucknow
|
Published 09.04.21, 01:59 AM
|
---
A Varanasi court has asked the central government to conduct an archaeological survey of the Gyanvapi area through radar technology, the directive coming on a 30-year-old petition that claimed a temple existed under the mosque at the site.
A lawyer for the Muslim side said the order — on a controversy that carries echoes of the Ayodhya dispute — would be challenged in high court.
The Gyanvapi mosque shares a compound with the Kashi Vishwanath temple. Sangh parivar outfits claim that Mughal emperor Aurangzeb had got a part of the Kashi Vishwanath temple demolished in 1669 and had the mosque built over a well that contained a Shivalinga.
Right-wing Hindu groups have long threatened to have the mosque razed to resurrect the supposedly buried temple. The agenda received a boost after November 2019 when the Supreme Court handed over to Hindus the disputed Ayodhya plot where a mob had pulled down the Babri Masjid, which the parivar claimed was built over a demolished Ram temple.
On Thursday, civil judge (senior division) Ashutosh Tiwari directed the survey, also asking the Archaeological Survey of India to form a five-member committee to monitor the exercise that will detect and map underground structures.
The court was hearing a petition that local lawyer Vijay Shankar Rastogi had moved in 1991 on behalf of Lord Visheshwar Nath (Shiva). The case had been heard over 200 times by various judges since then, Rastogi says, before a district judge handed it over three years ago to a fast-track court that has now ruled on the matter.
According to written history, Aurangzeb had been furious when the Maharani of Kutch was dishonoured during a visit to the temple and ordered demolition of a portion of the shrine. Queen Ahilyabai Holkar of Indore got the temple reconstructed in 1780.
Two years ago, while laying the foundation stone for the Kashi Vishwanath Corridor, a central scheme to renovate the shrine and beautify its neighbourhood, Prime Minister Narendra Modi had said that God had chosen him to finish what Queen Ahilyabai had started two centuries ago.
He said Shiva had assigned him the task with the message: "Bete, batein bahut karte ho; aao idhar, kar ke dikhao (Son, you speak a lot; come here and prove yourself by doing something)."
The Gyanvapi Anjuman Intezamiya (management) Committee has throughout the pendency of the court case alleged a Right-wing conspiracy to bring the mosque down.
Abhay Nath, counsel for the Sunni Central Waqf Board, which is monitoring the case on the committee's behalf, said: "We are not happy with the court order and will move the high court against it."
Rastogi said: "We believe the original temple was built by the legendary king Vikramaditya. Ahilyabai Holkar got the current Shivalinga installed in 1780."