Noble flights: a new parliament
This approach to democracy is not just patriotically energizing, it is comfortable too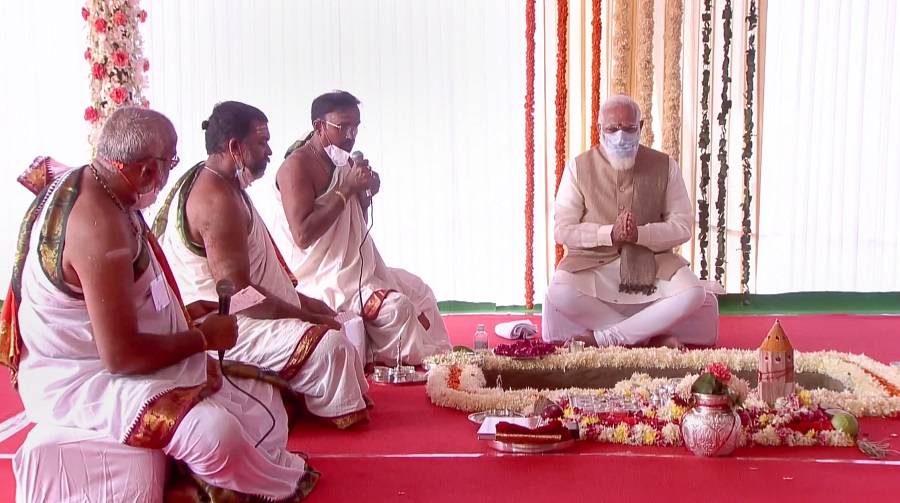 Prime Minister Narendra Modi lays the foundation stone of New Parliament Building, in New Delhi on Thursday.
PTI
---
Published 15.12.20, 01:24 AM
|
---
Foundation stones are being laid at the drop of a hat throughout the people's struggle with a pandemic and its fallout. Recently, the prime minister laid the foundation stone of the new Parliament complex, a project so deeply etched into an imagined history of the future that Narendra Modi refused to delay it amid countrywide distress, unemployment, a struggling healthcare system, an economic crisis, the Opposition's objections and the Supreme Court's caution. Also, just when thousands of farmers are walking to Delhi in protest against the new farm laws, bludgeoned through Parliament — the old building — like many other legislations since 2014. As Mr Modi perorated nobly on democracy while inaugurating a project that will cost crores of public money to complete, a glance back toward the earlier stone-laying ceremony may seem relevant. Then the prime minister inaugurated the building of a Ram temple in place of the destroyed Babri Masjid. Democratic ideals are being re-laid, perhaps?
Different views empower India's vibrant democracy, according to Mr Modi's speech. In case sceptics felt that this represented a greater than usual disconnect from reality even for the prime minister with the prisons overflowing with protesters and activists jailed for sedition, terrorist activities and so on, Mr Modi carefully established that India was democratic in its soul: for Indians, democracy was a way of living. For example, not only ancient texts but various kingdoms, too, exhibited democratic principles — one being called a republic, another evolving the notion of the panchayat while words such as samiti and sabha were in use even then. It was hardly surprising that Mr Modi's elevating speech should remind listeners that these India-born practices and texts predated the Magna Carta and Western ideals of democracy, and that it was an irony of the times that India's democracy should now be assessed through a Western prism. This approach to democracy is not just patriotically energizing, it is comfortable too. It quietly removes India's so-called democratic markers — such as Mr Modi's claim that here differences are resolved through governance — neatly out of critical scrutiny. As a Parliament is built to celebrate this unique democracy, the prime minister's promise, that the world will see India as the mother of democracy, may come true. The fate of the mother in India is traditionally tragic.