Gujarat seeks Odisha help on cyclone
The Gujarat government has begun evacuating 3 lakh people from the coasts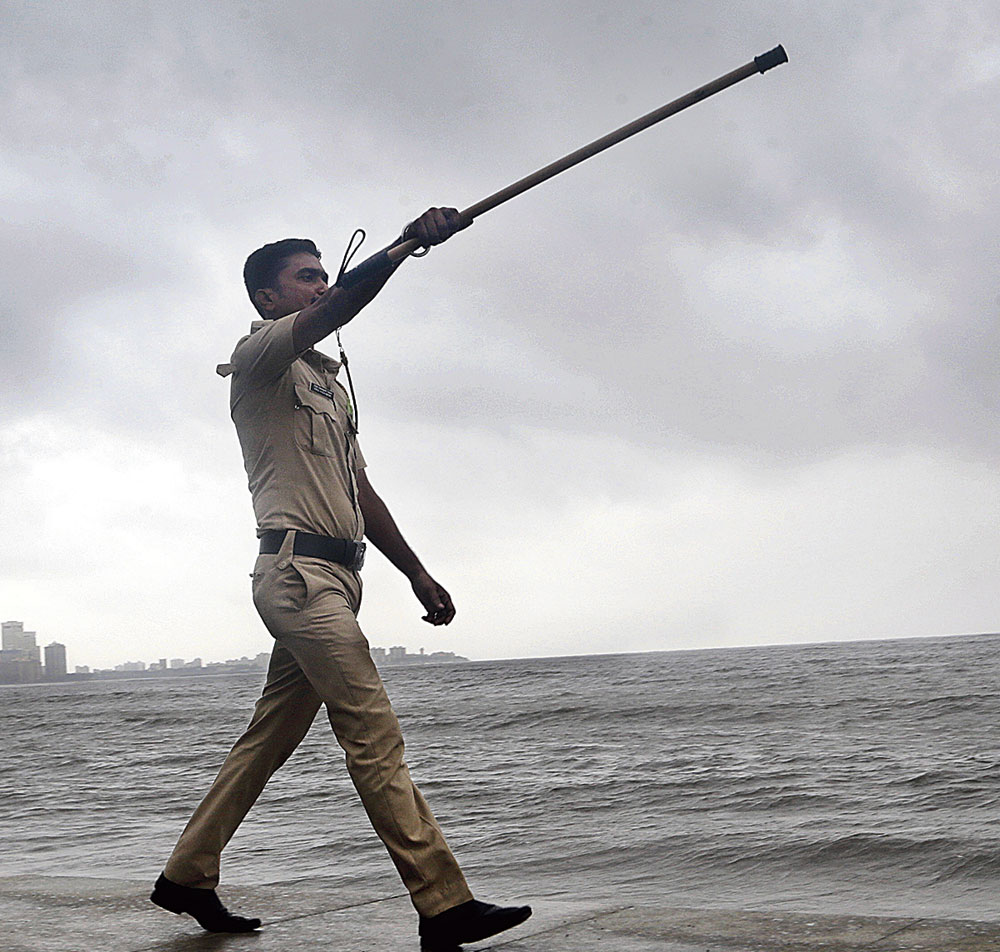 ---
---
Army, air force and disaster response teams have been put on standby on the Gujarat coast ahead of Thursday morning's expected landfall by "very severe cyclonic storm" Vayu, and the coastguard has kept its ships and aircraft on the ready.
The Gujarat government, which has begun evacuating 3 lakh people from the coasts, has contacted the Odisha government seeking advice on how to avert serious tolls on life and property.
Naveen Patnaik's government, praised for its handling of the threat of Cyclone Fani, which made landfall on May 3, has assured "all help" to Gujarat, Odisha chief secretary Aditya Prasad Padhi said.
"Gujarat chief secretary Jagdip Narayan Singh called me and discussed the measures to be taken before and after the landfall," Padhi said.
"We have already faced Cyclone Fani and Cyclone Titli (last October). We can help them with everything, from evacuation to rehabilitation. I shared our experience and expertise with him."
Ahead of Fani, the Odisha government had evacuated 12 lakh people within 24 hours/
After the super-cyclone of 1999 devastated Odisha and killed more than 10,000 people, the eastern state had focused on building its infrastructure, manpower and skills for disaster management and preparedness.
Even the United Nations had felicitated chief minister Patnaik for his government's handling of cyclone Phailin, which struck in 2015.
"After the super-cyclone in 1999, Odisha set up the Odisha State Disaster Mitigation Authority (now the Odisha State Disaster Management Authority). It has been assigned the task of reconstruction and coordination with bilateral and multi-lateral aid agencies, including UN agencies," an official said.
Pravat Mohapatra, the joint relief commissioner in Odisha, told The Telegraph: "Our units are always ready to move to any part of the country. We have 20 Odisha Disaster Rapid Action Force units and 336 Fire and Disaster Response units that can handle the situation."
On Odisha's own preparedness, Mohapatra said: "The state has already introduced an Early Warning Dissemination System and a Mass Message System to provide timely information on calamities. We now have 879 multi-purpose shelter houses."
Western Railway said it had cancelled 40 trains and would truncate 28 others because of Vayu.
Ten army columns, each of about 70 soldiers, have been deployed in the Gujarat areas of Jamnagar, Gir, Dwarka, Porbandar, Somnath, Morbi, Bhavnagar, Rajkot and Amreli. Another 24 have been put on standby for rescue and relief operations, a defence release said.
The air force has stationed medium-lift and light-utility helicopters at nodal points in the western state for relief operations.
A mobile radar has been placed in a high state of readiness at Gandhinagar to channel helicopter operations towards relief and evacuation and establish communication with control centres, the air force said.
The National Disaster Response Force has deployed 40 teams along the coastal areas of Gujarat and Diu.
"Thirty-six teams have been pre-positioned/deployed at Kutch, Morbi, Rajkot, Jamnagar, Dwarka, Porbandar, Gir Somnath, Amreli, Junagarh, Bhavnagar, Vadodara, Valsad, Surat and Gandhinagar, while four teams have been pre-positioned at Diu for prompt response," the NDRF said.
"In addition, six teams each are being airlifted from Patna airport and INS Rajali to Gujarat."
The coastguard said: "We have positioned our aircraft at Daman and Ahmedabad and the ships at Mundra, Okha and Jakhau. A ship from the western region has also been diverted to the northwest region…."
It added that its ships and aircraft had been "directed to be prepared for any oil spill response by merchant ships".