Gujarat cops arrest Teesta Setalvad, ex-DGP a day after SC verdict
Duo were held hours after Amit Shah named the activist in an interview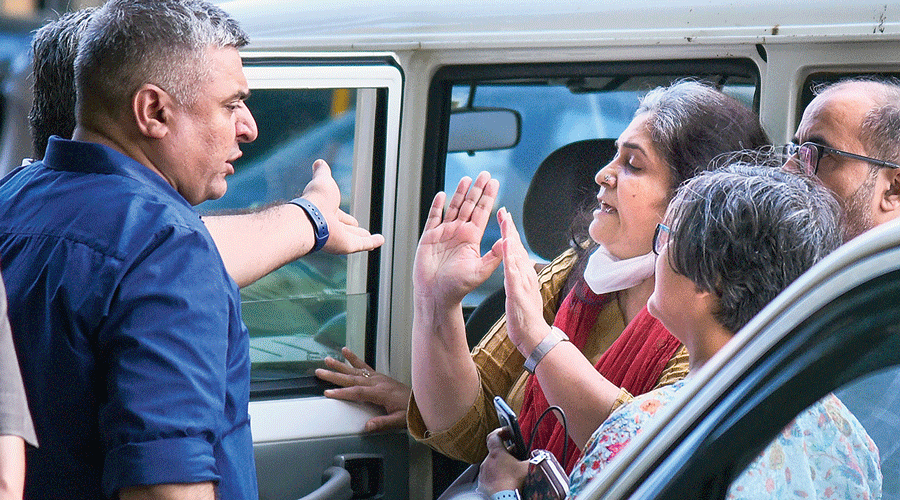 Teesta Setalvad at Santa Cruz police station in Mumbai after being detained by Gujarat police on Saturday.
PTI picture
---
New Delhi
|
Published 26.06.22, 01:14 AM
|
---
Gujarat police on Saturday arrested human rights defender Teesta Setalvad in Mumbai and their former director-general of police R.B. Sreekumar in Ahmedabad, citing Friday's Supreme Court judgment in the Gulberg Society massacre case and hours after Union home minister Amit Shah named the activist in an interview.
The apex court had dismissed the plea of Zakia Jafri, the wife of slain former Congress MP Ehsan Jafri, to reject the findings of a special investigation team (SIT) that gave a clean chit to Narendra Modi, then Gujarat chief minister and currently Prime Minister of India, and others.
After she was taken from her Juhu home to the Santa Cruz police station, Setalvad filed a complaint against the Gujarat police, accusing them of assaulting her and failing to show her an FIR or warrant.
Setalvad's complaint alleged that the Gujarat police had "barged into" her premises and there was a "big bruise" on her left hand. "I fear seriously for my life," it added.
Earlier on Saturday, Shah had said in an interview to the ANI news agency: "The judgment clearly mentions the name of Teesta Setalvad. The NGO that was being run by her — I don't remember the name of the NGO — had given baseless information about the riots to the police." Setalvad's NGO is called Citizens for Justice and Peace.
In the judgment, an objection of the respondent Gujarat government to Setalvad joining the case as a petitioner was paraphrased as: "...the antecedents of Ms Teesta Setalvad need to be reckoned and also because she has been vindictively persecuting this lis (suit) for her ulterior design by exploiting the emotions and sentiments of appellant — Zakia Ahsan Jafri, the real victim of the circumstances."
The FIR by the Ahmedabad crime branch cited Friday's Supreme Court judgment that says: "At the end of the day, it appears to us that a coalesced effort of the disgruntled officials of the state of Gujarat along with others was to create sensation by making revelations which were false to their own knowledge…. As a matter of fact, all those involved in such abuse of process, need to be in the dock and proceeded with in accordance with law."
Setalvad, Sreekumar and the already jailed and suspended police officer Sanjiv Bhatt have been booked under IPC Sections dealing with forgery, fraudulent use of forged document, giving/ fabricating false evidence, false charge of offence made with intent to injure, public servant framing incorrect record or writing with intent to save person from punishment, and criminal conspiracy.
Setalvad's NGO had aided several riot survivors, including Zakia Jafri. Sreekumar, now 75, had filed several affidavits before various inquiries with purported evidence to indicate the state government's connivance in the riots.
Bhatt, a suspended DIG, is serving a life term in Palanpur for a custodial murder in 1990. He had claimed that he was present at a meeting a day before Jafri was burned to death, in which the then chief minister, Modi, allegedly asked the police to allow Hindus to vent their anger over the Godhra train burning. In the FIR, the police said Bhatt had forged the fax messages he had submitted as evidence to the SIT, which established that he was not at the meeting.
Gujarat police inspector Darshansinh Barad said in the FIR: "The scrutiny of the material forwarded by Govt of Gujarat established that certain vested interests individuals and organisations, including Sanjiv Bhatt, different NGOs, some political leaders and organisations were hatching a criminal conspiracy to use various forums such as Hon'ble Supreme Court/ SIT for settling their scores and achieve an unlawful object of implicating innocent individuals in offences punishable with life….
"For achieving this criminal intent, Sanjiv Bhatt received some packets from others to achieve the criminal conspiracy of involving innocent individuals in serious offences punishable with life…. From the facts available on record such similar and other inducement/ gratification/ incentive having been received by him also needs a detailed probe and investigation."
Inspector Barad cited Zakia Jafri's cross-examination by the SIT to accuse Setalvad of tutoring her. "There is material in the final report submitted by the SIT which indicates that Teesta Setalvad had conjured/ concocted/ forged/ fabricated facts and documents and/ or evidence…," according to the FIR.
Against Sreekumar as well, the police cited the SIT report to accuse him of antedating a register where he noted instructions from senior officers in order to frame people for the riots.
In her complaint to the Mumbai police, Setalvad accused police inspector J.H. Patel of the Gujarat anti-terrorist squad and a woman officer in plainclothes of barging into her bedroom and assaulting her when she asked to speak to her lawyer.
Setalvad's husband Javed Anand told The Telegraph: "The Gujarat police claimed that they do not need transit remand (from a Mumbai court). They have taken her to Ahmedabad. We are in touch with our lawyers."
The Mumbai police merely received Setalvad's complaint against the Gujarat police. Anand said he had not been informed whether an FIR had been registered on her complaint.
The CPM condemned the arrest of Setalvad, "indefatigable defender of human rights by Gujarat police on dubious grounds citing the recent judgment of the Supreme Court". The party demanded "her release and withdrawal of false charges".
Kavita Srivastava, national secretary of the People's Union for Civil Liberties, tweeted: "This is out of hundred per cent vindictiveness. Within an hour of Amit Shah giving an interview to ANI, the police reaches Teesta's house and detains her."
Illegal Detention of Teesta u/s 468, 471, 194, 211, 218, 120B of the IPC by Gujarat ATS. This is out of hundred percent vindictiveness Within an hour of Amit Shah giving an interview to ANI, the police reaches Teesta's house and detains her. She is being taken to Ahmedabad pic.twitter.com/hn3oev51OQ

— Kavita Srivastava (@kavisriv) June 25, 2022