Gujarat polls 2022: Kejriwal opens AAP office in Ahmedabad
The the Delhi CM slammed both BJP and Cong and pitched his 'Delhi model of welfare' as an alternative to the 'Gujarat model' of growth touted by Narendra Modi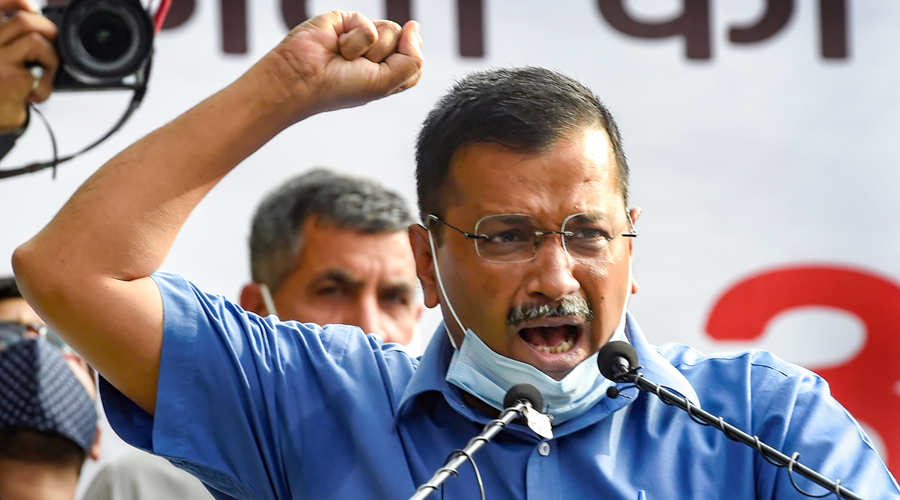 ---
---
Delhi chief minister and AAP national convener Arvind Kejriwal blew the bugle for next year's Assembly polls in Gujarat by inaugurating a party office in Ahmedabad and inducting a senior journalist on Monday.
Kejriwal slammed both the ruling BJP and the Opposition Congress and pitched his "Delhi model of welfare" as an alternative to the "Gujarat model" of growth touted by Narendra Modi.
"For the past 27 years, only one party has been ruling Gujarat. But the past 27 years are a story of the partnership between these two parties. Whenever the BJP needs, supply of leaders and resources is fulfilled by the Congress. Who will think about Gujarat? The farmers of Gujarat are committing suicide. The condition of the government schools and hospitals is extremely poor," Kejriwal told reporters in Ahmedabad.
He added: "A few months ago, I was to meet a very big Chamber of Commerce to which I had been invited. At the last minute, the Gujarat authorities pressured them to cancel my tour. The traders of Gujarat are scared and in the past year amid the pandemic, the state has been left orphaned."
Kejriwal said the AAP would contest all seats in the state and welcomed popular Gujarati news anchor Isudan Gadhvi into the party. The AAP had contested 29 of the 182 seats in 2017 and got only 0.62 per cent of votes.
"The people of Gujarat have understood that the Congress and the BJP are alike. They have got a competent choice in AAP. Citizens of Gujarat also deserve free 24X7 electricity, good schools and hospitals" Kejriwal said.
The AAP received a shot in the arm after it wrested the Opposition mantle from the Congress in the Surat Municipal Corporation earlier this year, winning 27 of 120 seats. The Congress drew a blank. The BJP increased its tally from 80 to 93.
However, veteran political commentator and author Achyut Yagnik was sceptical of AAP's prospects.
"Surat and other places with a large number of outsiders are different from the rest of Gujarat. History and caste equations make it difficult for any party to go beyond the BJP-Congress binary here. The AAP will attract dissidents from both parties, but is unlikely to make any significant difference to the outcome of the elections," he said.