Growing up with Arun, on opposite side
'He was always a little upset that the BJP never managed to have a majority in the Rajya Sabha, and he would say that we in the Opposition were taking advantage of our numbers'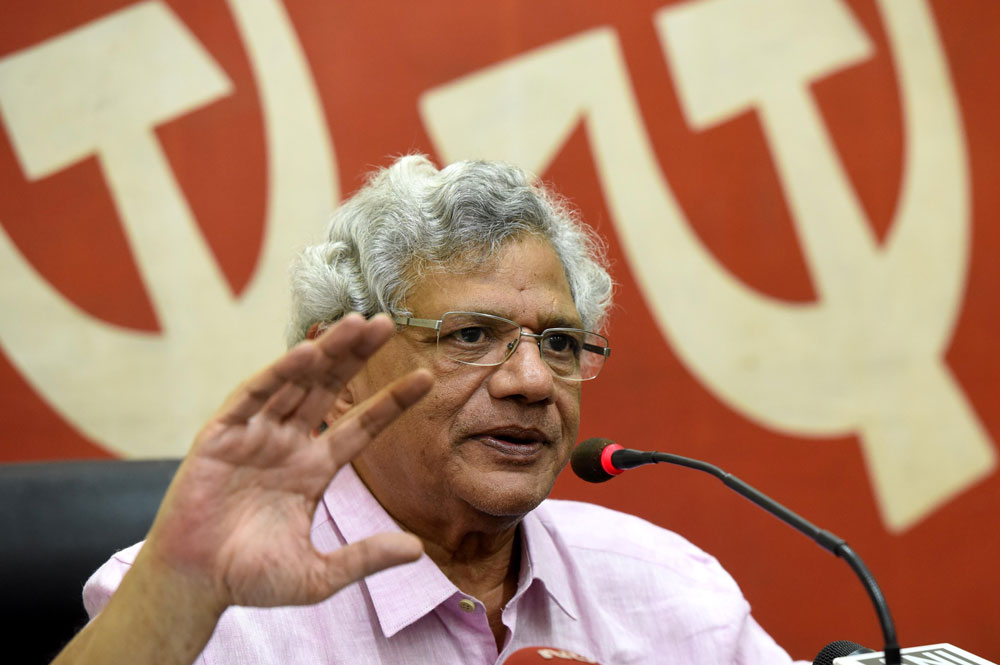 ---
---
At the outset, my deepest condolences and deep sorrow that Arun is no longer with us. It is very unfortunate he had to go so prematurely.
Two years ago as I was retiring from the Rajya Sabha when people were bidding me farewell, Arun had said that 'Sitaram and I have grown up together'. I had to interrupt him to say that these 40 years we were on the opposite sides politically and ideologically.
From being student-day contemporaries — he was DUSU president and I was JNUSU president. Back in 1978, when there were elections to DUSU, two groups of students had gathered in one of the public parks in Rouse Avenue near a school where the counting was taking place. I would come out to announce results as they came to the SFI and Arun would too for the ABVP.
In that election, we wrested two seats from the panel of four. The first-ever victory of the Left in student politics in DU. Both of us were preoccupied to make sure that our crowds of supporters did not clash with each other and we succeeded in that.
Arun went on to become a prominent lawyer, not very deep into politics for some period. He did not come from the RSS stock but was picked up by JP (Jayaprakash Narayan) during the Emergency as a person with potential. As a lawyer, he played a key role in the legal cases of Narendra Modi and the Gujarat government after the 2002 riots. This explains his position within the BJP.
When he assumed the role of finance minister in Modi-1, many eyebrows were raised because his essential qualifications were in commerce and law. It is uncharitable to now analyse his role as finance minister in the Modi government, given the economic slowdown and sense of despair. We will leave that for a later date.
He was a good orator and being a lawyer, his arguments would be logical even if not correct and he contributed to raising the bar of discussions in the Rajya Sabha. Unfortunately, in today's BJP in the House, we did not find anyone with that calibre.
During discussions on economic policy matters, he would often characterise my position as being Keynesian fundamentalist. I would retort that being a Keynesian fundamentalist is better than being a financial fundamentalist. The debates, though with all civility, would be a raging battle between the ideologies of the Left and the Right.
He was always a little upset that the BJP never managed to have a majority in the Rajya Sabha, and he would say that we in the Opposition were taking advantage of our numbers. In order to bypass us in the Rajya Sabha, he employed many a sleight of hand like having legislation declared as a Money Bill by the Speaker, making the Rajya Sabha discussions infructuous or bringing in extraneous matters — extraneous to finance — in the Finance Bill.
I used to then retort that you are charging us with advantage of numbers in the Rajya Sabha and I am charging you for the expression of 'tyranny of the majority' in the Lok Sabha. This term 'tyranny of the majority' has acquired a new meaning after the 2019 elections.