Govt skirts 'living wage' query in Parliament
The central and state governments now determine minimum wages for various kinds of work on the basis of consumption expenditure, with higher weightage given to food and some antiquated criteria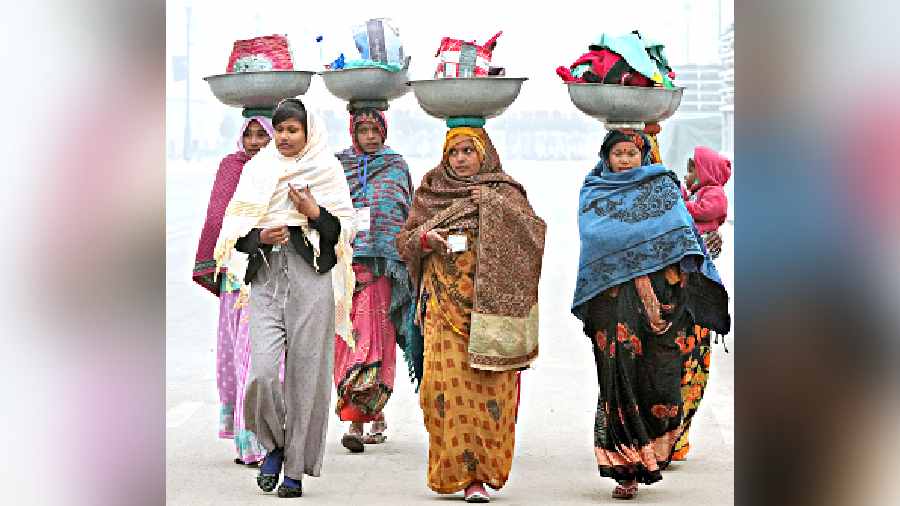 Labourers in New Delhi on January 5.
PTI
---
New Delhi
|
Published 03.02.23, 03:21 AM
|
---
The government on Thursday sidestepped a BJP Rajya Sabha member's question whether it was considering a shift from the present system of subsistence-level wages to living wages for workers to ensure better living standards.
MP Jaggesh had also asked whether the government was weighing the financial impact of such a shift on Indian industry.
The central and state governments now determine minimum wages for various kinds of work on the basis of consumption expenditure, with higher weightage given to food and some antiquated criteria, such 72 yards of clothing a year, besides some expenditure on light and fuel.
A living wage would take into account expenses on transport, health care, education and communication apart from food, shelter and clothing.
In a written reply, junior labour minister Rameswar Teli told the Rajya Sabha that the Minimum Wages Act, 1948, provided for a cost-of-living allowance as a component of minimum wage.
"Accordingly, the central government revises the costof-living allowance called as Variable Dearness Allowance (VDA) on basic rates of minimum wages under the Minimum Wages Act, 1948, every six months effective from 1st April and 1st October every year on the basis of Consumer Price Index for Industrial workers to protect the minimum wages against inflation," Teli said.
In 2018, the International Labour Organisation had in its "The India Wage Report" highlighted flaws in the way minimum wages are determined in India. It had recommended linking wage revisions to the cost of living, GDP growth and growth in labour productivity.
A Fair Wages Committee made up of employers, employees and government representatives had in 1948 defined three levels of wages: living wage, fair wage and minimum wage.
The living wage constituted the highest level and covered food, clothing, shelter, education of children, health expenditure and old-age insurance.
The minimum wage referred to a subsistence wage, while the fair wage was envisaged as one between the living wage and the minimum wage. Pawan Kumar, north zone secretary of the Bharatiya Mazdoor Sangh (BMS), said the minimum wage resembled oxygen for a severely ill patient — something that would keep him alive but not ensure a normal and healthy life by itself.
"The position of the BMS is that India should move towards a living wage. The wages of the bottom-level worker should not go below 10 per cent of the top salaried worker. In India, if the President gets Rs 4 lakh a month, no worker should get less than Rs 40,000," he said.
The Economic Survey tabled in Parliament on Tuesday said that workers' real wages were witnessing negative growth in India despite a positive growth in nominal wages.
This means the workers are receiving paltry wage increases that are below the rate of inflation. A labour economist who did not wish to be quoted said that India had not so far moved towards a living wage, despite the widespread poverty in the country, mainly because of a lack of political will.
"India Inc is opposed to the idea of a living wage because it would increase labour costs and decrease profits," he said.
About 90 per cent of India's workers are in the informal sector and have low bargaining power, the economist said, adding that the country's weak labour laws fail to protect workers' rights.
"India's economy is still developing, and many workers are willing to accept low wages because of a lack of alternative employment opportunities," he said.